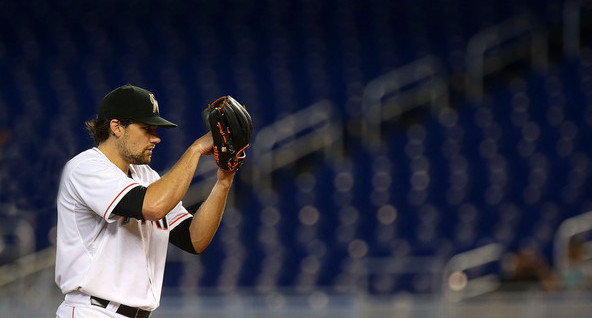 The Yankees made perhaps their most significant move of the offseason yesterday, at least the most significant in terms of the number of players involved. I think you could argue the Didi Gregorius trade was their most significant move of the winter because getting a new young starting shortstop is kind of a big deal. Anyway, I have some thoughts about the big Martin Prado/Nathan Eovaldi (plus other stuff) trade, so let's get to it.
1. Eovaldi will be a nice little project for pitching coach Larry Rothschild and pitching coordinator Gil Patterson. He's got a big arm — he had the fourth fastest average fastball among qualified starters this past season at 95.5 mph — but so far the results haven't matched the stuff. Both his fastball and slider generate only an average number of swings and misses and a slightly better than average number of grounders. Eovaldi's curveball is the same way but he throws it less than 10% of the time. His changeup flat out stinks — opponents have a .200+ ISO against the pitch in his career — so much so that the best might simply be shelving the pitch entirely and emphasizing the curveball more. That can work — as Eno Sarris explained, Garrett Richards had a similar profile and he became an ace partly because he stopped throwing his worst pitch (the changeup) — as long as the fastball, slider, and curveball show some improvement, especially when it comes to missing bats. Perhaps Rothschild and Patterson will help him Eovaldi develop a cutter and that can serve as his fourth pitch, but, until then, getting better results from his already very good stuff will be the priority. How can they do that? Beats me. That's why they're the coaches and I'm the dumb blogger.
2. Eovaldi's struggles against left-handed batters are very real and they make me nervous with his move into Yankee Stadium. Lefties hit .293/.330/.438 (.336 wOBA) against him last season and .288/.350/.421 (.338 wOBA) against him in his career. (Brett Gardner led Yankees' regulars with a .331 wOBA in 2014, by the way. /sobs) Yankee Stadium is a great place to hit if you're a left-handed hitter and unless Eovaldi can figure out a better way to attack them — cutter? more curveballs? somehow improving the changeup? — he could wind up a 30+ homer starter in the Bronx. Yes, his career homer rate is very good (0.65 HR/9 and 6.9 HR/FB%), though he's spent his career in two big pitcher's parks in the non-DH league. I think there's some Phil Hughes-level gopher ball-itis potential here if Eovaldi can't figure out a way to handle batters of the opposite hand, in which case his FIP (3.37 in 2014) will begin to approach his ERA (4.37) rather than the other way around. Rothschild and Patterson have their work cut out for them. The Marlins are legitimate excellent at developing pitchers. There might be a reason they were so willing to trade Eovaldi, and it could be his inability to consistently retire lefties.
3. On the bright side, Eovaldi is really young. He'll turn 25 in February. He's a year younger than Shane Greene. We're not talking about a 27 or 28-year-old guy who needs to improve to reach his potential. Eovaldi's still a kid and theoretically on the upswing of his career. The Yankees don't have many guys like that on the roster. He's already shown he's a capable Major League starter and that's (more than?) half the battle. Now he has to learn the nuances of pitching through experience and coaching. That's something veterans like CC Sabathia and Chris Capuano can help with as well. Just look through Eovaldi's video archive and you can see the potential. It's exciting. The kid's got a great arm and learning how to get more swings and misses — something Rothschild has a history of doing with his pitchers, mostly by emphasizing breaking balls — and combat lefties is a lot easier to do when you sit 95+ with a big breaking slider.
4. The Yankees traded reliability for upside with this deal. We know what Prado and David Phelps are at this point of their careers, and that's a slightly better than average infielder and a swingman. I still think calling Phelps a back-of-the-rotation starter is pretty generous because he's made only 40 starts across three MLB seasons and has had elbow problems in each of the last two second halves. That's not to say Phelps is bad, he's certainly a useful pitcher, but he's three years older than Eovaldi and can be easily replaced. Bryan Mitchell, Jose DePaula, or even Manny Banuelos could fill his role next season. The Yankees shouldn't and probably didn't think twice about trading a guy like Phelps, especially now that he's getting expensive through arbitration as a Super Two. This trade is all about upside for New York, both with Eovaldi and righty Domingo German. German's essentially this trade's Jose Campos, the Single-A guy with a big arm and promise. He's a lottery ticket, Brian Cashman said as much in yesterday's conference call, and the Yankees could use a lottery ticket arm like this in their position player-heavy farm system. Cashman traded the reliability of Prado and Phelps for the pure upside and impact potential of Eovaldi and German. It's risky, but boy is it fun.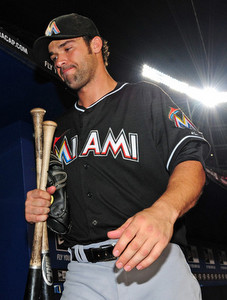 5. Garrett Jones is more or less a throw-in in my opinion. He's a nice bench piece who fits the roster very well — he plays first base (Mark Teixeira is always hurt), right field (Carlos Beltran is always hurt), and can also slot in at DH (Alex Rodriguez is always hurt). I don't consider him any kind of difference maker or core piece though. Eovaldi and German are the centerpieces, Jones the throw-in. Hopefully he hits a bunch of dingers over the short porch and does for the Yankees what Mike Carp did for the 2013 Red Sox, specifically mash in a limited role. The Yankees have been trying to get Jones for years — they first asked about him in A.J. Burnett trade talks with the Pirates four offseason ago — so I'm not surprised he was included in the trade. He's a nice fit for the roster and bench. No need to make it anything more than that.
6. Aside from a potential reunion with Hiroki Kuroda and miscellaneous depth additions, I think the Yankees are done with their pitching this offseason. In fact, they could probably use another bat right now more than anything. Rob Refsnyder's really great, though as I said after the Chase Headley re-signing, I hate handing jobs to non-elite prospects. Prado was a great fit because he's a solid right-handed hitter and versatile, so there were a ton of ways to keep him in the lineup. I don't think the Yankees will pursue someone like Asdrubal Cabrera or Stephen Drew to play second, but, if they do, that same kind of flexibility isn't there. I have no doubt Refsnyder will get a chance at some point next season. I just really hope the Yankees aren't planning to hand him the second base job unchallenged in Spring Training. A Gregorius-Refsnyder double play combination makes me really nervous.
7. I mentioned this in my last thoughts post, but boy there have been a lot of big leaguer for big leaguer trades lately. The Yankees made one earlier this offseason with the Gregorius-Greene swap, and the Prado/Eovaldi trade is another one. The Yankees got younger with both trades and filled some rather critical areas of need. They also managed to save some money too. I do believe the Yankees got better with the two trades with the caveat that we have to see how they plan to proceed at second base. Prado isn't a franchise savior or anything like that, but he's a solid player who was slated to fill an important position. This is more or less the Yankees' version of rebuilding — they're never going to tear it all down and frankly I'm very happy that's the case. I am very much anti-sucking on purpose. Rather than tear it down, they're making smaller moves to get younger and specific spots. Last offseason the rebuilding piece was 25-year-old Masahiro Tanaka, and this year it's Gregorius, Eovaldi, and replacing Frankie Cervelli with presumably John Ryan Murphy behind the plate. Soon it'll be time for Refsnyder, Luis Severino, Aaron Judge, and other homegrown guys to be phased onto the roster.