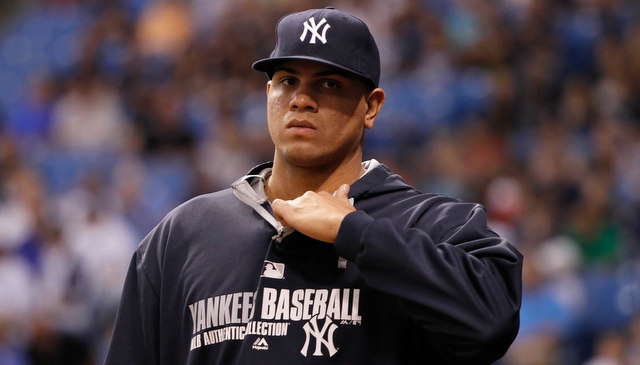 In terms of the sheer number of transactions — not necessarily the magnitude of the moves — this has been the busiest Yankees' offseason in quite some time. The team has already made six trades, one more than they made during the 2011-12, 2012-13, and 2013-14 offseasons combined. They've also made two notable free agent signings in Andrew Miller and Chase Headley. It's been a busy winter thus far.
All those trades have more or less exhausted New York's big league trade chips, meaning the players on the projected 25-man roster with actual trade value. (So not Alex Rodriguez or Mark Teixeira, for example). The most notable exception is Brett Gardner, who seems unlikely to be dealt at this point. The other exception is Dellin Betances, who has not been seriously discussed as a trade chip this winter. So why don't we do that now?
The case against trading Betances is pretty straight forward: he's one of the five or six best relievers in the world, he's cheap, and he's under team control for another five years. That's a core player a team can build around, even as a reliever. In fact, the Yankees (re)built their bullpen around Betances this offseason the way they built it around Mariano Rivera all those years. He was that dominant last season.
The case for trading Betances is much more complicated even though we all know no player is ever truly untouchable. There's always a price. Don't you think the Angels would listen if the Giants offered Madison Bumgarner and Buster Posey for Mike Trout? I think they would. They'd be foolish not to. There are several reasons — some more valid than others — for the Yankees to consider dealing Betances. Let's run 'em down.
Injury & (Lack of) Command History
The 2014 season was the first time Betances did not have any sort of injury and/or command issues since 2006, his draft year. He spent parts of eight years in the minors and there were a lot of walks and injuries along the way. Let's review:
2006: Healthy and 7.8% walk rate after signing.
2007: Missed two months with elbow inflammation and had a 15.0% walk rate.
2008: Missed six weeks with shoulder inflammation and had a 11.7% walk rate.
2009: Had a 13.1% walk rate then missed three months following Tommy John surgery.
2010: Missed two months rehabbing from Tommy John surgery and had a 6.6% walk rate thereafter.
2011: Missed three weeks with an unknown injury and had a 12.6% walk rate.
2012: Missed three weeks with shoulder inflammation and had a 15.7% walk rate.
2013: Healthy, 12.2% walk rate.
2014: Healthy, 7.0 walk rate.
Like I said, lots of walks and lots of injuries. Arm injuries too. Betances has been healthy these last two years, plus his walk rate has been manageable since he moved into the bullpen full-time, though there's too much ugly history here to ignore. One truly elite season doesn't wipe this all away. Baseball history is littered with guys with bad command who figure it out for a season or three before falling apart. Look at Daniel Bard or Derrick Turnbow, for example.
He Can't Possibly Be That Good Again, Right?
Here's the list of full-time relievers with a sub-2.00 ERA, a sub-2.00 FIP, and 60+ innings in multiple seasons: Craig Kimbrel (2012-14), Greg Holland (2013-14), Eric Gagne (2002-03), and Dennis Eckersley (1990 and 1992). That's it. Mariano Rivera never did it and David Robertson did it once (2011). Twenty-two others have done it in one season, including Betances last year, but only those four have done it multiple times.
If Betances repeats his 2014 dominance in 2015, he will buck a lot of history and join a very exclusive club. That isn't to say Betances won't be excellent in the future, I have no reason to believe he won't be very good going forward, but it's very likely he just had his career year. Robertson had a 1.08 ERA (1.84 FIP) in 66.2 innings during his age 26 season — the season Dellin just completed — and you know what? That was his career year. Robertson was very good during his age 27-29 season, but he never did repeat his age 26 performance.
"Selling high" isn't really a thing — at least not in the sense that teams don't see through superficial performance and know who is likely to decline going forward — because clubs make trades based on their own internal evaluations, not public opinion or FanGraphs stat pages, though Betances will have less trade value next winter. Even if he repeats his otherworldly performance — I suppose he could improve on it, but that's damn near impossible — he'll be one year closer to free agency and that matters.
Bullpen Depth
The Yankees have acquired a lot of bullpen depth not just this offseason, but over the last several years. They've done it through the draft (Betances, Adam Warren, Danny Burawa, Jacob Lindgren, Branden Pinder, Nick Rumbelow, etc.), through trades (Justin Wilson, Gonzalez Germen, Johnny Barbato, Chasen Shreve, David Carpenter), and via the scrap heap (Jose DePaula, Esmil Rogers). That's not even all the upper level bullpen arms. Just most of them.
Although someone of Betances' caliber is irreplaceable, the Yankees do have a small army of bullpen arms ready to step in and do the job. The drop off from Betances to the guy replacing him — meaning the last guy in the bullpen, not the guy who takes over the late-innings — isn't as big as it would have been last year. It's big, don't get me wrong, just not as big as it would have been before this bullpen-heavy offseason. The Yankees have a ton of bullpen depth and are in position to deal from that depth to improve other parts of the roster. Betances has, by far, the most trade value among these bullpen arms.
Now, just to be clear, I am not advocated trading Betances. I think the Yankees should keep him as the bullpen cornerstone in the post-Mariano and post-Robertson years. That said, Brian Cashman & Co. wouldn't be doing their jobs if they didn't at least entertain the idea of improving the team by trading Betances. They've acquired all this bullpen depth for a reason. Betances' trade value is tough to gauge because elite relievers with five years of team control are never traded, but he could be part of the package to get an ace like Cole Hamels or a young position player like Addison Russell, for example. (Just spitballing here.)
The Yankees have changed course and built up a decent group of young players heading into the 2015 season, especially up the middle and on the mound. Betances is a huge piece of that. There is still more rebuilding work to be done (lots of it, really), and using Betances as a trade chip could be the quickest way to complete that process. His injury history, his lack of command history, the general volatility of relievers, and the team's bullpen depth are all reasons dealing Dellin makes some sense.