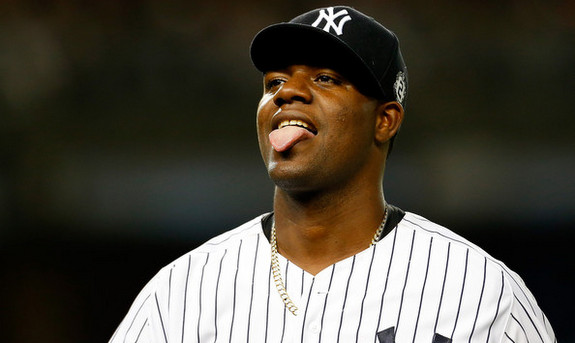 7:06pm: The Yankees have announced the one-year contract. It's non-guaranteed, which is standard for pre-arbitration and arbitration-eligible players.
4:44pm: According to Chad Jennings, the Yankees and Michael Pineda have agreed to a one-year contract worth $2.1M, avoiding arbitration. That exactly matched MLBTR's projection. Nathan Eovaldi (projected $3.1M) and David Carpenter ($1.1M) are the team's only unsigned arbitration-eligible players.
Pineda, 25, has only made 13 starts during his three years with the Yankees, all last season, but he accrued a bunch of service time while on the disabled list from 2012-13. This was Pineda's first arbitration year. He isn't scheduled to qualify for free agency until after the 2017 season.
In those 13 starts last year, Pineda had a 1.89 ERA (2.71 FIP) in 76.1 innings. Shoulder trouble sidelined him for a big chunk of the season, but he was dominant when healthy. The Yankees and all their fans want to see more of that Big Mike going forward. He was awesome.
In addition to Pineda, the Yankees have already signed Ivan Nova ($3.3M) and Esmil Rogers ($1.48M) as well. Today is the deadline for teams and eligible players to exchange salary figures, but the Yankees have historically signed all of their guys before then. Eovaldi and Carpenter will likely get have deals in place today too.