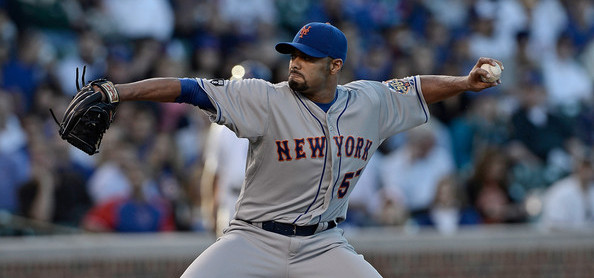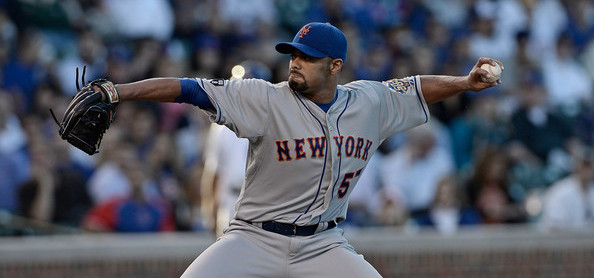 Left-hander Johan Santana, who hasn't pitched in a big league game since August 2012, is planning to attempt a comeback and the Yankees will "keep an eye on him" during his winter ball stint these next few weeks, reports Joel Sherman. Johan is pitching in his native Venezuela and the Yankees had someone at his first start last night.
Santana, who turns 36 in March, threw 18 pitches and retired all six batters he faced last night. His fastball hit 90 mph according to Jon Heyman. Here's video of his first inning of work, which includes cameos by ex-Yankee Yangervis Solarte and current Yankees farmhand Ramon Flores:
Injuries have limited Santana to only 21 starts and 117 innings — all with the Mets in 2012 — over the last four seasons. He missed 2011 because of a torn shoulder capsule, two months in 2012 with an ankle sprain and lower back inflammation, all of 2013 with another torn shoulder capsule, and all of 2014 with the second torn capsule and a ruptured Achilles tendon. Ouch.
Shoulder capsule tears are usually the kiss of death and Santana has now torn his twice. He returned from the first tear to post a 4.85 ERA (4.09 FIP) back in 2012 — he had a 2.76 ERA (3.40 FIP) throughout his first 16 starts and a 15.63 ERA (7.62 FIP) in his last five starts after his ankle and back started acting up — and coming back from a second tear is going to be even more difficult.
I do think it's worth noting Santana's shoulder has been healthy for at least six months. The Orioles signed him last offseason and he was pitching in minor league games when he was hit by a line drive in an Extended Spring Training outing in June, then tore his Achilles when he slipped while going after the ball. Baltimore had actually added him to the 40-man roster days before the injury to prevent him from opting out of his minor league contract.
"He was pitching well," said Orioles GM Dan Duquette to the Associated Press after the injury. "The last time out he had his velocity and he was able to back-door his slider. I think he had eight strikeouts and no walks, so he was right on schedule. After (the ExST game), he was going to come up and join the Major League team and we were going to continue the rehab in (Double-A) … The skills are there. He's been able to rehab his arm, but now he's got another challenge."
Obviously the torn Achilles is a very severe injury as well. We shouldn't forget that. The second torn shoulder capsule is the more career-threatening injury, however, and the Achilles injury might have actually been beneficial to the health of Santana's shoulder because it gave him more time to rehab. That make some sense? Johan was very aggressive with his rehab while with the Mets — he and the team were very publicly butting heads over his timetable — and I'm sure that was the case last year. The Achilles injury forced him to slow down.
I can't say I'm all that confident in Santana being able to return to MLB and be an effective pitcher, but the Yankees could use some rotation depth, and a minor league contract carries zero risk. They could bring him to Spring Training, see what he looks like, and if it's not good, they can walk away no string attached. If he looks good, maybe Santana can give them some decent starts until Ivan Nova returns or a better option comes along.
Whenever there's a veteran, former ace-caliber starter like this recovering from a serious injury and looking for an opportunity, I can't help but think back to Bartolo Colon in 2011. He was more or less out of baseball due to arm problems, the Yankees plucked him out of winter ball, we all had a good laugh about it, then he went out and pitched well during the regular season. Heck, it's 2015 and Colon is still pitching.
Given the injury risk in the Yankees rotation right now, I think it's worth the minor league contract to see if Johan comes back and has a 2011 Colon type of effort in him. He was never a pitcher who lived and died with velocity, and he's always been a top notch competitor/leave it all out on the field type. That seems like the kind of guy who can make this comeback attempt work.