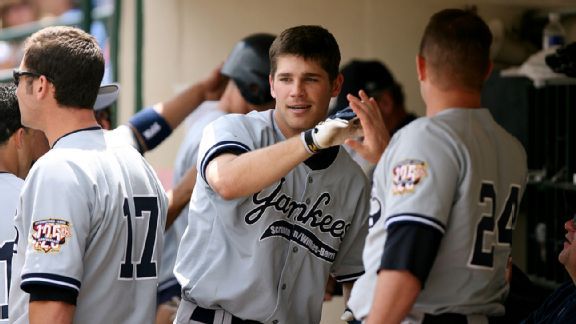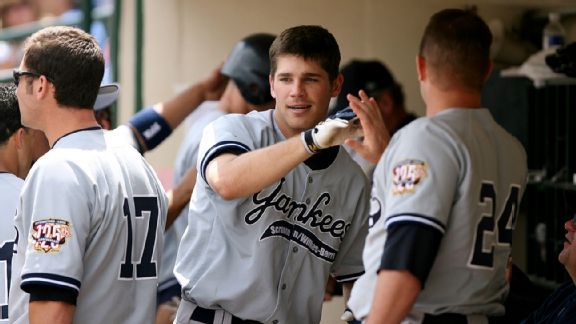 Got some minor league notes to pass along, including an interesting (because of his story, not prospect potential) signing and the coaching staffs for the lower level affiliates.
Yankees Sign OF Robert Hernandez
According to Matt Eddy, the Yankees have signed outfielder Robert Hernandez to a minor league contract. He hit .264/.350/.358 with three doubles during a 20-game stint in winter ball in his native Venezuela this offseason. Hernandez is notable because he used to be a pitcher — he converted some time ago and is not trying to make it as a position player. Here's more from Eddy:
… he worked as a pitcher in the Cubs system from 2006 through 2009, making it as far as low Class A Peoria as a starter, but he hasn't played affiliated ball in any of the past five seasons. The obvious parallel for Hernandez is Diamondbacks outfielder David Peralta, who flamed out as a Cardinals pitcher, took three years off, toiled as an outfielder for two and half years in independent ball, then got noticed by Arizona scouts in 2013. Now he's a big leaguer coming off a successful rookie campaign in 2014.
Hernandez played with a few current Yankees' farmhands in winter ball, including UTIL Jose Pirela, so maybe the team liked what they saw as they were tracking their own players. He hasn't played at all since 2009 — not in the minors, not in independent ball, not overseas, nothing — so obviously he's an extreme long shot to make it. Either way, this is next level deep scouting. Hopefully Hernandez does well. It'll be fun.
More Coaching Staffs Announced
Triple-A Scranton and Double-A Trenton announced their coaching staffs not too long ago, and the rest of the minor league affiliates followed suit these last few days. Here are the coaching staffs set to lead the lower levels this coming season.
| | A+ Tampa | A- Charleston | SS Staten Island | Rk Pulaski |
| --- | --- | --- | --- | --- |
| Manager | Dave Bialas | Luis Dorante | Pat Osborne | Tony Franklin |
| Hitting Coach | Tom Slater | Greg Colbrunn | Ty Hawkins | Edwar Gonzalez |
| Pitching Coach | Tommy Phelps | Tim Norton | Butch Henry | Justin Pope |
| Defensive Coach | J.D. Closser | Travis Chapman | Eric Duncan | Hector Rabago |
| Trainer | Michael Becker | Jimmy Downam | ? | Josh DiLoreto |
| Strength Coach | Joe Siara | Anthony Velazquez | ? | James Gonzalez |
So, first things first, yes, Franklin will indeed be the manager for the team's new rookie ball affiliate, the Pulaski Yankees. We recently heard he will serve as a "roving instructor" and travel to the various affiliates this summer to help out, but Matt Kardos confirmed Franklin will do the roving thing in the first half of the season before joining Pulaski when their season begins in late-June. Alrighty then.
Anyway, the most notable name among the coaching staffs is Eric Duncan, who was New York's first round pick in the 2003 draft. He spent a few years in the system — the Yankees really rushed him up the ladder in an effort to boost his trade value (he was in Double-A four months after turning 20) — but eventually flamed out and retired after the 2012 season. Duncan spent the last three years getting his degree and is now getting into coaching. Neat.
Norton, Gonzalez, Pope, and Rabago are all recently retired Yankees' farmhands. Norton had a ton of arm problems during his career. He flat out dominated with Double-A Trenton in 2011 (1.55 ERA and 2.42 FIP) was on the verge of a call-up to MLB when he hurt his shoulder again. That led to the team signing Cory Wade off the scrap heap — they had to replace the depth. Norton was the pitching coach in Staten Island last year.
Dorante is returning as manager of the River Dogs while Osborne is moving up from one of the rookie Gulf Coast League squads. Bialas just joined the organization and has been managing in the minors for over 30 years. He's part of new farm system head Gary Denbo's initiative to have veteran managers lead young players at the lower levels. Colbrunn is returning to Charleston after spending the 2013-14 season as the Red Sox's hitting coach. He lives in Charleston and left the Sox because he wanted to be closer to his family. Colbrunn was with the River Dogs as either hitting coach or manager from 2007-12.
RHP Andy Beresford Retires
Beresford, the club's 19th round pick out of UNLV in 2013, has decided to retire according to a message he posted on Instagram. The 24-year-old reliever had a 2.67 ERA with 54 strikeouts and 19 walks in 91 career innings, most with Low-A Charleston this past season. Beresford was suspended 50 games last August after testing positive for amphetamines.