Over these next two weeks we're going to subjectively rank and analyze every player on the Yankees' 40-man roster — based on their short and long-term importance to the team — and you're inevitably going to disagree with our rankings. We've already covered Nos. 20-25, 26-31, and 32-40.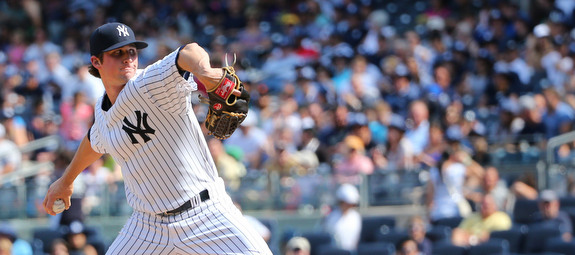 As we jump into the top half of our 40-man roster rankings, we are now looking at players who are projected to have significant roles with the 2015 Yankees as well as the 2016 and beyond Yankees. At least most of the time. There is still one exception to the "significant role with the 2015 Yankees" thing and we'll cover him today.
Today we're going to cover spots 17 through 19, which include two starters who are not expected to start the year in rotation, but seem likely to wind up there come the second half. The other spot belongs to the team's best prospect on the 40-man roster. All three are important pieces to the future of the franchise. To the next batch of rankings …
No. 19: Bryan Mitchell
2015 Role: I don't want to say sixth starter, but it's something close to that. Mitchell made his MLB debut last season, including a spot start against the Orioles during a doubleheader, and he handled himself well. That doesn't guarantee success this coming season, of course, but it's better than getting lit up and leaving everyone with a bad taste in their mouth.
Mitchell will presumably get regular work in Spring Training and could win the final bullpen spot as a long man, I suppose, but an assignment to Triple-A Scranton seems more likely. That way he could remain stretched out and available for whenever the Yankees inevitably need another starter. Given the state of the rotation, there's a good chance Mitchell will make double-digit starts in the big leagues in 2015.
Long-Term Role: Middle to back of the rotation starter. The 23-year-old Mitchell is well ahead of where Shane Greene was in his development at the same age, and he has similarly nasty stuff in his mid-90s fastball and curveball, though he's not a finished product. They sort of project to be the same type of pitcher though. Workhorse starters with A+ stuff but maybe not A+ results all the time.
Mitchell was drafted out of high school as a raw hard-thrower and has worked hard to improve his control over the years. He had a 13.6% walk rate in Low Class-A, a 9.3% walk rate in High Class-A, a 9.8% walk rate in Double-A, and an 8.9% walk rate in Triple-A, so he is moving in the right direction. There is more work to be done and it appears much of it will happen at the big league level. The Yankees need Mitchell to help both now and in the future.
No. 18: Gary Sanchez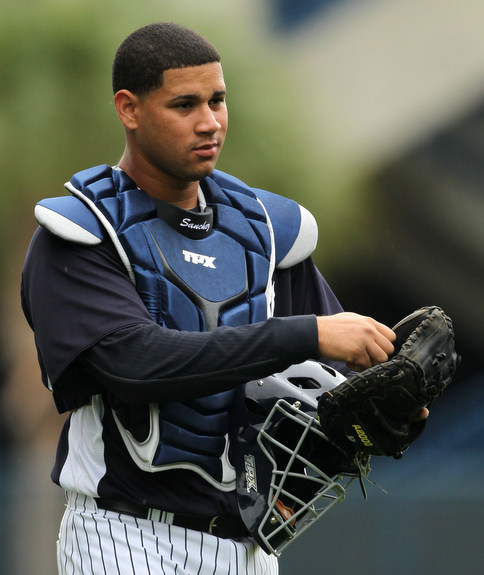 2015 Role: Doesn't really have one outside of being a September call-up and the emergency extra catcher. A lot would have to go wrong for Sanchez to get a chance behind the plate before rosters expand, I think. His defense, specifically his receiving — he has thrown out 42% of attempted base-stealers the last two seasons and that's outstanding — is still a work in progress and so is his bat, really. Sanchez will spend the season as the regular catcher with the RailRiders.
Long-Term Role: Impact bat. Hopefully at catcher, but if not, at first base or even DH. Either way, Sanchez is a bat-first prospect and that's why he is so highly regarded. When Baseball America (subs. req'd) ranked him as the team's fifth best prospect a few weeks ago, they said he has "the potential for a .280 average and 20-25 home runs annually," and that's what the Yankees are hoping to see within a year or two.
Sanchez has shown quite a bit of improvement at making contact and controlling the strike zone as a pro — he had a 25.0% strikeout rate in Low Class-A, a 19.2% strikeout rate in High Class-A, and an 18.2% strikeout rate in Double-A. As with Mitchell, he's trending in the right direction. Sanchez has power and a strong arm, so the physical tools are there. And he just turned 22 last month, making him the youngest player on the 40-man roster.
The Yankees very clearly value defense behind the plate. It all started years ago, really. They acquired Jose Molina from the Angels in the middle of the 2007 season and the only poor defensive catcher they've had since was Jorge Posada. Despite that gaudy caught stealing rate, Sanchez could find himself in another organization if the Yankees don't like his defense enough. He could wind up being used as trade bait a la Jesus Montero.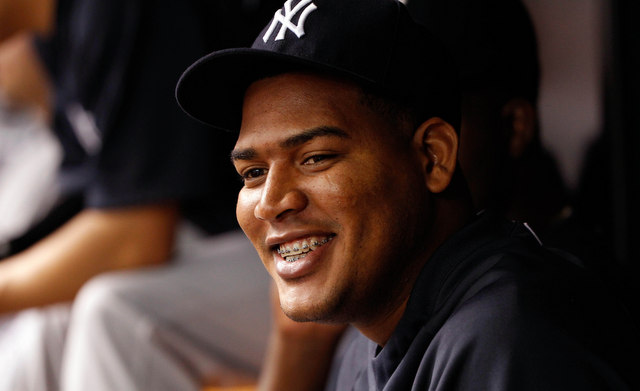 No. 17: Ivan Nova
2015 Role: Rehabber, at least at first. Nova had Tommy John surgery in late-April and isn't expected back until May or June of this year. He hasn't had a setback or anything, the Yankees are just playing it a little safe. A lot of pitchers have recently needed a second Tommy John surgery soon after the first one — Kris Medlen, Jarrod Parker, Cory Luebke, Daniel Hudson, and Brandon Beachy just to name a few — and a lot of people (including Dr. James Andrews) say it may be because they are pushing too hard during the rehab of the first procedure. That's why the Yankees are taking their time with Nova.
Once healthy and rehabbed, Nova will be expected to jump right back in the starting rotation and contribute. Every team needs more than five starters in a given season and these Yankees figure to be no different considering the injury risks present in the current projected rotation. If Nova comes back in May or June and the team doesn't have an obvious spot for him, that's a good thing. Let him get healthy first, then worry about where he fits. My guess is it won't be a problem.
Long-Term Role: Like I said, Nova will jump right back into the starting rotation once healthy and he's expected to be in the rotation in 2016 as well. That's the extent of Nova's ties to the Yankees though. He will become a free agent after the 2016 season and either he could decide to go elsewhere or the team could decide to move on.
That decision is still a long ways away, of course. Nova has to finish rehabbing his rebuilt elbow, get over the initial strike-throwing issues that so commonly plague recent Tommy John patients, then show in 2016 he is back to where he was before surgery. Now that I think about it … what was Nova before his injury? There were times he looked like an ace and other times he was throwing batting practice. We still don't really know who the real Nova is at the MLB level. Isn't that weird?
Coming Friday: Nos. 15 and 16. A young player about to get his first extended taste of big league action and a versatile reliever.