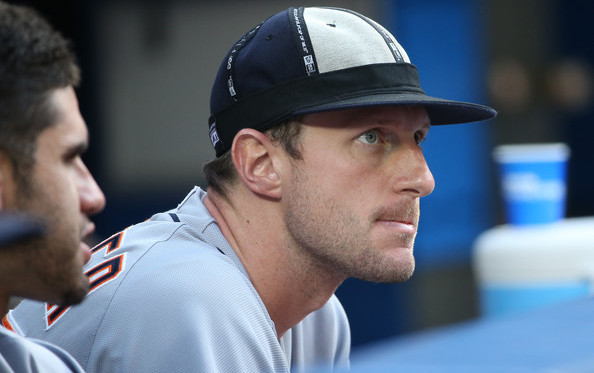 Late Sunday night, the Nationals agreed to a seven-year contract reportedly worth $210M with Max Scherzer. Half the money is deferred too — it's basically a seven-year, $105M contract from 2015-21 plus another seven-year, $105M contract from 2022-28, when Scherzer will presumably be no longer with the team. (Nats owner Ted Lerner is 89, so the second 7/105 deal will be the next owner's problem.) The Yankees surely wanted to add someone of Scherzer's caliber to their rotation but were unwilling to hand out another massive long-term contract. Anyway, I have thoughts.
1. One quick Nationals thought: I think they should keep all of their starters. At least for now. Unless someone blows them away with a trade offer for one of those guys, I think they should keep all of them, enjoy the dominant rotation, then look to trade an arm at the deadline to fill whatever needs arise at midseason. Bryce Harper, Jayson Werth, and Ryan Zimmerman aren't the most durable players, for example. Washington could need an outfielder(s) and/or a first baseman come July. Scherzer's not really going to improve the team's regular season outlook — I had the Nats winning the NL East by double-digit games before the signing. They're by far the best team in that division — so his real impact will come in October, when he's starting postseason games instead of the unpredictable Gio Gonzalez. Simply put, this was a move designed to put the team over the top and into the World Series, not simply get them to the postseason.
2. Personally, I am in the minority that thinks the Yankees were wise to pass on Scherzer. Don't get me wrong, I fully acknowledge he is an outstanding pitcher and would have improved the team's chances to contend this coming season tremendously. Scherzer is the type of pitcher who changes the balance of power within a division. That said, signing Scherzer to paper over the injury risk of the team's other $20M+ per year starters only keeps the Yankees on the same path, the path of relying on the "pay for the elite years up front and live with the ugly years on the back end" model that always seems to result in fewer elite years than expected. Scherzer will turn 31 in July, remember. CC Sabathia looked done at age 33. Roy Oswalt was done at 33. Justin Verlander appears to be cooked at age 32. Roy Halladay managed to remain elite through age 34 before it all fell apart. Ace Sucking Syndrome (ASS) is not fun. Guys like Mike Mussina and Andy Pettitte, who remain productive well into their late-30s, are the exception, not the rule. Maybe Scherzer will be an exception too, but with so many bad contracts already on the books, adding another to the pile doesn't make sense to me. The Yankees need to break the cycle of signing players to huge contracts to cover for the guys already signed to huge contracts who aren't producing, and this process started when they let Robinson Cano walk last year. There's a time and a place for contracts like that, and it's when you are either a no-doubt contender or on the cusp of long-term contention looking to put yourself over the top. I don't see the Yankees as either of those things right now. It's short-term pain for (hopefully but not guaranteed!) long-term gain. Not refusing to spend money, just spending it better.
3. It is very clear the Yankees have emphasized future potential over past performance this offseason. There have been some exceptions (Chase Headley, most notably), but they've gotten younger this winter at shortstop, in the rotation, and in the bullpen. This seems like something Brian Cashman has wanted to do for a while now. So, if the Yankees were going to sign Scherzer, I think it would have come directly from ownership, which is the level at which Scott Boras operates. He usually goes right over the GM's head and to the owner for his top free agent clients. Boras did it when Rafael Soriano signed with the Yankees, when Prince Fielder signed with the Tigers, and countless other times. Based on their moves, the Yankees' plan this offseason was to get younger and more flexible. Scherzer accomplishes neither of those things.
4. It goes without saying that if the Nationals do the look to trade one of their starters in the wake of the Scherzer signing, the Yankees should have interest. In literally all of them. Gonzalez, Jordan Zimmermann, Stephen Strasburg, Doug Fister, Tanner Roark … any one of them would help New York in the big way. Ideally the Yankees would get someone with more than one year of team control — Zimmermann and Fister are free agents after the 2015 season — meaning Strasburg would be the real prize. He's an "empty the farm system" guy and won't become a free agent until after 2016, though he is a Boras client and will almost certainly test free agency in two years. Forget about a long-term extension. Zimmermann is another "empty the farm system" type of trade target, and he's probably looking at a Scherzer-esque contract on the open market next winter, so why would the Yankees trade a boatload of prospects and then extend him in one year when they could have just signed Scherzer for similar dollars right now and kept the prospects? I've never been a big Gio guy because I've always felt he's one start away from going full blown 2010-11 A.J. Burnett. Roark is a late bloomer (he's 28 already) and at the absolute peak of his trade value. He'd help the Yankees but I'm not sure you could count on getting the 2014 version going forward.
5. In my opinion, the best (and most realistic?) trade fit is Fister, who the Yankees drafted once upon a time (sixth round in 2005) and presumably still has supporters in the organization. The Yankees love tall pitchers and he's 6-foot-8, but that's only a tiny little part of the reason he makes sense. Fister is both excellent — he ranked 14th among all pitchers with 11.9 bWAR from 2012-14, essentially tied with the totally awesome Hiroki Kuroda (12.0) — and seems destined for a much smaller contract than Zimmermann next offseason because he's two years older and doesn't have the same name value. He could end up with something similar to whatever James Shields gets, only a few million less per year. The Nationals are reportedly seeking prospects who project to be impact bats, and they do need a long-term catcher, so maybe Gary Sanchez can be the centerpiece in a Fister trade? Washington also needs bullpen help, so Sanchez and a reliever (Jose Ramirez? Chasen Shreve?) for Fister? I'd be down for that. (Which means it's not enough and the Nats would say no.) I know Fister has been traded for nothing packages twice already — he's been traded for four players (Mariners to Tigers) and three players (Tigers to Nats), and the best of those seven players is Charlie friggin' Furbush — but I'm not counting on it happening three times. Get Fister for a year for much less than it would take to land Zimmermann, enjoy a ton of above-average innings in 2015, then either get a draft pick or re-sign him to a contract worth less than nine figures next offseason. I'd be all for it.
6. Scherzer's contract is the largest ever given to a free agent pitcher, breaking the record previously held by Sabathia. (Clayton Kershaw's pitcher record seven-year, $215M contract was an extension.) The Yankees gave Sabathia, who was going to turn 29 that July and had racked up 17.7 bWAR in the three years prior to free agency, a seven-year contract worth $161M during the 2008-09 offseason. Scherzer will turn 31 in July, compiled 16.9 bWAR the last three years, and received seven years and $210M this offseason. I don't really have a point to add, I just think the general market inflation and the Boras factor are interesting. Sabathia back then was a much more desirable free agent target than Scherzer was this offseason. By a decent margin too.