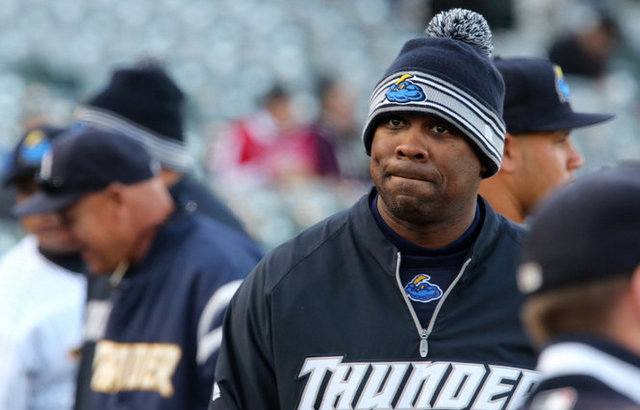 The Yankees have yet to hire a new hitting coach and first base coach, but they have finalized the coaching staffs for their top two minor league affiliates. They were officially announced a few days ago. There was quite a bit a turnover — which isn't uncommon at the minor league level —  and some of it appears to have long-term big league implications. Here are the new staffs:
Triple-A Scranton
Manager: Dave Miley
Hitting Coach: Marcus Thames
Pitching Coach: Scott Aldred
Defensive Coach: Justin Tordi
Trainers: Darren London (head trainer) and Lee Tressell (strength and conditioning)
Miley, Aldred, and London are all returning. Miley has been managing New York's top farm team since 2006, when they were still affiliated with the Columbus Clippers. Aldred was considered for the big league pitching coach job a few years ago before Larry Rothschild was hired. Tordi was the first base and bench coach with Low-A Charleston last summer.
The most notable name here is Thames, who was said to be a candidate for the big league hitting coach job earlier this offseason. In fact, at one point it was erroneously reported he would take over as the team's assistant hitting coach, but obviously that isn't the case. Thames was the hitting coach for High-A Tampa in 2013 and Double-A Trenton in 2014, so he's moving up another level. He has a lot of supporters in the organization and it appears the team is grooming him for an MLB coaching job in the future, perhaps as soon as 2016. Maybe that whole assistant hitting coach report thing was a year early.
Double-A Trenton
Manager: Al Pedrique
Hitting Coach: P.J. Pilittere
Pitching Coach: Jose Rosado
Defensive Coach: Michel Hernandez
Trainers: Lee Meyer (head trainer) and Orlando Crance (strength and conditioning)
Hernandez, Meyer and Crance are all returning to the team. Rosado is joining the Thunder after spending the last four seasons as a pitching coach with one of the team's two rookie level Gulf Coast League affiliates.
Pilittere, who longtime RAB readers will remember as a player from Down on the Farm, was High-A Tampa's hitting coach last year, Low-A Charleston's hitting the coach the year before that, and the Rookie GCL Yanks hitting coach the year before that. The scouting report on him as a player always said he was smart guy with top notch makeup, which made him a good coaching candidate down the line. Like Thames, Pilittere seems to be a faster riser up the coaching ranks.
Pedrique is replacing longtime Thunder skipper Tony Franklin, who had been managing the team since 2007. Pedrique has some big league managerial and coaching experience — he spent 83 games as interim manager of the awful Diamondbacks in 2004 — and has been with the organization since 2013. He managed Low-A Charleston in 2013 and High-A Tampa in 2014.
Franklin, meanwhile, will manage the Pulaski Yankees in 2015, the organization's new rookie ball affiliate, according to George King (subs. req'd). King notes that under new player development head Gary Denbo, the Yankees want to put veteran managers at the lower levels of the minors to work with their youngest prospects. I like the idea. I have no idea if it'll make any real difference, but I like it.