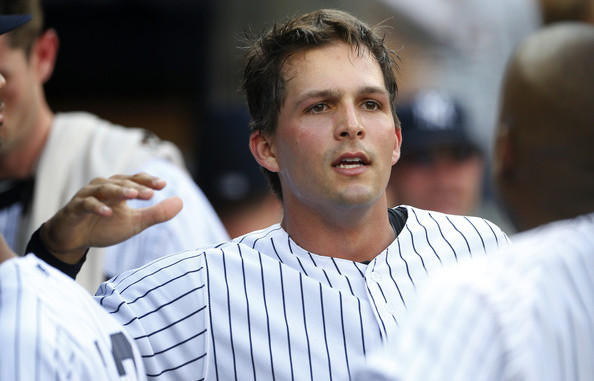 A catcher had to go this offseason. The Yankees had five catchers for four roster spots between the big league level and Triple-A Scranton, and one of those five catchers (Brian McCann) wasn't going anywhere. That left four bodies for three spots, so, when the time came to unclog the logjam, the Yankees sent Frankie Cervelli to the Pirates for Justin Wilson. Cervelli's the oldest of the non-McCann catchers and also the most expensive. It made sense.
The trade leaves John Ryan Murphy and Austin Romine for the backup job behind McCann — Gary Sanchez will be the regular catcher for Triple-A Scranton — and while there's talk of a Spring Training competition, all signs point to Murphy being the guy. The Yankees have held rigged Spring Training competitions before and they'll do it again, and I don't really see anything wrong with it. Competition is good, especially among young players fighting for a roster spot.
Romine served as Chris Stewart's backup for most of 2013 but seemed to play his way out of the organization's long-term plans. When Cervelli went down with his hamstring injury last April, the Yankees turned to Murphy as his replacement. When rosters expanded in September, Murphy got the call as the third catcher, not Romine. (Romine was called up in mid-September after Cervelli got hurt again). Murphy is ahead of Romine on the depth chart and that's not at all surprising considering the way the team talks about him.
"He's different, he's special. He's as good as anybody I've ever had—and that's 40 years of some of the greatest catchers who have ever been behind the plate," said bullpen coach Gary Tuck, an ex-big league catcher and longtime catching instructor, to Dan Barbarisi back in May. "A championship player. And I don't say that about many people. He's right there—Joe Girardi, Jason Varitek, John Ryan Murphy. A championship player."
Teams talk up their young players all the time, but Tuck's praise goes beyond the usual "we like him, we think he'll be a good player for a long time" schtick we usually hear. The Yankees think so highly of Murphy that they traded Cervelli, who they entrusted as their regular catcher just last year, to make room for him. Murphy will spend next year backing up McCann and learning from him as well as Tuck, Girardi, bench coach Tony Pena, and others.
"It's the same situation I was in when I was called up. I was playing once a week, and trying to learn on every other day," said McCann to Barbarisi. The Yankees broke Jorge Posada in this same way, using him as a backup to Girardi and gradually increasing his playing time until he took over as starter. McCann has four more years on his contract, but he turns 31 next month and has nearly 10,000 big league innings on his legs. The team will have to scale back his workload sooner or later, creating an opportunity for Murphy.
Despite his massive reverse split in 2014, McCann has historically struggled against left-handed pitchers, meaning it'll be fairly easy to give him regular rest in favor of the right-handed Murphy. This isn't the crazy David Price/Jon Lester AL East of a few years ago, but there are enough Wei-Yin Chens and Mark Buehrles and Wade Mileys in the division for Murphy to start once or twice a week. Girardi also seems to like the idea of personal catchers, so Murphy could see action that way. For some reason a Murphy/Chris Capuano pairing strikes me as a thing that could happen.
"In my role right now I just have to understand that I have to be ready to play at any time," said Murphy to Jorge Castillo back in May when asked about being a backup for the first time in his career. "I'm just learning everyday from these guys. It's hard not to. The years on this team and the amount of experience that they have, it'd be dumb for me not to take advantage of this time I have here and learn from these guys."
Because Romine is out of minor league options and would have to clear waivers to go to Triple-A, the Yankees could conceivably use him as the backup catcher and send Murphy down, preserving their depth. I don't think that will happen though. The Cervelli trade and their roster machinations last year all seem to indicate the team realizes Murphy is a big league ballplayer. The backup job is Murphy's and 2015 will be the start of his apprenticeship as the team grooms him to take over as McCann's long-term replacement.