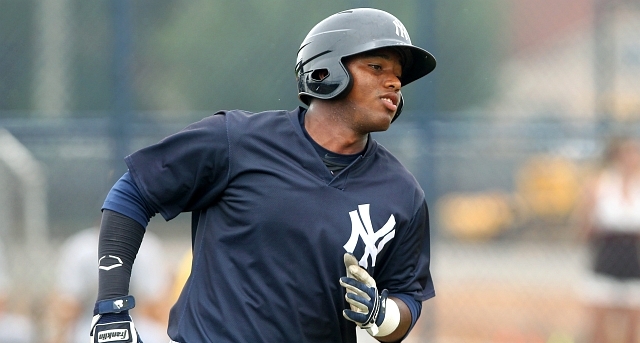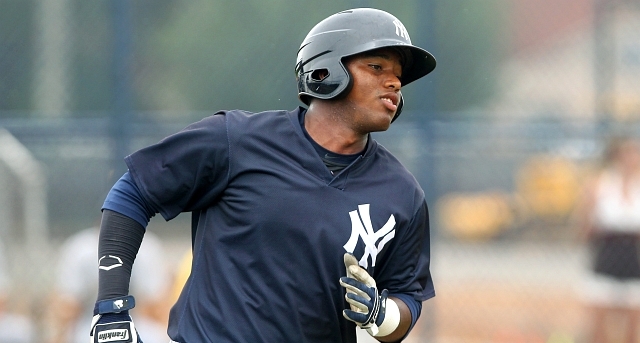 Tomorrow is a pretty big day in Yankeeland. Pitchers and catchers are set to officially report to Spring Training, that's always fun, plus Joe Girardi will hold his annual start of camp press conference. He's got a new look roster and a returning Alex Rodriguez to discuss. Tomorrow is also RAB's eighth birthday, and that's sorta neat.
But, most importantly, tomorrow I will post my annual Top 30 Prospects List, which is both an awful lot of work and something I enjoy compiling each year. Before we get to the Top 30 though, we have to look at the Not Top 30 Prospects. These are five players on the outside of this year's Top 30 who I think have a chance to make the jump into next year's Top 30.
Only one of last year's Not Top 30 Prospects climbed into the actual Top 30 this year, and I've learned over the years that one out of five ain't all that bad when it comes to this stuff. As a reminder, these are not prospects 31-35. They're just five guys listed alphabetically who I think could be Top 30 caliber prospects after another season of development. Got it? Good. Let's get to it.
RHP Simon De La Rosa
Signed out the Dominican Republic for only $50,000 back in October 2012, De La Rosa spent 2013 in the Dominican Summer League and last year in the rookie Gulf Coast League, where he had a 4.43 ERA (3.81 FIP) with 28.0 K% and 13.2 BB% in 42.2 innings. De La Rosa is a big and lanky kid at 6-foot-3 and 185 lbs., and he already sports three pitches in his low-to-mid-90s heater, tight curveball, and promising changeup. The curveball is his money pitch. As the walk rate suggests, he needs to work on his location. De La Rosa is older than the typical international prospect in rookie ball — he turns 22 in mid-May — but he has bat-missing stuff and just needs to improve his control more than anything. Obviously that's easier said than done. I think De La Rosa could make the jump to start 2015 with Low-A Charleston. If not, Extended Spring Training and Short Season Staten Island await.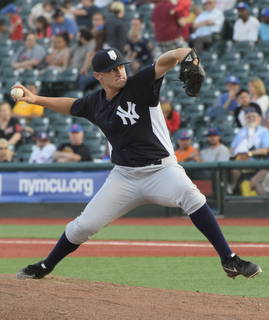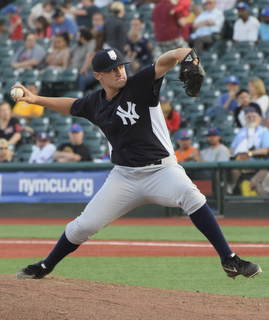 RHP Jordan Foley
Foley, 21, was New York's fifth round pick out of Central Michigan in last summer's draft ($317,500 bonus). He pitched to a 4.10 ERA (3.26 FIP) with 23.1 K% and 9.4 BB% in 37.1 innings after turning pro last summer, most with Staten Island. Foley is an arm strength guy, sitting in the low-90s and touching 96-97 as a starter. He'll sit closer to that 96-97 mph range when working out of the bullpen. His second pitch is a low-80s splitter, and he also throws an okay mid-80s slider. Foley, who is listed at 6-foot-4 and 215 lbs., has a pretty substantial head whack in his follow through (video) and it hurts his command. Between the spotty command and the head violence, many expect Foley to wind up in the bullpen long-term. I like him better there too. The Yankees will probably give him a chance to start this coming season if only to accumulate innings. If they stick him in the bullpen full-time, he could be an MLB option as soon as the second half of 2016. Low-A Charleston is in the cards this coming season.
OF Dustin Fowler
The Yankees grabbed Fowler in the 18th round of the 2013 draft and got him to turn pro with an above-slot $278,000 bonus. He was a multi-sport guy in high school, playing football and wrestling in addition to playing baseball. Fowler is a pure tools guy who has shown quite a bit of improvement since signing, and his .257/.292/.459 (104 wRC+) batting line with nine homers, 19.5 K%, and 4.8 BB% in 66 games with the River Dogs last year sums up his game well. He has power — Fowler is a lefty swinger listed at 6-foot-0 and 185 lbs. — but doesn't know the strike zone well and can be over-aggressive. His above-average speed doesn't show up in the stolen base total (three in five attempts) but he can run. Fowler's a project. He has a lot of physical ability and just needs to learn how to turn it into baseball tools. Chances are he will return to Low-A Charleston to begin the 2015 season.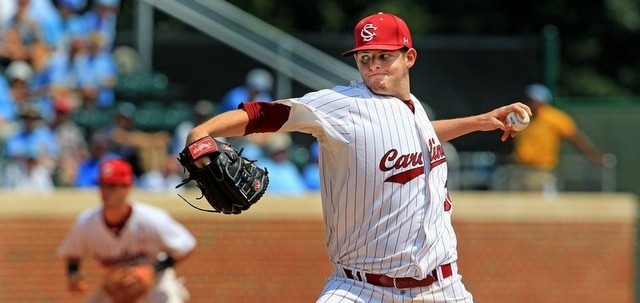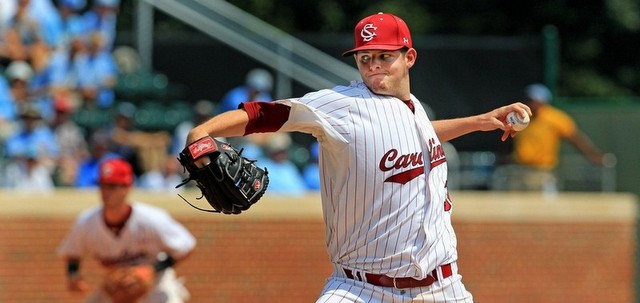 LHP Jordan Montgomery
The 22-year-old Montgomery spent three years in South Carolina's rotation and has a track record of performing well against high-caliber college competition. The Yankees signed him for $424,000 as their fourth round pick last season and Montgomery put up a 3.79 ERA (2.30 FIP) with 25.3 K% and 7.6 BB% in only 19 innings after turning pro. Montgomery has the prototypical workhorse frame at 6-foot-4 and 225 lbs., and he's a four-pitch guy with an 89-92 mph fastball, a low-80s changeup, a slow upper-70s curveball, and a show-me cutter I'm sure the Yankees will work to improve. They love their cutters. Montgomery's stuff all plays up because he locates well and has very good feel for his craft. It's a boring profile but there's potential here. He's cut from the David Phelps/Adam Warren cloth. After three years in the SEC, Montgomery figures to start next year with High-A Tampa.
OF Alex Palma
Palma signed out of Venezuela for $800,000 in July 2012 and played in the GCL last year after spending 2013 in the Dominican Summer League. He performed very well last summer, hitting .305/.318/.451 (118 wRC+) with four homers, nine steals, 6.8 K%, and 1.4 BB% in 220 plate appearances. The strikeout and walk rates are evidence of how easily he makes contact, but he's not a slash hitter. Palma is listed at 6-foot-0 and 201 lbs. and he has raw power, mostly to the pull side as a right-handed hitter. He's a good athlete and a sound defensive outfielder with a strong arm who fits best in right field. Palma is close to maxed out physically even though he is only 19, but his raw tools right now are plenty good enough. As soon as he learns he doesn't have to swing at a pitch just because he can reach it, Palma should rocket up prospects lists. I expect him to start the season in Extended Spring Training before joining either Staten Island or the organization's new rookie ball affiliate in Pulaski.