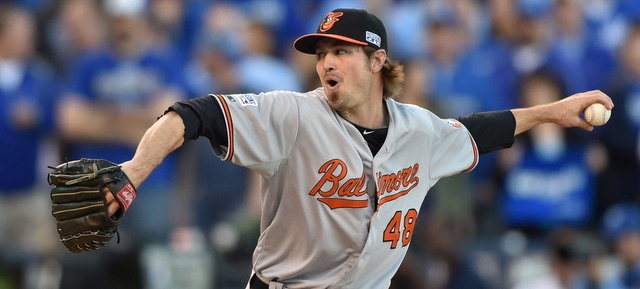 With Spring Training one week away — pitchers and catchers report in one week, anyway — position battles will soon begin and the final roster spots will be sorted out. For the most part the Yankees' 25-man roster is set — barring injury, of course — with the last bullpen spot and maybe the last bench spot up for grabs. That's about it.
One position the Yankees have to figure out these next few weeks is the closer's role. Dellin Betances and Andrew Miller are the two favorites for obvious reasons but the team has no real shortage of candidates. I'm sure Adam Warren or David Carpenter could close no problem if needed. Finding a closer in Spring Training isn't really the issue. Joe Girardi and his staff just need to actually pick someone to do it.
For what's it's worth, both Miller and Betances have said the right things when asked about the closer's job this offseason. "I've never been a closer so it's not like I'm building a resume. I'm not worried about that kind of thing," said Miller on the MLB Trade Rumors podcast earlier this week. "I think we've all seen the value of relievers getting outs in those sixth, seventh and eighth innings now … I just want to be part of a good team and I think that flexibility opens more windows and more doors for me."
Betances, meanwhile, recently told Mike Vorkunov he hasn't really thought about being the closer and is just going to focus on getting outs. "At times I think the middle innings – the seventh, eighth inning – sometimes you come in to a tough situation, bases loaded, two guys on, when the game is on the line. Even if you pitch one inning, sometimes you face the two-three-four hitters, sometimes that's harder at times," he said. "I think the ninth inning you put pressure on yourself that's where you tend to fail a little bit. But I've learned a lot from Mo and from what David Robertson did last year. It's to take it one day at a time and to have a short memory."
Miller and Betances are right, sometimes the seventh and eighth innings are tougher than the ninth, and that's why Dellin was so valuable last year. He didn't just dominate, he was able to dominate for two innings at a time if necessary. Betances got all the big outs in the middle innings. As long as Joe Girardi is able to balance winning games with keeping his righty relief ace rested and fresh — he threw 90 innings with a 1.28 average leverage index last year, which is a friggin' ton of stressful innings — it would be awesome to see him in that role again.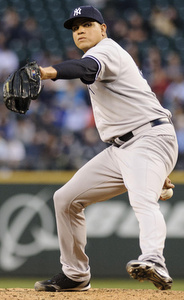 "I think guys like to know their roles, so I think if we can iron it out, I think it would be a good thing to do," said Girardi to Bryan Hoch recently. "But I think you can also create an atmosphere where you say, 'You know what, guys? I'll prepare you every day in a sense of what I think is going to happen, and here are your matchups, the guys that I'm probably going to bring you in against.'"
That's a pretty interesting answer from Girardi, who seems to suggest he's open to trying some sort of co-closer situation, presumably with Miller facing the tough lefties and Betances facing the tough righties in whatever inning that may be. I floated the idea of a co-closer setup last month when discussing the ninth inning and noted Girardi likes to have defined roles. He's shown that since he was hired back in 2008. Perhaps now he's softened on that stance.
The only team to even try a co-closer setup in the last decade or so was the 2009 Braves, who had lefty Mike Gonzalez and righty Rafael Soriano. With Miller and Betances, the Yankees clearly have the righty personnel to try something similar. I love the idea, it's outside the box and puts everyone in the best position to succeed, but something like this isn't as easy to put into practice as it may seem. Hopefully the Yankees and Girardi can pull it off.