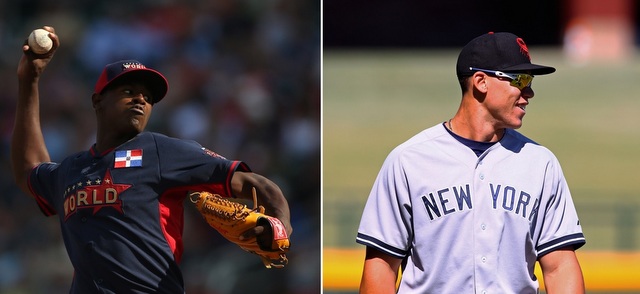 It's prospect season, and on Friday night, the gang at MLB.com released their top 100 prospects list for the 2015 season. Twins OF Byron Buxton sits in the top spot despite his injury plagued 2014 campaign, and is followed by Cubs 3B Kris Bryant and Astros SS Carlos Correa in the top three. The Yankees had two players in the top 100: RHP Luis Severino (No. 23) and OF Aaron Judge (No. 68).
"Severino has a loose, quick arm that makes up for his lack of physicality. It allows him to maintain a mid-90s fastball throughout his starts and reach a peak velocity of 99 mph," said the write-up. "Severino's fading changeup gives him a second plus pitch, and he's not afraid to throw it. His slider is more of a work in progress but should become at least an average third offering." The MLB.com crew says they believe Severino can remain a starter long-term, for what it's worth. There's a healthy debate about that.
MLB.com calls Judge "one of the most physically imposing prospects in baseball" thanks to his 6-foot-7, 230 lb. frame. "He has huge raw power, though he's content for now to use a shorter stroke and the entire field, working counts and producing line drives," says the write-up. "A more advanced hitter than expected, he currently projects to bat .275 with 20-25 homers per season but could produce more power (and hit for less average) if he becomes more aggressive and turns on more pitches." Again, Judge's biggest flaw is that he hasn't yet learned how to fully tap into his power potential.
In addition to the top 100, MLB.com also released top ten prospects lists for each position. Severino ranks seventh among right-handed pitchers, 1B Greg Bird ranks third among first basemen, and 2B Rob Refsnyder ranks seventh among second basemen. Judge didn't make the deep outfield group and C Gary Sanchez fell short on the catcher's list. Others like C Luis Torrens, 3B Miguel Andujar, 3B Eric Jagielo, RHP Domingo German, and LHP Ian Clarkin are good prospects, but not yet top ten at their position.
As always, MLB.com's rankings are free, and they include full scouting reports and tools grades on the 20-80 scale. Their rankings are always a little off the beaten path — they seem to be more performance-based than anything — but it's a great resource either way. Everything's free and all in one place. In the coming weeks MLB.com will release top 30 prospects lists for each team — their lists used to only run 20 players deep, so they added an extra ten this year — though specific dates are not set yet.