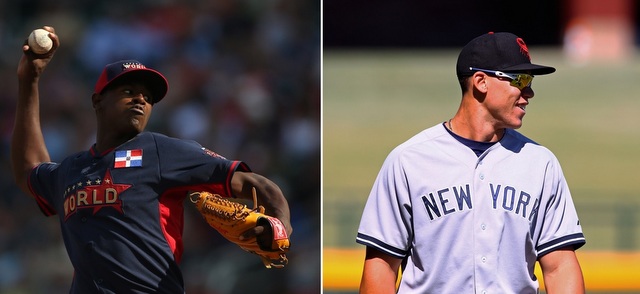 On Thursday night, Baseball America released their annual top 100 prospects list during a live MLB Network broadcast. Cubs 3B Kris Bryant claimed the top spot and was followed in order by Twins OF Byron Buxton, Cubs SS Addison Russell, Astros SS Carlos Correa, and Dodgers SS Corey Seager. The full top 100 can be seen right here.
The Yankees landed two players in the top 100 and they're two players you expect: RHP Luis Severino ranks 35th and OF Aaron Judge ranks 53rd. Interestingly enough, Baseball America ranked Cuban infielder Yoan Moncada tenth during the television broadcast, but he isn't on their online list. I can't remember them ever ranking an unsigned player before.
Anyway, in the subscriber-only report, Baseball America gave Severino a 70 (on the 20-80 scouting scale) for both his fastball and changeup. He received a 60 for his control and a 50 for his slider. (50 is average, 60 is above-average, 70 is well-above-average.) Judge received a 70 for power, a 55 for his arm, and 50s for his hit tool, speed, and defense. Five average or better tools is really, really good.
Keith Law, Baseball Prospectus, and MLB.com ranked Judge as the 23rd, 49th, and 68th best prospect in baseball, respectively. Those three plus Baseball America's ranking average out to 48th overall. Severino was ranked 23rd by MLB.com and 51st by Baseball Prospectus. (He didn't make Law's.) Those two rankings plus Baseball America's average out to 36th overall. Two consensus top 50 prospects ain't bad at all.
Update: In a supplemental piece, J.J. Cooper said 1B Greg Bird didn't miss the top 100 by much.