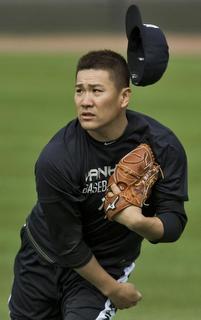 Pitchers and catchers aren't scheduled to report for Spring Training until Friday, but several players are already in Tampa working out at the Yankees' minor league complex. One of those players is Masahiro Tanaka, who arrived in town earlier this week and worked out at the complex for the first time yesterday.
According to the Associated Press, Tanaka played catch for 34 minutes yesterday, making throws as far as 200 feet. He wrapped up his throwing session with 16 throws from flat ground using his normal delivery. Tanaka, as you know, missed about three months with a partially torn ulnar collateral ligament in his elbow last year. He had no issues with the elbow during offseason workouts and apparently everything went fine yesterday.
"So far everything is good," said pitching Larry Rothschild to the Associated Press earlier this week when asked about Tanaka's offseason work. "That doesn't mean it will be going forward, but we're going to do everything we can. We'll put schedules together and things like that to try to keep him healthy."
Tanaka did not talk to reporters after throwing yesterday — "He looked like the same guy, smiling all the time. When I saw his throwing program, he looked good," said Ivan Nova, who was also at the complex — but is scheduled to talk to the media on Friday. Needless to say, his elbow is going to be a focal point this spring. Tanaka might be the biggest x-factor for the team's success in 2015 and every day he goes without an issue is a good day.