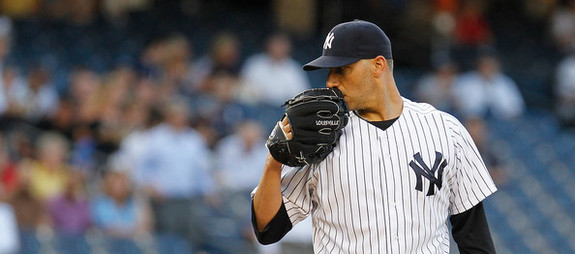 The Yankees are, officially, going to retire Nos. 20, 46, and 51 this coming season, plus pitchers and catchers are set to report to Tampa on Friday. Lots going on in Yankeeland at the moment. I have thoughts.
1. I can't imagine any Yankees fan is surprised Andy Pettitte, Bernie Williams, and Jorge Posada will have their numbers retired. All three are very well deserving and were major homegrown pieces at the center of the team's most recent dynasty. I'm not sure what took so long for Bernie — he hasn't played 2006, it's been nearly a decade already — but better late than never, I guess. Maybe they wanted to wait until Pettitte, Posada, Mariano Rivera, and Derek Jeter retired so they could have all the ceremonies close together. Either way, I'm happy all of these guys are being honored soon. They're all among my all-time favorite players, and watching them play and win World Series (plural!) was a huge part of my childhood growing up. I remember watching all of them as rookies, and it's now it's sorta weird I'll be watching them have their numbers retired.
2. Inevitably, as soon as we all learned No. 46 is going to be retired, there were snide comments about Pettitte's performance-enhancing drug history. All of it came from non-Yankees fans, because duh. Non-Yankees fans and Chuck Knoblauch. Anyway, it's pretty obvious there's a double standard with the PED stuff. Players people like (Pettitte, David Ortiz, etc.) mostly get a free pass while the players everyone hate (A-Rod!) don't. That's just the way it is. I'm so over the PED stuff now. It would be nice if players didn't cheat, but, as long as there is baseball and sports in general, players are going to cheat. That's life. The Yankees are willing to overlook Pettitte's HGH history and they're not alone. Look at the contracts given to Nelson Cruz and Melky Cabrera this offseason. If the player can help you win, teams will overlook some stuff. There's no sense in getting upset about it. This is baseball. Morality takes a backseat.
3. The Yankees are retiring a lot of numbers in a short period of time — assuming Derek Jeter's number is retired soon, it'll be six retired numbers (2, 6, 20, 42, 46, 51) in the span of three or four years — but this is an outlier and not some sort of evidence the team retires too many numbers. Are there some numbers that maybe shouldn't be retired? Sure. But that's true of just about every team. The Yankees are retiring six numbers in the span of three or four years after retiring two numbers in the previous 20 years (23 and 49) and seven in the previous 40 years (9, 10, 15, 23, 32, 44, 49). It just so happens they had a lot of great players at the same time recently and all of them deserve to have their numbers retired. Once this latest round of retirements is over — it looks like it'll be a long time before another number is retired after this batch, the Yankees have no obvious candidates aside from A-Rod, and lol that'll never happen — the team will have 21 retired numbers overall. Twenty-one retired numbers in more than a century as the greatest franchise in the sport. They're not going to run out of numbers anytime soon. We'll all be long gone and the sun will swallow the Earth before they have to start wearing triple digits.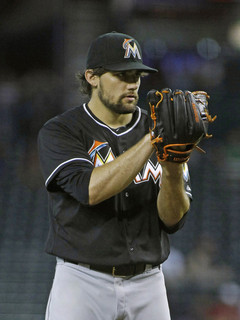 4. Alright, enough with the number retirement talk. Aside from the injured guys (Masahiro Tanaka and CC Sabathia, specifically), the player I am most looking forward to seeing in camp is by far Nathan Eovaldi. He's clearly someone with a lot of ability who still needs to figure some things out, and I'm interested to see what sort of the adjustments the Yankees help him make, if any. Eovaldi reported to Tampa a while ago and told Anthony McCarron he and pitching coach Larry Rothschild have been "just working on the offspeed pitches, getting a little more consistency." Given his velocity — Eovaldi averaged 95.5 mph with his four-seamer last year, the fourth best velocity among the 88 qualified starters in 2014 — I think he's a good candidate to pitch up in the zone more, hopefully getting more swings and misses and weak pop-ups. Also, looking at his pitch location chart, it definitely seems like Eovaldi could benefit from pitching inside against righties more often. Especially since he has a lower arm slot and would make things really uncomfortable for righties. Then again, what the hell do I know. All eyes will be on Eovaldi because he's the new rotation addition and all that, but I am genuinely curious to see if the team tries to make any adjustments early in camp. He just turned 25, remember. He's 20 months younger than reigning NL Rookie of the Year Jacob deGrom. Eovaldi has been okay to date in his career (95 ERA+) and the Yankee acquired him in hopes of helping him become great going forward.
5. Alright, so who's going to be the random player who has a huge Spring Training and everyone wants to make the team? Last year it was Yangervis Solarte and he actually made the team, but that was a big time outlier. Solarte is the exception, not the rule, but that won't stop everyone from saying "look at Solarte last year!" when talking about this spring's flavor of the month. My first guess was going to be Kyle Roller, but I don't think he'll get enough playing time in camp for everyone to fall in love with him. He'll have to compete with Mark Teixeira, Garrett Jones, and Greg Bird for at-bats at first base and a million others for at-bats at DH. Instead, I'll go with utility man Cole Figueroa. He is an elite bat control guy (10.6 BB% and 7.3 K% in nearly 1,400 Triple-A plate appearances from 2012-14), which is a good recipe for a random BABIP spike in Spring Training, plus he plays a ton of positions, and that means he'd fit well on the bench. Unlike last year, when the bench was pretty much wide open, the Yankees don't have many open roster spots heading into camp, so there's no real room for a surprise guy like Solarte. Not that they're often worth carrying on the Opening Day roster anyway.