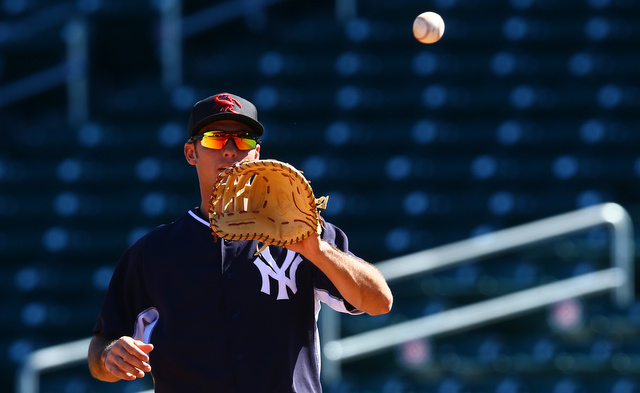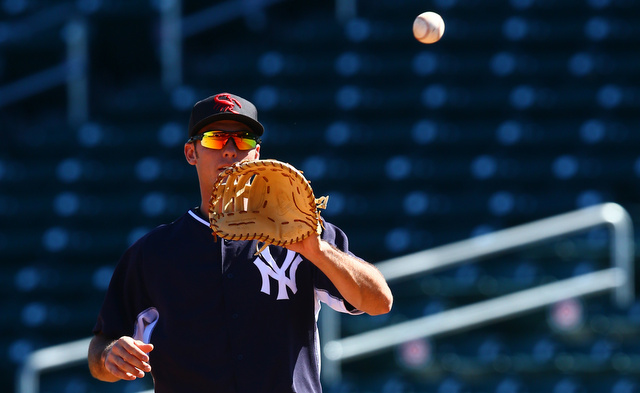 Over at FanGraphs yesterday, Kiley McDaniel posted his list of the top 200 — not the top 100, the top 200 (!) — prospects in baseball heading into the 2015 season. Cubs 3B Kris Bryant claims the top spot and is followed by Twins OF Byron Buxton and Cubs SS Addison Russell in the top three. At this point, it's clear Bryant is the consensus top prospect in baseball with Buxton, last year's No. 1, right behind him.
The Yankees landed seven players in the top 200. Here's the list with a short quote from McDaniel's write-up:
RHP Luis Severino (No. 26): "He's quickly improved and developed starter traits, but on certain days the stuff, command and delivery may all look more like a reliever."
OF Aaron Judge (No. 58): "He'll be 23 in Double-A next year and that will give us a better idea of if he's a solid everyday guy or a potential star, but there's clearly more here than people were expecting."
LHP Jacob Lindgren (No. 100): "(He's) now knocking on the door of the big leagues with closer level stuff and just enough of the feel from his starter days to spot his hellacious slider where he wants it."
SS Jorge Mateo (No. 102): "(He) has top-of-the-scale 80 speed, has the tools to stick at shortstop, has surprising pop and was hanging with pitches three or four years older than him."
1B Greg Bird (No. 120): "Bird has plus power and good plate discipline, with some comparing him to a non-injury-prone Nick Johnson."
LHP Ian Clarkin (No. 137): "His velocity has settled near the high end of where it was pre-draft and his above average to plus curveball is still the separator, with his changeup and command making good progress."
2B Rob Refsnyder is the seventh prospect, but the bottom 58 players of the top 200 are not ranked and are instead listed as honorable mentions, basically. It's kinda interesting McDaniel ranked Bird as the team's third best prospect behind Severino and Lindgren last month, but now he's fifth behind Severino, Judge, Lindgren, and Mateo. Eh, whatever.
I'm biased, so what the hell do I know, but I find it very hard to believe there are 200 prospects in the minors right now better than C Gary Sanchez. I get people are down on him, but a catcher with his arm and that much offensive upside is a pretty valuable prospect. Especially when they've had success at Double-A before their 22nd birthday. Not top 100? Okay. But not top 200? C'mon now.