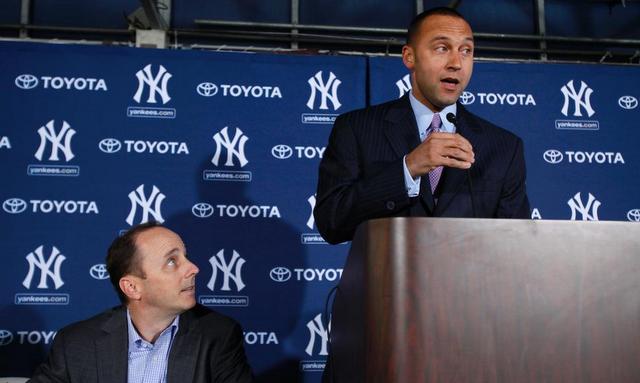 With Derek Jeter now retired, the Yankees are without a captain for the first time since 2003. And since Robinson Cano bolted for the Mariners last year, there is no obvious captain candidate on the roster either. That's alright. The Yankees have gone years between captains before and they'll do it again.
If it was up to Brian Cashman though, there would be no next captain. During a radio interview on Thursday he said he believes the team's captaincy should be retired alongside Jeter. From Bill Price:
"As far as I'm concerned, and I'm not to decision maker on this, that captaincy should be retired with No. 2," Cashman said. "I wouldn't give up another captain's title to anyone else."

…

"Leadership comes in a lot of forms, it would be a hard one to anoint someone captain," Cashman continued, "regardless of how great they might be."
That … seems a little excessive. But, then again, the majority of the Jeter lovefest has been over the top, so this fits right in. Jeter was undeniably a tremendous player and leader, but at some point another tremendous player and leader will come along, and he will be deserving of the captaincy. I man, geez. Retire the concept of Yankees' captaincy?
Anyway, captaincy isn't up to Cashman, that's an ownership call. The Yankees went seven and a half years without a captain between Don Mattingly and Jeter — not to mention 37 years between Lou Gehrig and Thurman Munson — and it looks like it'll be several years before another captain emerges. I'm cool with that. Captains should be all-time greats, like Jeter. The captaincy shouldn't cease to exist because of him though. Sheesh.