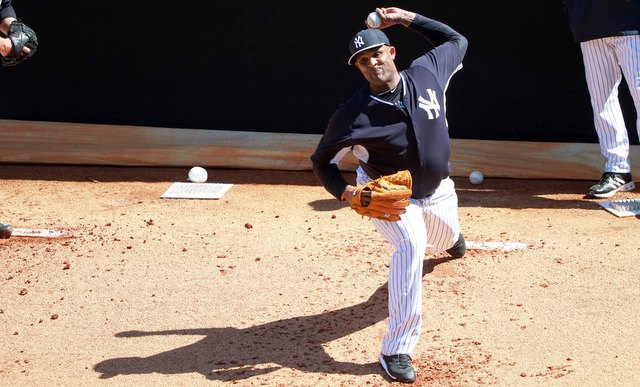 Earlier this morning, CC Sabathia told reporters he is scheduled to throw a 30-pitch simulated game on Thursday, which will be his first action in any kind of game situation since last May. He threw live batting practice over the weekend and reiterated that he feels great following knee surgery. Now he just needs to get stretched out and develop feel for his pitches before the start of the regular season.
Sabathia is pitching in a simulated game instead of the day's actual Grapefruit League game for two reasons. One, the Yankees can better control the simulated game. They can end innings if they start to go too long, stuff like that. Two, Masahiro Tanaka is already scheduled to pitch and make his Spring Training debut that day, and I doubt the Yankees want to have either guy come out of the bullpen for their first spring appearance.
Clearly the most important thing is Sabathia and Tanaka getting their work in, and the Yankees have a plan to do that. More interestingly though, Thursday's outings line up both guys to start Opening Day, assuming they stay on a normal five-day schedule the rest of spring. By having them both lined up to start Opening Day, Joe Girardi can make the call later in camp based on who's healthy, who's throwing the best, stuff like that. It gives him some options.
The Opening Day start doesn't mean a whole lot in the grand scheme of things but it is a neat little honor. Sabathia would be the first Yankees pitcher ever to start seven straight Opening Days — Mel Stottlemyre, Ron Guidry, and Whitey Ford all started seven Opening Days in pinstripes but not consecutively — and it would be his 12th Opening Day start overall, which would be the seventh most in history. That's pretty neat. Tanaka, obviously, would be making his first Opening Day start for the Yankees.
Hopefully Girardi gets to actually make this decision and Tanaka's elbow or Sabathia's knee doesn't make it for him. I know a lot of people consider the Opening Day starter a big deal and all that, but it really isn't. It's just one of 162 games. If Girardi goes with Sabathia because he's the "been there, done that" veteran, fine. If he goes with Tanaka because he's the best pitcher on the team (arguably!), that's cool too. Both being healthy is by far the most important thing here.