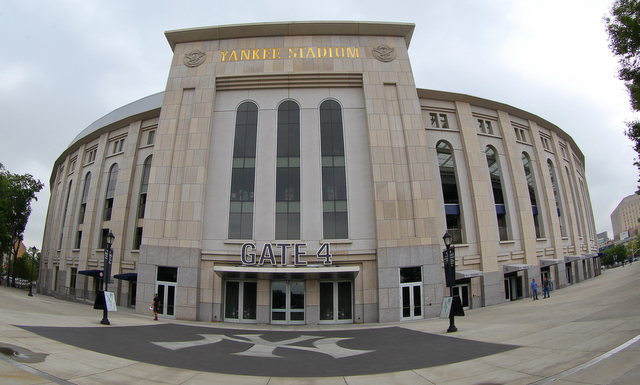 Once again, the Yankees have been ranked as the most valuable franchise in baseball. Forbes released their annual franchise valuations yesterday, and New York claimed the top spot with an estimated value of $3.2 billion. This is their 18th consecutive year atop the Forbes rankings. The Dodgers are a distant second with an estimated value of $2.4 billion.
The Yankees generated an estimated $508M in revenue last year — the Dodgers were again second at $403M — again the most in baseball, though their $8.1M operating income ranked only 22nd out of the 30 clubs. The Cardinals ($73.6M), Cubs ($73.3M), and World Series champion Giants ($68.4M) had by far the highest operating incomes. From the write-up:
The New York Yankees are worth the most, $3.2 billion, and are tied with the NFL's Dallas Cowboys as the most valuable U.S. sports team (Spanish soccer club Real Madrid, worth $3.44 billion, is the most valuable in the world). The Yankees have been the most valuable baseball team each of the 18 years Forbes has valued MLB franchises since 1998. During the 2014 season, the Bronx Bombers generated a record $508 million of revenue after deducting PILOT bond payments of $78 million and the $90 million the team contributed to baseball's revenue-sharing system. The team raked in over $100 million in local television rights payments, and Derek Jeter's last season in pinstripes goosed ticket and merchandise sales.
The franchise value is up from $2.5 billion last year, according to Forbes. The Yankees were valued at $2.3 billion in 2013, $1.85 billion in 2012, $1.7 billion in 2011, and $1.6 billion in 2010. The huge jump in franchise value from 2013 to 2014 was thanks in part to baseball's new national television deals, as well as the team's deal to sell part of YES to News Corp.
Despite their continued reign atop the franchise valuations — to be fair, Forbes is only estimating — Hal Steinbrenner is content to throw away his team's inherent market advantage by reducing payroll to get under the luxury tax threshold in two years or so. I understand why he wants to do it, luxury tax is wasted money, but as a fan I don't like it all. The Yankees aren't taking full advantage of the New York market and their on-field product both is and will continue to suffer.