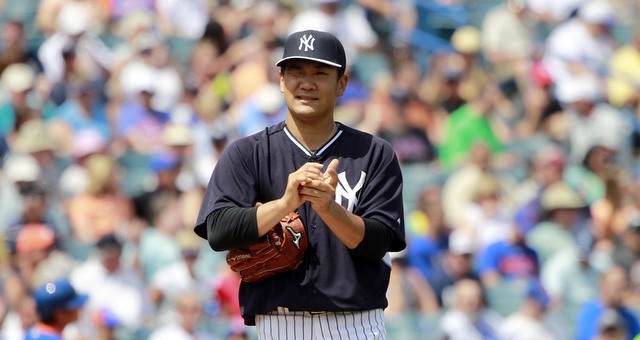 As expected, Masahiro Tanaka was officially named the Opening Day starter by Joe Girardi this morning, according to the many reporters in Tampa. He will be followed in order by Michael Pineda, CC Sabathia, Nathan Eovaldi, and the fifth starter to open the season. Girardi declined to name the fifth starter but all signs point to it being Adam Warren.
Sabathia has started the last six Opening Days for the Yankees. The team's last Opening Day starter before him was Chien-Ming Wang in 2008. Yeah, it's been a while. It was clear Sabathia would not get the Opening Day nod when it was announced he is scheduled to start tomorrow's game. The schedule doesn't line up. Sabathia has played in 14 MLB seasons and has started Opening Day in eleven of them. That's kinda nuts.
As for Tanaka, he is not only the team's best pitcher, but starting Opening Day allows him to get an extra day of rest prior to his second and third starts of the season thanks to scheduled off-days on April 7th and 16th. The Yankees have said they would like to get him extra rest whenever possible, especially early in the season thanks to the whole elbow issue. The club won't need to use a sixth starter to make that happen for at least a few weeks.
Believe it or not, Tanaka only started one Opening Day with the Rakuten Golden Eagles in Japan, so this will be his second career Opening Day start and first in pinstripes. Hideo Nomo (2000 Tigers, 2003-04 Dodgers), Daisuke Matsuzaka (2008 Red Sox), and Hiroki Kuroda (2009 Dodgers) are the only other Japanese pitchers to start Opening Day in MLB history. Yu Darvish was slated to start Opening Day for the Rangers this year before blowing out his elbow.
The Yankees open the regular season at home against the Blue Jays on April 6th. Toronto has not yet announced their rotation but apparently Drew Hutchison is lined up for Opening Day. I'm guessing R.A. Dickey and Mark Buehrle will follow in some order. The Yankees play three games against the Jays then three games against the Red Sox at home before going out on a ten-game road trip through Baltimore, Tampa Bay, and Detroit to start 2015.