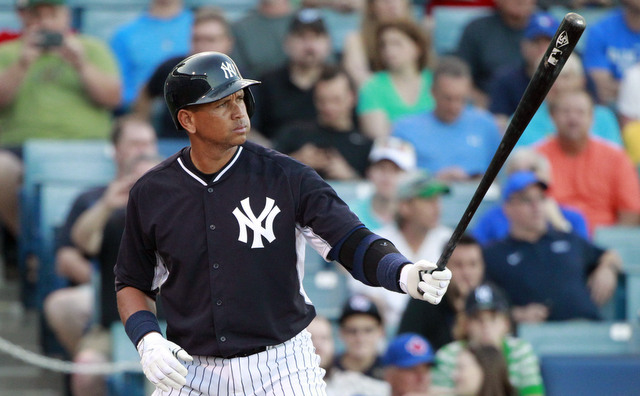 The Yankees wrecked the Tigers this afternoon, beating them 11-2 thanks to a six-run first inning against Alfredo Simon in Lakeland. Alex Rodriguez (solo) and Rob Refsnyder (two-run) both went deep while Brett Gardner, Jonathan Galvez, and Slade Heathcott tripled. Brendan Ryan went 1-for-3 with a double in his Grapefruit League debut after dealing with a back problem for a few weeks. Brian McCann also went 1-for-2 with a walk.
Adam Warren started and took a firm hold on the fifth starter's spot with five innings of one-run ball, striking out three and scattering four hits. Chase Whitley threw three scoreless innings out of the bullpen and is a long shot for the fifth starter's job, but we shouldn't forget about him either. One more pitching injury thrusts him into a more prominent role. There are no video highlights of this afternoon's game because there was no broadcast, but here's the box score and here are the rest of the day's notes from Tampa:
The Yankees announced another round of roster cuts today: Tyler Austin, Danny Burawa, and Jose DePaula were all optioned to Triple-A while Mason Williams was optioned to Double-A. Wilking Rodriguez was reassigned to minor league camp as well. There are still 48 players in big league camp by my unofficial count.
Dellin Betances threw a simulated game this afternoon. His last two Grapefruit League outings were shaky and a simulated game better allows him to work with coaches and tweak his mechanics than a regular game. Ivan Nova, Jose Ramirez, and Vicente Campos threw bullpens today. [Brendan Kuty, Chad Jennings]
Joe Girardi remains non-committal about his Opening Day starter. Both CC Sabathia and Masahiro Tanaka line up to pitch that day — Sabathia if he stays on a regular five-day schedule for the rest of spring, Tanaka if he stays on a six-day schedule as planned — and Girardi says they've yet to make a decision "because we haven't got them built up enough to feel comfortable that they're ready to go." [Bryan Hoch, Jennings]
Jacoby Ellsbury (oblique) told reporters yesterday he feels better and is "fully confident" he will be ready in time for Opening Day. The Yankees say they won't worry unless he isn't ready to return to game action by April 1st, five days before the start of the season. [Bryan Hoch]
The Yankees will be on Florida's east coast the next two days, so A-Rod and Carlos Beltran will stay behind in Tampa and get a bunch of at-bats in minor league games. Alex is coming off his suspension and Beltran is coming back from offseason elbow surgery. [Mark Didtler]
Ty Hensley was among those to pitch in minor league camp today, which is great news. He was viciously attacked over the holidays and had his jaw wired shut, but he's recovered well enough to return to game action. Great news. [Josh Norris]
Here is your open thread for the evening. MLB Network is showing the Reds and Giants live later tonight, if you're desperate to see some baseball. The Devils, Knicks, and Nets are all playing and you've got a full slate of March Madness to watch as well. Have at it.
Update: Apparently there is one video highlight from today's game. Here's A-Rod's homer: