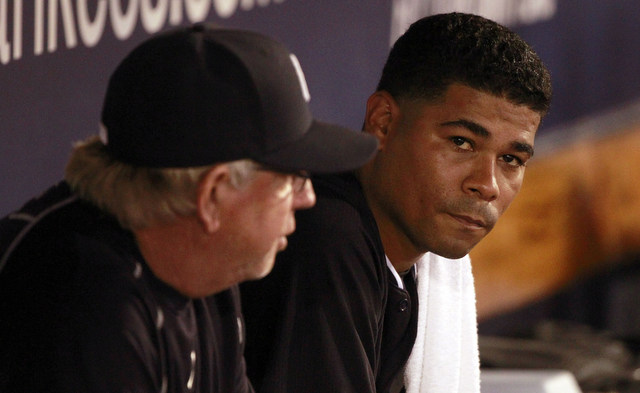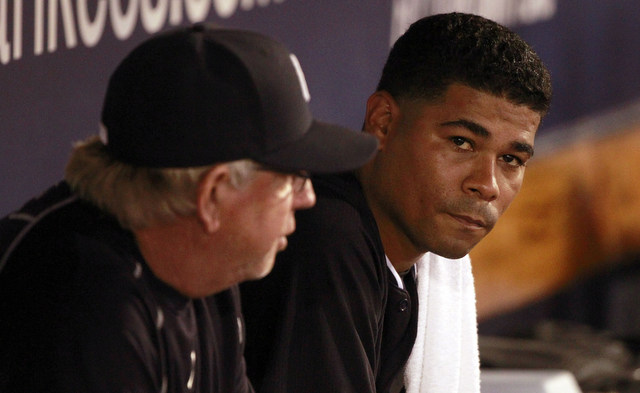 The fifth starter competition continues tonight as Esmil Rogers gets what might be his last chance to convince the Yankees he deserves the job. Joe Girardi said yesterday he hopes to pick a fifth starter by the end of the week, and with Adam Warren lined up to pitch Thursday, Rogers is going to have to pitch well to force the issue. Of course, it seems like the job has been Warren's all along, so maybe tonight doesn't really matter.
Tonight's reason to watch: The team's three most interesting big league relievers (in my opinion) are scheduled to pitch after Rogers. That is Justin Wilson, Andrew Miller, and Dellin Betances. Betances' last two outings were a little shaky, so let's see if he's gotten over whatever was troubling him. Dellin is scheduled to pitch tonight and tomorrow as he works back-to-back days for the first time in camp.
The Tigers made the short trip down from Lakeland to Tampa for tonight's game. Here is their starting lineup and here is Girardi's starting lineup:
CF Brett Gardner
3B Chase Headley
RF Carlos Beltran
1B Mark Teixeira
C Brian McCann
DH Alex Rodriguez
2B Stephen Drew
LF Chris Young
SS Didi Gregorius
RHP Esmil Rogers
Available Position Players: C John Ryan Murphy, 1B Francisco Arcia, 2B Ali Castillo, SS Nick Noonan, 3B Jonathan Galvez, LF Ramon Flores, CF Slade Heathcott, RF Aaron Judge, and DH Kyle Higashioka will be the second string off the bench. C Eddy Rodriguez, IF Cole Figueroa, and 2B Rob Refsnyder are the extra players on the bench.
Available Pitchers: LHP Justin Wilson, LHP Andrew Miller, RHP Dellin Betances, and RHP Nick Rumbelow are all scheduled to pitch. RHP Diego Moreno, LHP James Pazos, and RHP Chris Smith are the extra arms.
It's cool and clear in Tampa tonight. Temperatures in the low-to-mid-70s and not a cloud in the sky. Tonight's game is scheduled to begin a little after 7pm ET and you can watch live on YES locally and both MLB Network and MLB.tv nationally. MLB Network will be blacked out in the Yankees' home market but MLB.tv will not. Enjoy the game.