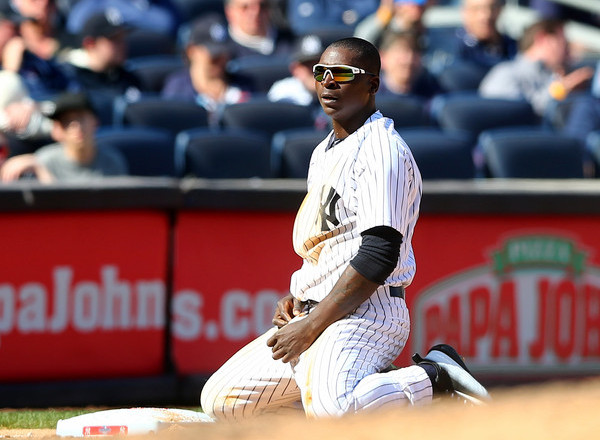 To say the first seven games of the Didi Gregorius era haven't gone well would be a pretty big understatement. Didi is only 3-for-23 (.119) at the plate and he's been an adventure both in the field and on the bases, particularly the latter. He's made some straight up boneheaded plays, like trying to steal third on Opening Day or getting caught making too wide a turn at first base on a single in the middle of last week.
Gregorius has not yet been charged with an error this season but he's had some issues defensively. He didn't throw home on Daniel Nava's bases clearing double Saturday — no, it wouldn't have made a difference in the game, but still — and he botched a potential double play Sunday because he couldn't get the ball out of his glove. Yeah, that stuff happens, but when you're already in the crosshairs because of your bat and base-running, you better at least make the plays you're supposed to make.
Soon after that botched double play, some in the Yankees Stadium crowd started chanting "Der-ek Je-ter!" as if that was going to change anything. Gregorius heard them — "I just laugh, there's nothing I can do. Just got to play the game. That's all I can do. I want to do better, like (Jeter)," he said to Zack Braziller after the game — and it reminded me of the last time a new player was brought in from outside the organization to replace a retired icon.
Two decades ago the Yankees replaced Don Mattingly with Tino Martinez, and, like Gregorius, Tino got off to a brutal start in pinstripes. Especially at the plate, which is kind of a big deal since first basemen are in the lineup to provide offense first and foremost. Martinez started the 1996 season in a 3-for-34 (.088) slump, including 0-for-16 at Yankee Stadium, and was booed like he was wearing a Red Sox jersey. It wasn't just because he was not hitting, it was also because he had the audacity to be picked to replace a legend*.
* I definitely remember Joe Girardi catching a lot of hell early that season as well. Fans were chanting "Stan-ley! Stan-ley!" after his at-bats because they wanted Mike Stanley back.
Gregorius is sorta going through what Martinez went through in 1996, though the circumstances are different. Tino was a veteran player who hit .293/.369/.551 (135 OPS+) with 31 homers in his final season with the Mariners. Didi is a young player not yet established at the MLB level who has struggled in all phases of the game. It would be one thing if he simply wasn't hitting. I don't think many people were expecting big offensive numbers from Gregorius this year. It's become a bigger issue because of the base-running and defensive brain farts.
As painful as Didi's struggles have been this first week, the single most important thing the Yankees can do is have patience with him, and I expect them to just that. They need to help Gregorius get through this — and by they I mean everyone, the coaches, his teammates, the whole nine — and get comfortable on the field. Maybe getting away from Yankee Stadium during this ten-game road trip will help. I'm sure that first week replacing Jeter at home was a bit overwhelming. How could it not be?
Everyone wants young players but no one wants the growing pains. Gregorius is a young player still trying to find his way in the big leagues, and now he has to do it in New York while replacing an icon. Comparatively, Tino had it easy in 1996. He was a veteran player who could point to the back of his baseball card when he stumbled out of the gate. Gregorius can't do that. New York is a great place to play if you thrive, but man, if you struggle early in your first season with the Yankees, it can be very tough to win people over.
"He's struggling, but I'm not worried about him. The concern I have is if he starts worrying about himself. He's in a new city and he has to impress. There's nothing much you can do for him except keep encouraging him and talking to him," said the manager about his new player to Claire Smith, except that wasn't Girardi talking about Gregorius. That was Joe Torre talking about Tino in 1996 and it applies to Gregorius today. The Yankees have to keep encouraging him and help him through this tough start. To change the way they feel about him or treat him after seven games, not matter how bad, would be a big mistake. As ugly as it has been, this is part of Didi's development.