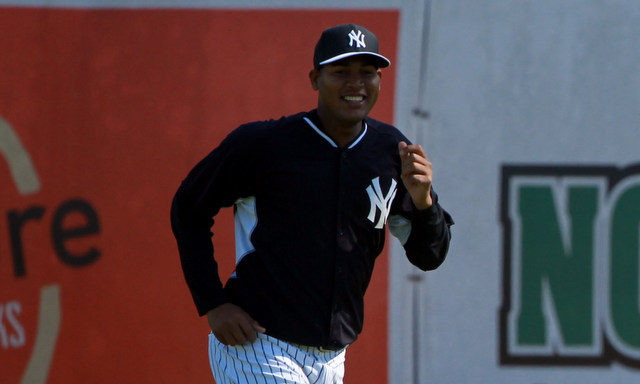 According to Marly Rivera (translated article), right-hander Ivan Nova is set to face hitters during a session of live batting practice at the Yankees' complex in Tampa tomorrow. Nova is working his way back from Tommy John surgery and this will be his first time facing hitters as part of his rehab.
"It feels good, already going to be a year since I've faced hitters and I feel a little nervous. I feel great physically. I have thrown all my pitches without any hassle and I am confident that everything will be fine," said Nova to Rivera. "Right now I do not know how long I'll keep throwing batting practice. I have to follow the (process laid out) by my coaches … Do not try to do more than necessary. The important thing is to consider the process."
Nova, 29, had his elbow rebuild late last April and the Yankees have proceeded very slowly with his rehab. Pitchers usually begin facing hitters 8-10 months after surgery and Nova's at 12 months now. After however many sessions of batting practice, Nova will return to game action, likely Extended Spring Training at first because the conditions are controlled. The Yankees have been saying they expect Nova back in June all along.
The typical Tommy John surgery rehab schedule has been called into question by some — including Dr. James Andrews — within the last few months because it maybe be too aggressive, which could explain why so many players are now having second Tommy John surgeries. Jeremy Hefner, Cory Luebke, Jonny Venters, and Daniel Hudson all needed a second procedure while still rehabbing from the first. Others like Kris Medlen, Brandon Beachy, and Jarrod Parker needed a second Tommy John surgery with a few years of their first.
Clearly the Yankees are being cautious with Nova and I can't say I blame them one bit. He could be a significant rotation boost at midseason and also figures to be an important part of the rotation next year, his last season before free agency.