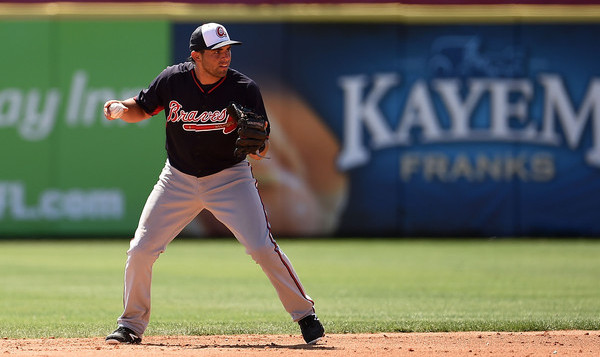 The Yankees have interest in top Braves infield prospect Jose Peraza, reports George King. King says they've already made contact with Atlanta and recently sent scout Dennis Twombley to watch Peraza with Triple-A Gwinnett. The two teams discussed an Andrelton Simmons/Jason Heyward trade over the winter (plus they made the Manny Banuelos trade), so some groundwork has been laid. The Yankees may already know which of their prospects the Braves like the most.
Peraza, who turns 21 two weeks from today, is off to a 6-for-28 (.214) start in Triple-A after hitting .339/.364/.441 (126 wRC+) with 20 doubles, eleven triples, two homers, and 60 steals in 75 attempts between High-A and Double-A last year. He's a contact machine from the right side, posting a 9.4 K% and a 3.4 BB% in 2014. Peraza is a shortstop playing second base — Atlanta shifted him to the other side of the bag last year because of Simmons. Here is a snippet of MLB.com's free scouting report:
Scouting Grades: Hit: 60 | Power: 30 | Run: 75 | Arm: 50 | Field: 60 | Overall: 55

Peraza has raced through the Minor Leagues thanks to his feel for the game and his top-of-the-scale speed. As a 20-year-old in 2014, he reached Double-A Mississippi and played in the All-Star Futures Game.

Peraza has a quick, short swing and excellent hand-eye coordination. His swing produces minimal power and he mostly tries to keep the ball on the ground to use his considerable speed to his advantage. He's a threat to steal whenever he gets on base and has swiped at least 60 bases in each of his first two years of full-season ball.
Baseball America (subs. req'd) says the 6-foot-0, 190 lb. Peraza displayed "steady, soft hands with above-average range and solid arm strength" in the field while noting "scouts questioned Atlanta's decision to shift Peraza off shortstop to the less-demanding job at second base." They also say his "modest pop (and) his unwillingness to walk … may set him back as a future leadoff man."
Peraza is not some random young infielder. He's a significant prospect. Keith Law (subs. req'd) and Baseball America ranked him as the 24th and 54th best prospect in baseball coming into the season, respectively. Coincidentally, Peraza ranked one spot behind Aaron Judge on both lists, which gives you an idea of his status within the industry.
I wouldn't take the interest in Peraza as some kind of indication the Yankees have little faith in Didi Gregorius and/or Rob Refsnyder going forward. Quality middle infielders are really hard to find and, aside from Refsnyder, the Yankees don't have any good shortstop or second base prospects above Single-A. Peraza is a very promising young player who potentially fills an organizational need. It fits.
Prospect for prospect trades are rare but the Braves did make one over the winter — president of baseball operations John Hart sent Double-A third baseman Kyle Kubitza to the Angels for rookie ball lefty Ricardo Sanchez. (Fun Fact: The Braves don't have a GM. Hart and assistant GM/ex-Yankee executive John Coppolella are sharing GM duties.) Hart took over as the decision-maker last late year and it's not uncommon for a new exec to trade his team's prospects. Look at GM A.J. Preller with the Padres. They didn't draft or develop these players. They're not "their guys," there's no connection.
Anyway, King says the Yankees probably wouldn't give up Luis Severino for Peraza but could deal Gary Sanchez as part of a two-player package. That sounds like speculation more than actual reporting though. Personally, I'd trade any prospect in the system for Peraza, including Judge or Severino. A two-player package featuring Sanchez plus a spare outfielder, say Georgia boy Tyler Austin, would be ideal, but I'm not sure why the Braves would do that. The Yankees have lots of outfielders and catchers, and good middle infielders are rare. Peraza makes a ton of sense if Hart & Co. are willing to move him.