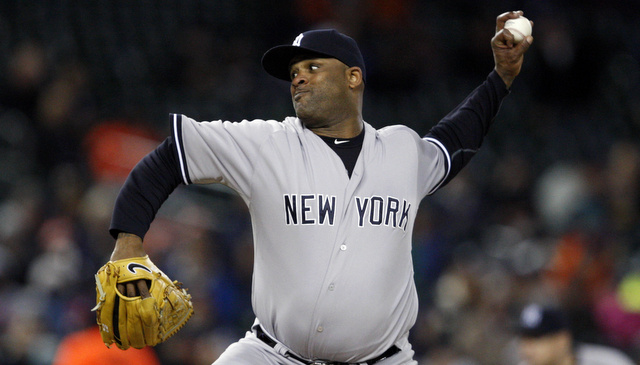 The Yankees dropped last night's series opener to the Tigers in a pretty annoying way — they jumped out to an early 1-0 lead, didn't build on it, then watched as Detroit used some less than well struck balls to rally for two runs in seventh. An annoying loss, no doubt, but it's still just one loss. Before you know it that game will fade from memory and blend into the glob of baseball we forget each season.
The loss did come with a silver lining, however, and that of course was CC Sabathia's complete game performance. He allowed those two runs on seven singles and three walks, and it wasn't until that seventh inning that the high-powered Tigers had a runner reach second base. Sabathia struck out five, threw 62 of 98 pitches for strikes (63%), got nine swings and misses, and 12 of the 21 balls put in play against the big lefty were on the ground. Solid performance all around.
Unlike his first two starts, when his velocity gradually faded as the game progressed (first start, second start), Sabathia held his velocity all night last night despite the cold, windy, rainy conditions. He hit 90.7 mph in the first at-bat of the game and 91.7 mph in the last. There was no drop-off. Here's the velocity graph via Brooks Baseball: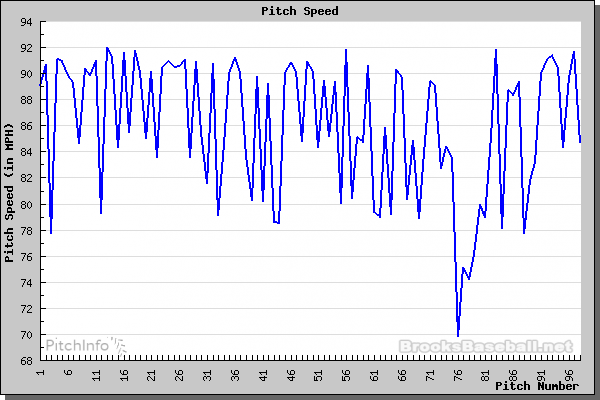 Most pitchers lose a little something in the later innings, it's normal, but for a guy who's lost noticeable fastball oomph with age, sustaining velocity all night was a very encouraging sign for Sabathia. His margin for error is relatively small as it is, and if he's able to avoid having that margin for error get even smaller when his pitch count climbs north of, say, 70 pitches, the more effective he'll be overall.
I thought Tigers manager Brad Ausmus did Sabathia a bit of a favor by loading his lineup with right-handed hitters — all nine players in his lineup were righties — because it allowed him to stick with the same approach all night: fastballs to both sides of the plate and changeups down and away. He threw only eleven sliders out of 98 pitches (11%) after throwing 28% sliders in his first two starts. The lack of a lefty hitter allowed Sabathia to get in a rhythm and stick with one approach all night.
That's a luxury Sabathia won't have every start but teams do still stack their lineups with righties again him — only six of the 53 batters he faced in his first two starts were lefties, and even last season only 31 of 209 batters faced were lefties (15%). Sabathia's changeup is super important because he always faces a ton of right-handed batters and last night was an opportunity to really dig in and work on that pitch, which was an issue in his first two starts (opponents hit .308 against it).
Coming into the season, we really had no idea what to expect from Sabathia following knee surgery and 257 pretty ugly innings from 2012-13 (4.87 ERA and 4.22 FIP). His three starts have gotten progressively better — five runs in 5.2 innings, four runs in seven innings, two runs in eight innings — and there are other positive signs as well, including the way he held his velocity and used his changeup last night. The loss stunk, that's baseball, but the Sabathia we saw last night can be an effective pitcher. CC is trending in the right direction earlier this season, for sure.