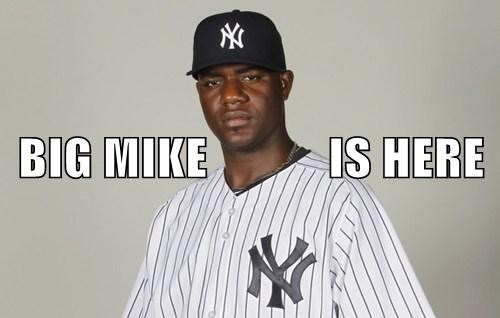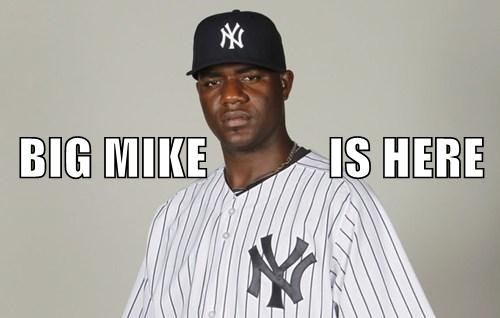 The Yankees finally get to leave Florida tomorrow — they will make a quick one-game stop in Washington to play the Nationals on Saturday before arriving in New York — but they have to play three games before fleeing Tampa, including two this afternoon. Half the team is home in Tampa to play the Pirates and the other half is 45 minutes up the road in Lakeland to play the Tigers. There will be video broadcasts of both games too, so hooray for two Yankees games at the same time!
Reason to watch today's home game: Big Mike! He'll be on the mound making his final spring tune-up start. Dellin Betances is also scheduled to pitch and he's still working through whatever's been hampering him in camp. Stephen Drew is playing shortstop for the first time this spring — he told reporters yesterday he hasn't even taken grounders at short, though Brendan Ryan's calf injury means the Yankees need Drew to be an option there. Also, Alex Rodriguez is starting at first base for the second time this spring. And finally, old buddy A.J. Burnett will be on the bump for the Pirates. It's already been three years since he was traded away. Time flies.
Here is the starting lineup for the home game against the Buccos:
CF Jacoby Ellsbury
1B Alex Rodriguez
C Brian McCann
DH Austin Romine
RF Garrett Jones
LF Chris Young
SS Stephen Drew
2B Rob Refsnyder
3B Eric Jagielo
RHP Michael Pineda
Available Position Players: 1B Greg Bird, 2B Tyler Wade, SS Cito Culver, LF Ben Gamel, CF Jake Cave, and RF Aaron Judge will be the second string off the bench. Romine is also scheduled to move from DH to catcher. C Jesus Aparicio, C Radley Haddad, IF Dan Fiorito, and UTIL Jose Rosario are the extra bodies.
Available Pitchers: RHP David Carpenter, LHP Andrew Miller, RHP Dellin Betances, and RHP Jose Ramirez are all scheduled to pitch. RHP Branden Pinder, LHP Chasen Shreve, and LHP Fred Lewis are the extra arms.
Reason to watch today's road game: Didi Gregorius returns to the lineup after missing a few days with a minor wrist sprain. He landed on it awkwardly last week and was able to go through a full workout yesterday with no issues. Some rarely seen minor leaguers are scheduled to come off the bench as well. That's pretty much it for this game. Here is the starting lineup:
SS Didi Gregorius
3B Chase Headley
1B Mark Teixeira
C John Ryan Murphy
RF Ramon Flores
CF Slade Heathcott
LF Taylor Dugas
DH Kyle Roller
2B Nick Noonan
RH Bryan Mitchell
Available Position Players: C Eddy Rodriguez, 1B Jonathan Galvez, 2B Ali Castillo, SS Cole Figueroa, 3B Dante Bichette Jr., LF Dustin Fowler, CF Mason Williams, and RF Mark Payton will come off the bench to replace the starters. C Kyle Higashioka, UTIL Collin Slaybaugh, and IF Vince Conde are the extra players.
Available Pitchers: RHP Kyle Davies, RHP Danny Burawa, LHP Jacob Lindgren, RHP Diego Moreno, and LHP Tyler Webb will following Mitchell out of the bullpen. RHP Kyle Haynes is the lonely extra arm.
The weather for both games will be the same: a little cloudy will temperatures in the low-80s and a bunch of humidity. Both games will start at 1:05pm ET and you can watch the home game against the Pirates on YES and the road game against the Tigers on ESPN. Both games will be on MLB.tv as well. There won't be any blackouts in the various home markets for ESPN or MLB.tv. Enjoy the games.