Source: FanGraphs
I was planning to write a regular recap for this game, but forget it. Nineteen innings is about seven too many. The Yankees made three (three!) dramatic late game-tying comebacks — Chase Headley homered in the ninth, Mark Teixeira homered in the 16th, Carlos Beltran doubled in the 18th — and got stellar work from their bullpen, yet still lost to 6-5 to the Red Sox
The Yankees shot themselves in the foot with awful base-running, as both Brett Gardner and Headley got picked off first base, and Gardner was thrown out trying to steal second as well. Nathan Eovaldi made his first start in pinstripes and showed good stuff without the results to match, which is basically the story of his career. The bullpen though. Look at this: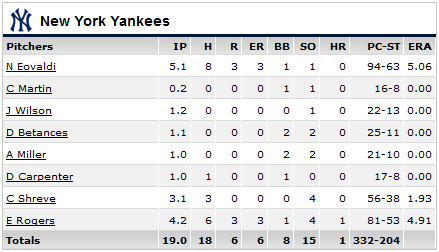 Trash Esmil Rogers all you want. He bit the bullet and threw 81 pitches one day after throwing 34 pitches. Respect. Chasen Shreve was stellar in his 3.1 innings of work and the bullpen in general was great. Three runs in 13.2 innings? What more do you want? The relief crew held up their end of the bargain. I'm sure Shreve will go to Triple-A for a fresh arm tomorrow and Rogers might be headed to the DL for a two-week vacation.
Here are the box score, video highlights, and updated standings. Also make sure you check out our Bullpen Workload page and brand new Announcer Standings page. I'm still not sure why the second one exists. I made it on a whim and maybe it'll it prove to be useful at some point. Adam Warren and Joe Kelly will be the pitching matchup in the second game of this series less than 12 hours from now.