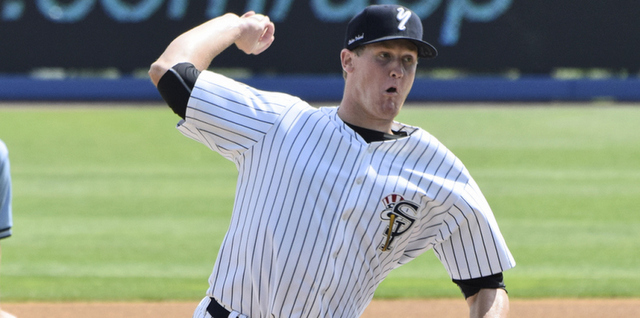 Well this is awful. Alexis Brudnicki reports right-hander Ty Hensley had Tommy John surgery last month and will miss the 2015 season. Dr. James Andrews performed the procedure. Hensley reported to Spring Training as a healthy player after being viciously attacked during the holidays.
Hensley told Brudnicki he hurt his elbow pitching in a minor league game. "I was throwing against the Pirates and I got two outs and then threw a pitch and my forearm starting getting really tight …. When I was warming up for the second inning it was really, really tight, but as the inning went on, it started getting better so I didn't think too much of it," he said. Here's more:
"As far as one thing after the other, with the whole hip surgery thing and my ab surgery—call it what you want, but I call that a fluke because, it's just weird," Hensley said. "Now this on the other hand, it's an elbow injury. I know it takes time and I'm going to have to learn how to throw again, but I'm confident.

"I've gone through some stuff and gotten through it already so at the end it's going to be no big deal. I'm going to get through it just fine and I'm going to throw harder, my stuff is going to be better, and I'll be stronger and better for it."
The Yankees selected the 21-year-old Hensley with the 30th overall pick in the 2012 draft and injuries have limited him to only 42.1 pro innings. The Yankees reduced Hensley's signing bonus from $1.6M to $1.2M after they found an "abnormality" in his shoulder during a physical, then he missed the entire 2013 season and the start of the 2014 season after having surgery to repair both hips as well as a hernia. Now he'll miss all of 2015 after having his elbow rebuilt.
The minor league season doesn't start until Thursday, yet the Yankees have already lost three top 30 prospects — three top 18 prospects, really — for the season. Domingo German (No. 11) and Hensley (No. 18) have both had Tommy John surgery and Luis Torrens (No. 6) had shoulder surgery. That's brutal. The injury bug isn't messing around this year. It bit hard and early.