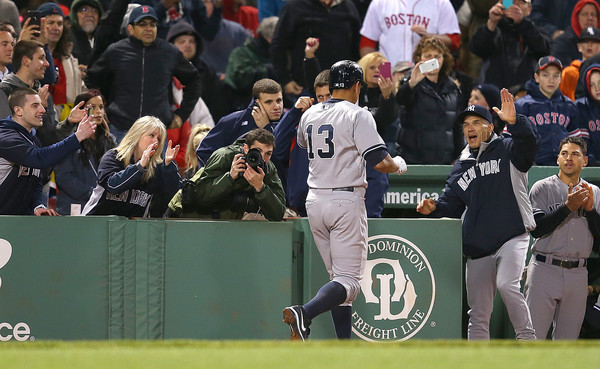 Last night's series opening win over the Red Sox was, pretty easily, my favorite game of the season so far. The Yankees have been playing pretty well of late but I'm not sure there's any competition. Alex Rodriguez made some history, won the game with a homer, Dellin Betances and Andrew Miller shut it down late … pretty great game all around.
The Yankees have a chance to clinch their fifth straight series win this afternoon, something they didn't do at all in 2013 and 2014. (They won four straight series twice in 2013.) Last night's win was awesome. It's also in a rear-view mirror. Can't sit around and feel good about it anymore. Another game and another opportunity to win this afternoon. Here is the Red Sox's lineup and here is the Yankees' lineup:
CF Jacoby Ellsbury
LF Brett Gardner
DH Alex Rodriguez
1B Mark Teixeira
C Brian McCann
RF Chris Young
3B Chase Headley
2B Gregorio Petit
SS Didi Gregorius
RHP Nathan Eovaldi
It's a beautiful day in Boston. Clear skies and temperatures in the mid-50. Wonderful day for baseball. This afternoon's game is scheduled to begin at 1:35pm ET and can be seen on YES locally and MLB Network nationally, depending on where you live. Enjoy the game.