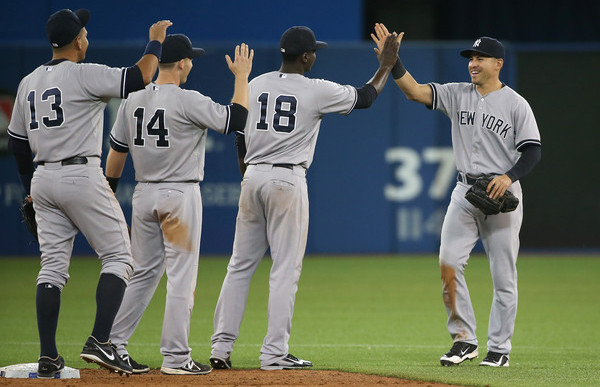 The Yankees and Blue Jays have split the first two games of this series at Rogers Centre — the Yankees aren't fans of the new turf, by the way — so tonight's rubber game will determine the series winner. New York has won each of their last five series and they haven't won six straight since the middle of the 2011 season, when they won seven straight. Would be nice to get over that hump, no?
Tonight's pitching matchup would have been great about five years ago: CC Sabathia vs. Mark Buehrle. Now they're both in the latter phases of their careers trying to figure out how to pitch with reduced stuff. (Yes, even Buehrle's trying to learn how to pitch with lost velocity even though he had little to begin win.) The Yankees have historically owned Buehrle but I don't really think that means much. This Yankees team is different than last year's and the all the other ones before it. Here is Toronto's lineup and here is New York's lineup:
CF Jacoby Ellsbury
LF Chris Young
DH Alex Rodriguez
1B Mark Teixeira
C Brian McCann
RF Carlos Beltran
3B Chase Headley
SS Stephen Drew
2B Jose Pirela
LHP CC Sabathia
It's been a real nice day in Toronto, with a clear sky and temperatures in the 70s. I'm guessing the roof will be open tonight. First pitch for tonight's game is scheduled for 7:07pm ET. You can watch on YES. Enjoy.
Injury Update: Brett Gardner is out with a stiff neck, Joe Girardi told reporters this afternoon. He hurt himself on a head-first slide last night. Seems like it's only a day-to-day thing, thankfully.
Roster Move: As you can tell from the lineup, Pirela (concussion) has been activated off the DL. Gregorio Petit was placed on the 15-day DL with a right hand contusion in a corresponding move, the Yankees announced. Petit took a pitch to the hand last night and the various reporters say it was pretty swollen today. Timing worked out well.