So, just as we all expected after that six-game losing streak, the Yankees have swept the Royals, who came into the series with baseball's best record. New York took the series finale 4-2 on Wednesday afternoon. Things can turn around quick in this game, eh?
Singles Are For The Weak
Two weeks ago Royals righty Chris Young shut the Yankees down using his trademark "mid-80s fastballs up the zone" approach. It works for him. Being 6-foot-10 has its advantages. The Yankees knew what was coming on Wednesday afternoon and capitalized, most notably when Brian McCann tomahawked one of those high mid-80s heaters — the pitch was seriously at his shoulders — into the right field second deck for a game-tying solo homer in the second. He hit it like he knew it was coming.
The big offensive blow came an inning later and it wasn't on a high fastball. Brett Gardner yanked a double into the right field corner, Chase Headley took four pitches for a walk, then Alex Rodriguez hooked a hanging slider into the first row of the left field stands, just a few feet from the foul pole. It seemed like A-Rod was looking for the fastball, got a bad slider, and his reflexes kicked in. I thought it was a double off the wall off the bat but it carried out. Young came into the game with a 21.1% ground ball rate and a 0.26 HR/9. The Yankees helped even those out.
The Bombers didn't score the rest of the game, and while that's always sorta annoying, they didn't need any more runs anyway. The pitching made it stand up. A-Rod and Carlos Beltran both had two hits — Beltran has baseball's longest current hit streak at 15 games — while Gardner, Headley, Mark Teixeira, McCann, and Slade Heathcott had one knock apiece. Headley and McCann (two) drew the three walks.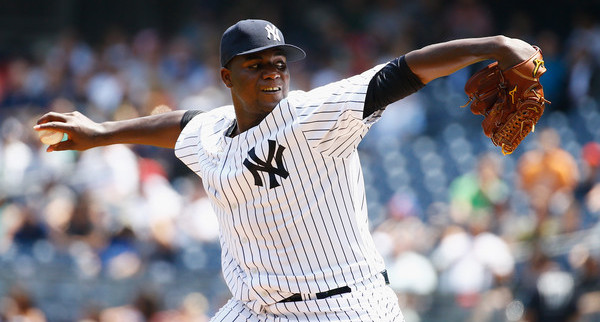 Slightly Large Mike
He's not back to being Big Mike yet, but Michael Pineda was better in this game than he had been in his last two. He did give up a solo homer and three rockets for outs in the first inning, and the Royals did put at least one man on base in every inning against but second, fourth, and partial seventh, but overall Pineda had some semblance of his slider and was able to pitch out of trouble. That wasn't always the case the last two times out.
Pineda's best work came in the fifth inning, when Paulo Orlando sliced a Beltran-aided double to right field with one out. It was a line drive Beltran appeared to misread — he broke in initially then had to retreat back — allowing it to sail over his head. Alcides Escobar slapped a single to right to put runners on the corners before a wild pitch allowed Escobar to move to second. The Royals had runners on second and third with one out and the middle of the order due up.
Rather than cave, Pineda battled and struck out Mike Moustakas and Lorenzo Cain to strand the runners. He threw seven pitches to those two guys and got four swings and misses. Big Mike stuff. Pineda was able to work through 6.2 innings, holding Kansas City to just the solo homer and five other hits. He struck out eight and walked one, throwing 72 of 106 pitches for strikes (68%). That includes 16 swings and misses after getting 20 swings and misses in his previous two starts combined. Better! Not all the way back yet, but better.
Call To The 'Pen
Once Pineda was done, Joe Girardi mixed and matched with David Carpenter (two pitches, one single) and Justin Wilson (four pitches, fly out) to get the final out of the seventh. Carpenter can't say Girardi isn't giving him a chance to figure things out, that's for sure. At some point the results have to come though. May's almost over. I have to imagine Carpenter's almost out of leash.
The eighth inning went to Dellin Betances, who walked a batter and then allowed the run to score on a stolen base, an infield single, and an error by Didi Gregorius. Kendrys Morales hit a soft chopper to second, Gregorius cut in front of Stephen Drew, and tried to backhand the ball to first base. Didn't work. Morales was given a single and the runner scored on the error, so the run was unearned. Dellin still has that shiny 0.00 ERA. He struck out the side.
Andrew Miller came on for the ninth inning and retired the side with two ground balls and a line drive at Gregorius. Miller has "only" struck out five of the last 18 batters he's faced, or 27.8%. His season strikeout rate plummeted from 45.3% to 41.5% during that time. Most guys see their season strikeout rate increase if they whiff five out of 18. Anyway, Miller nailed down his 14th save in 14 chances. It was his first save since May 8th, believe it or not.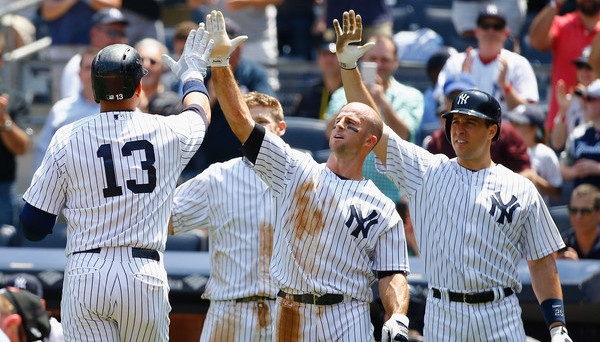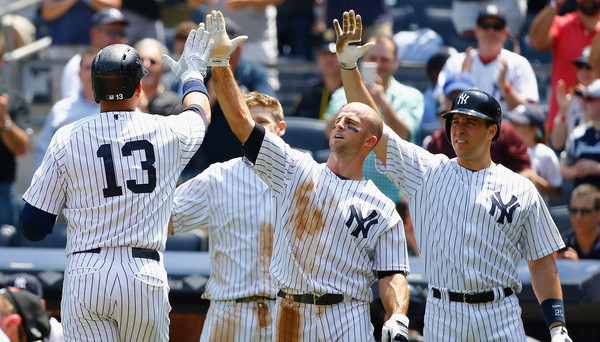 Leftovers
Headley has had some trouble defensively this year, specifically botching routine plays, but he made two stellar plays in the first inning. First he robbed Escobar of a base hit by reeling in a hard-hit grounder, then he made a spectacular diving stop to rob Eric Hosmer. Headley was shaded towards short for the shift, dove back toward third base, then made the throw. Incredible play. Here's the unembeddable video.
And finally, A-Rod's homer gave him 1,995 RBI in his career, moving him into third place on the all-time list. (RBI became an official stat in 1920 and MLB doesn't acknowledge anything prior.) He jumped over Lou Gehrig (1,993) and is behind only Hank Aaron (2,297) and Barry Bonds (1,996). A-Rod now has the most RBI in AL history. Nutso.
Box Score, WPA Graph & Standings
Here's the box score and the video highlights, as well as the updated standings. Also check out our Bullpen Workload and Announcer Standings pages. Here's the win probability graph:

Source: FanGraphs
Up Next
The Yankee are done with the Royals and they'll now head west for a seven-game road trip in the Pacific Time Zone. They open a four-game series with the Athletics on Thursday night. That's a 10pm ET start. CC Sabathia and rookie righty Kendall Graveman will be the pitching matchup in the opener.