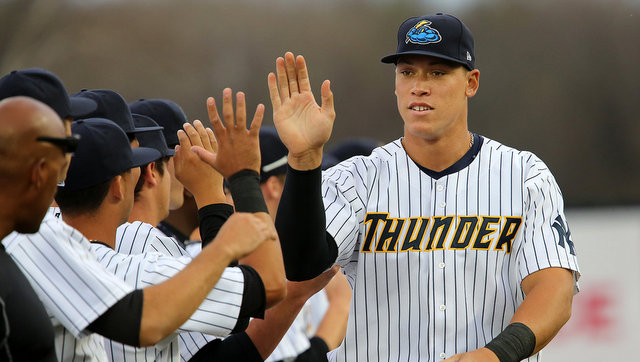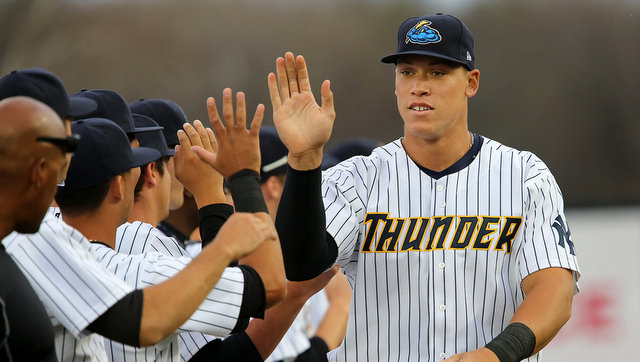 The 2015 amateur draft begins Monday night, which means it's time for my annual pre-draft update of the top 30 prospects in the Yankees' system. Of the three top 30 lists I do each year, the pre-draft list by far my least favorite because it's prone to small sample size overreactions and usually no new interesting prospects have joined the organization. So it's the same players in a slightly different order, basically.
The only player to graduate from my Preseason Top 30 Prospects list to the big leagues so far this year is current backup catcher John Ryan Murphy. He crossed the 130 at-bat rookie eligibility threshold a few weeks ago. The Yankees haven't made any trades yets this season, so no prospects were added or subtracted from the farm system since the preseason list.
Rather than simply present the pre-draft top 30 like I usually do, I'm going to try something a little different this time, and break the list up into groups. The players are still ranked 1-30, but are now grouped together based on common traits. Make sense? You'll see what I mean. Each player is listed with his position, his age, and his rank on my preseason list. Let's get to it.
The Top Two
1. OF Aaron Judge, 23 (Preseason Rank: 1)
2. RHP Luis Severino, 21 (Preseason Rank: 2)
At this point these two are clearly the two best prospects in the system. The order is debatable but not really — Judge has done nothing but mash as a pro and also will provide defensive value in right field. There are basically two flaws in his game. One, he is prone to striking out, partly because he's so damn big and has such long arms. Two, he doesn't hit for as much power as you'd expect because he has such a contact-focused approach. That's the "my biggest weakness is I work too hard" of the prospect world.
Severino, on the other hand, is still working to refine his breaking ball and changeup — both of which are very promising yet far from consistent from start-to-start — as well as improve his delivery. The Yankees have moved Severino very aggressively through the system and I have little doubt he will reach MLB before Judge. I like Judge's potential to be a long-term impact player more, however. Again, these two are the two best prospects in the system and the Yankees are lucky to have both. At this point Judge is the better bet though.
The Questionable Next Four
3. C Gary Sanchez, 22 (Preseason Rank: 3)
4. LHP Ian Clarkin, 20 (Preseason Rank: 4)
5. 1B Greg Bird, 22 (Preseason Rank: 5)
6. 3B Eric Jagielo, 23 (Preseason Rank: 12)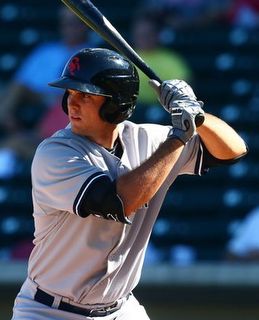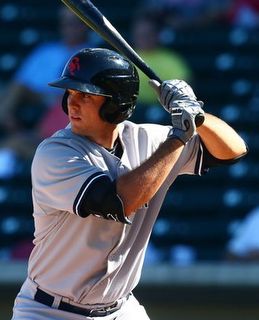 All four of these guys have a lot of upside and at least one significant flaw that holds them back from top prospect status. Sanchez's defense continues to be a work in progress — the Yankees had him repeat Double-A this year so he could specifically work with ex-catchers/coaches P.J.Pilittere and Michel Hernandez — and while it is improving, it is improving very slowly. The Yankees are being patient. Jagielo's issue is also his defense. He's statuesque at the hot corner.
Clarkin and Bird have been hurt this year. In fact, Clarkin hasn't pitched in an official game at all this season. He went down with elbow tendinitis in Spring Training and was reportedly pitching in Extended Spring Training games last month, but there have been no updates since. Hard not to think the worst at this point. Bird returned to the Double-A Trenton lineup last night after missing a month with a shoulder strain. Sanchez, Clarkin, Bird, and Jagielo all have a chance to be impact big league players, but none are a safe bets due to their noted flaws.
Young & Far Away
7. SS Jorge Mateo, 19 (Preseason Rank: 8)
8. C Luis Torrens, 19 (Preseason Rank: 6)
9. 3B Miguel Andujar, 20 (Preseason Rank: 7)
10. SS Tyler Wade, 20 (Preseason Rank: 20)
This is the "ultra-talented but many levels away from MLB" group. Wade is the big climber here because the kid does nothing but hit. He went into last night's game with a .305/.348/.385 (124 wRC+) batting line in High Class-A, where he is two and a half years younger than the average Florida State League player. Wade doesn't have any power, but as a left-handed hitting shortstop with good defensive chops and bat-to-ball ability, his stock continues to rise.
Mateo leads all of professional baseball in stolen bases this season and is as tooled up as any player in the system. He might be a little in over his head with Low-A Charleston at the moment, but he hasn't been atrocious. Andujar is once again doing his "slow start at a new level" thing, which he's done his entire career. He has the skills to be a two-way asset though. Torrens is out for the season, unfortunately. He tore his labrum and had surgery in Spring Training. That's a pretty significant injury, but I love him as a player, so I have him in a holding pattern for the time being.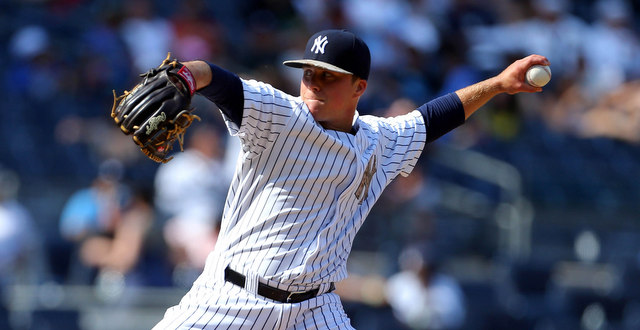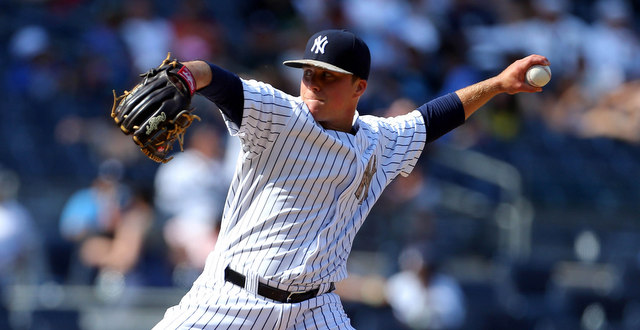 Ready To Help
11. 2B Rob Refsnyder, 24 (Preseason Rank: 13)
12. LHP Jacob Lindgren, 22 (Preseason Rank: 14)
13. RHP Bryan Mitchell, 23 (Preseason Rank: 15)
14. OF Ramon Flores, 23 (Preseason Rank: 22)
15. LHP Chasen Shreve, 24 (Preseason Rank: 26)
We've reached the MLB ready portion of the list, and in fact three of these guys (Lindgren, Ramon, Shreve) are in the big leagues at this very moment. Mitchell was up earlier this year and last year as well. Refsnyder could be called up pretty much any day now, though his defense at second is still questionable and he hasn't wowed at the plate this season — he was hitting .277/.357/.375 (116 wRC+) prior to last night's game. These guys don't have the highest ceilings in the organization, but their MLB readiness and probability makes them all top 15 prospects in the system.
The Mixed Bag
16. OF Jake Cave, 22 (Preseason Rank: 19)
17. RHP Domingo German, 22 (Preseason Rank: 11)
18. OF Tyler Austin, 23 (Preseason Rank: 10)
19. RHP Austin DeCarr, 20 (Preseason Rank: 16)
20. RHP Brady Lail, 21 (Preseason Rank: 25)
21. SS Abi Avelino, 20 (Preseason Rank: 20)
The only thing this group has is common is … well nothing. They're all Yankees, that's it. Cave, Lail, and Avelino are all having good to great seasons — Lail and Avelino received early season promotions to Double-A Trenton and High-A Tampa, respectively — while Austin has really struggled with Triple-A Scranton. He battled injuries the last few seasons, but, as far as I know, he's healthy now. Healthy and not hitting, which is a problem for a bat first prospect.
German and DeCarr have not pitched in an official game yet this season for different reasons. German, who came over from the Marlins in the Nathan Eovaldi/Martin Prado trade, blew out his elbow in Spring Training and needed Tommy John surgery. He's out for the season, obviously. DeCarr, meanwhile, is hanging out in Extended Spring Training and will join one of the team's four (!) short season affiliates when the various seasons start later this month. My guess is Short Season Staten Island. We'll see.
Reclamation Prospects
22. OF Mason Williams, 23 (Preseason Rank: 29)
23. OF Slade Heathcott, 24 (Preseason Rank: 30)
24. RHP Jose Ramirez, 25 (Preseason Rank: 23)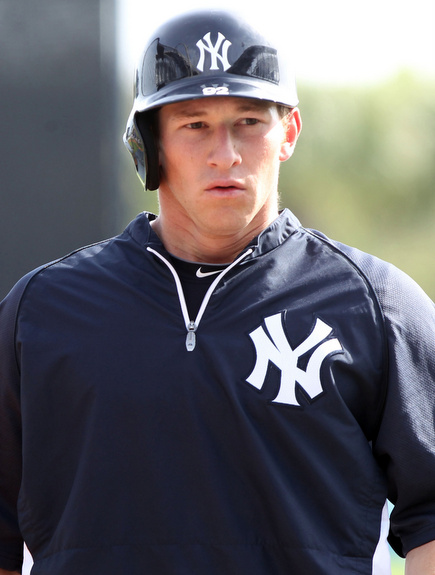 We could also call this the Cautious Optimism group. All three are trying to rebuild their prospect stock. Williams was flat out terrible the last two seasons while Heathcott and Ramirez have battled injuries for years now. Williams got off to an excellent start in Double-A Trenton this year and was quickly promoted to Triple-A Scranton thanks in part to Heathcott. Heathcott had a great Grapefruit League showing, a great few weeks in Triple-A, and was called up to MLB last month. Ramirez has been Triple-A almost all year and is doing fine. Not great, not awful.
If prospect rankings were based on pure talent and upside, these three would be near the top of the list. But there's also a probability component that has to be considered, and these guys are sorely lacking in that area. Williams is atop this group because his problems are makeup and work ethic related, and theoretically those issues are correctable. Injuries are much more difficult to overcome, especially the kind Heathcott and Ramirez have been through. Their natural talent keeps them in the top 30, but it's hard to go any higher given their track records.
The Best of the Rest
25. SS Angel Aguilar, 19 (Preseason Rank: 21)
26. OF Leonardo Molina, 17 (Preseason Rank: 24)
27. LHP Jordan Montgomery, 22 (Preseason Rank: N/A)
28. RHP Ty Hensley, 21 (Preseason Rank: 18)
29. SS Thairo Estrada, 19 (Preseason Rank: 27)
30. RHP Danny Burawa, 26 (Preseason Rank: 28)
The last few spots are always the toughest because there isn't a whole lot of separation between prospects at this level. It comes down to preference, not any sort of significant difference in talent level or anything like that. Aguilar, Molina, and Estrada are all still very young and talented, though they have combined to play a total of 33 games this season, all by Aguilar at Low-A Charleston. Molina and Estrada are still in Extended Spring Training.
Hensley takes a big fall because he's hurt again. He had Tommy John surgery in March and is going to miss another full season. Due to hip, hernia, and elbow woes, the team's first round pick in the 2012 draft will have thrown a total of 42.1 innings from 2012-15. Brutal. There's just no way to get that development time back. I'm not saying it can't be done, just that it'll be very difficult for Hensley. Hopefully the elbow surgery is his last injury and he can finally start to accumulate some innings next year.
The only new name added to the list is Montgomery, who has predictably torn up the low minors after spending three years in the SEC as part of South Carolina's rotation. He's the kind of guy who won't be tested until he gets to Double-A. Montgomery is cut from the David Phelps/Adam Warren cloth as a college starter with enough stuff and enough command to move quickly and stick around in MLB for a few years. The upside isn't sky high, but back-end starters have to come from somewhere.