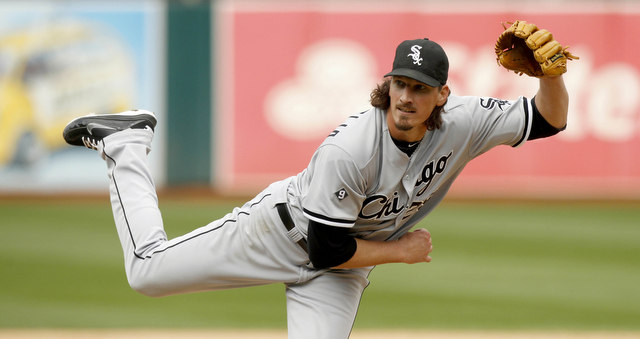 According to Nick Cafardo, the Yankees are one of several teams looking at White Sox right-hander Jeff Samardzija leading up to the trade deadline. It's a long list of teams that includes contenders like the Royals, Tigers, Dodgers, Blue Jays, Angels, Orioles, and Cardinals. There figures to be a lot of competition for any competent pitcher at the deadline because there are so few sellers right now.
The ChiSox are 32-42 with a -81 run differential and are way out of the postseason race. GM Rick Hahn seemed to indicate a few weeks ago that if things don't turn around in a hurry (they haven't!), he would look to sell at the trade deadline. "You need to start seeing some results on the field before you have to start making changes. There's no real strategic advantage for laying out specifically what's going to happen and when," said Hahn to Daryl Van Schouwen.
The Yankees have shown a lot of interest in Samardzija in the past, dating back to at least the 2013 Winter Meetings. They also exchanged trade proposals with the Cubs last July before Samardzija was dealt to the Athletics, and then discussed him with Oakland again this past offseason. Special assistant Jim Hendry drafted Samardzija when he was Cubs GM and Larry Rothschild was his pitching coach with Chicago from 2008-10, so the Yankees have some firsthand knowledge about him.
Samardzija, 30, is having a rough season so far, pitching to a 4.56 ERA (3.66 FIP) with an MLB-high 123 hits allowed in 108.2 innings. His strikeout (19.0%) and ground ball (39.9%) rates are way down from the last few years as well. Samardzija is still throwing hard though, and he did have a 2.99 ERA (3.20 FIP) with a 23.0 K% and 50.2 GB% in 219.2 innings last year, so it's not like you have to squint your eyes and look back real far to see the last time he was great.
The White Sox gave up an average-ish everyday player (Marcus Semien) and three good but not great prospects to acquire Samardzija this past offseason. He's going to be a free agent after the season, and even with the down year my guess is the ChiSox will extend him a qualifying offer. Worst case scenario is he accepts and you've got a 31-year-old workhorse on a one-year contract worth $16M or so. Plus Samardzija would have trade value again next year. A qualifying offer seems like a safe bet, actually.
In that case, the White Sox have no reason to accept anything less than a prospect on par with a supplemental first round pick in exchange for Samardzija. I'm guessing it'll take more than that to acquire him though. It took four prospects to get a half-season of Matt Garza a few years ago, remember. On the rental pitcher scale, Samardzija's trade value lies somewhere between Johnny Cueto and Mike Leake.
Interestingly (or maybe weirdly is a better way to put it), Cafardo says the Yankees are among the teams monitoring Clay Buchholz prior to the trade deadline as well. He's actually had a good year (3.48 ERA and 2.67 FIP) but I can't see that happening. I know the Yankees and Red Sox got together for the Stephen Drew-Kelly Johnson trade last year, but that was a spare part trade. I can't see the BoSox shipping Buchholz to the Yankees even if they do tear it down and sell in the wake of their (latest) disaster season. Weird rumor.
Anyway, the Yankees currently have six starters for five rotation spots but not really. CC Sabathia has not pitched well this season and both Michael Pineda and Adam Warren have workload concerns. Then there's Masahiro Tanaka's elbow. So yeah, the Yankees have a full rotation on paper, but you don't have to try to hard to see a scenario in which they need to add a starter at the trade deadline. Samardzija figures to be one of the better hurlers on the market this summer, so of course the Yankees are keeping tabs on him.