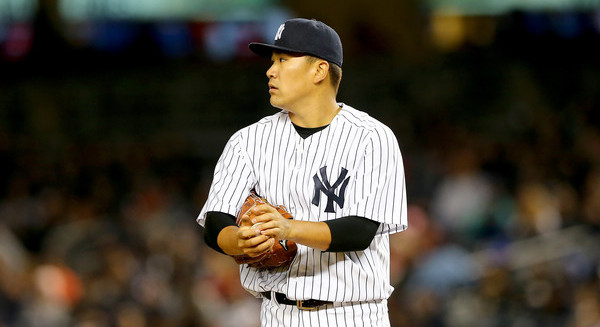 Welcome back to the rotation, Masahiro Tanaka. Congratulations, your prize is a one-on-one battle with the best power hitter in the American League — Mr. Nelson Cruz of the Seattle Mariners.
The 34-year-old Cruz leads the AL in both homers and slugging percentage, and is showing no mercy when he makes contact. According to data at Baseball Savant, Cruz has the longest homer in the majors this season — a 483-foot moonshot off Wandy Rodriguez on April 29 — and the second-hardest hit ball of any player — a walk-off single against the Rangers on April 19 that left his bat at an exit velocity of 119 mph.
Cruz is one of the most dangerous hitters in the league right now, a threat to crush the ball over the fence or send a screaming line drive to the outfield corner on any pitch, and can change the outcome of a game with one swing of the bat.
The good news for Tanaka is that this won't be his first time pitching against the Mariners slugger. He faced the Orioles twice last season, saw Cruz a combined six times and retired him in all six plate appearances — three strikeouts, two fly outs and one ground out.
Let's go inside the matchup to see how Tanaka was able to neutralize Cruz last season, and try to figure out how he should approach him during this afternoon's game. [Sure, these are all super-small sample sizes, but let's have some fun instead of worrying about the health of Tanaka's arm.]
Tanaka did a good job of keeping the ball out of the middle of the plate, peppering the bottom outside corner with sliders, while mixing in a handful of high fastballs and a few sinkers in on the hands of Cruz.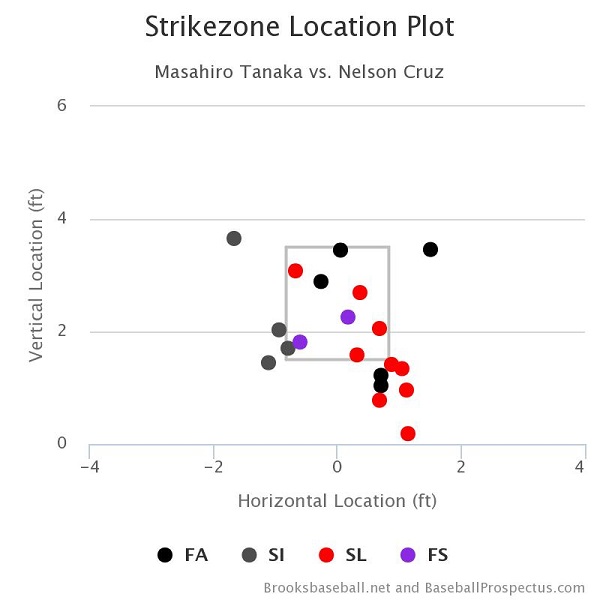 The down-and-away slider was Tanaka's key put-away pitch in the matchup, netting him four of the six outs against Cruz, including all three strikeouts on pitches at or below the knees.
That strategy was a bit unusual for Tanaka last year, who was more likely to go to his splitter in two-strike counts against righties (39 percent of the time) than his slider (31 percent). However, it was a smart game plan against Cruz, who last year really struggled with sliders from same-sided pitchers. He whiffed on nearly half of his swings against sliders and struck out a whopping 42 times on the pitch (second-most in the AL).
Another interesting trend is that Tanaka wasn't afraid to "pitch backwards," throwing his offspeed pitches early and often in the count. He started three of the six at-bats with sliders and kept Cruz off-balance by throwing him more off-speed pitches (11) than fastballs (9) in the six at-bats.
Tanaka is one of four pitchers that has faced Cruz at least six times since the start of last season and gotten him out every time. Can he shut down one of the game's best sluggers again this year?
Like many power hitters, Cruz's sweetspot is on the middle-to-inner third of the zone and off the inside corner of the plate, where he's hit 14 of his 18 homers this season. Hey Tanaka, try to avoid that area, please: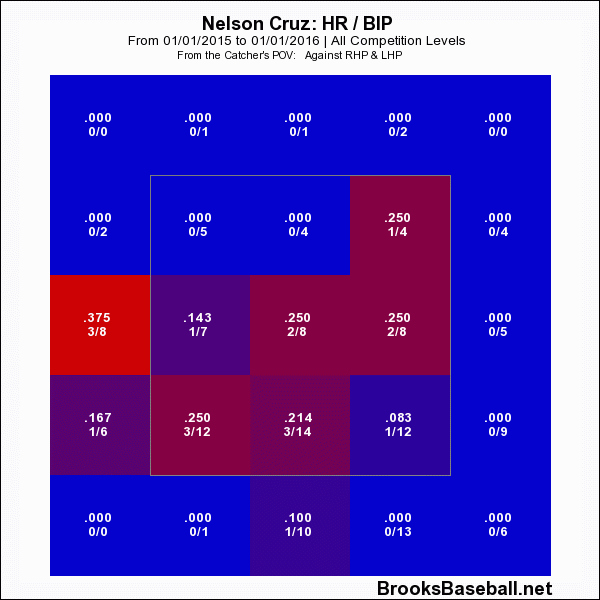 If Tanaka can get into a favorable count, throwing him a slider down and away — similar to last year — is probably a good idea. Cruz has whiffed on nearly 40 percent of his swings against sliders from right-handed pitchers this year, and he's done little damage when making contact. He's hit just one homer off a slider from a righty and more than half of those pitches that he's put in play have been grounders. Tanaka's slider had been nasty in his last two starts, getting whiffs on 56 percent of the swings against the pitch, including three strikeouts.
When Tanaka wants to throw a fastball in this matchup, he'd be smart to go to his four-seamer instead of his sinker. Cruz is slugging roughly 300 points higher against sinkers (.778) than four-seam fastballs (.471) from right-handers this year, and he's twice as likely to whiff against a four-seamer than a sinker from a righty.
That pitch selection should favor Tanaka, who has decreased his sinker usage since his first two starts (when it got crushed), and starting throwing more four-seamers in his last two starts (with good results). Overall, Tanaka's four-seamer has been a much better fastball option for him than his sinker this season:

That's right, Tanaka has thrown 73 four-seam fastballs in 2015 and the only player to get a hit off the pitch was Russell Martin with a single in the season opener. It's been an nice pitch for him so far, and Tanaka should feel comfortable challenging Cruz with well-located four-seamers this afternoon.
Tanaka vs. Cruz will be among the most anticipated matchups of the game, and could easily be one of the most pivotal, too. If Tanaka can use his four-seamer and slider effectively, and follow a similar game plan as he's done in the past against Cruz, there is a good chance he'll be able to win the battle with the Mariners slugger once again.