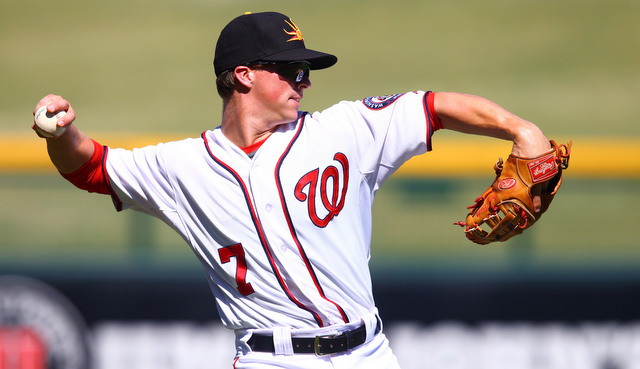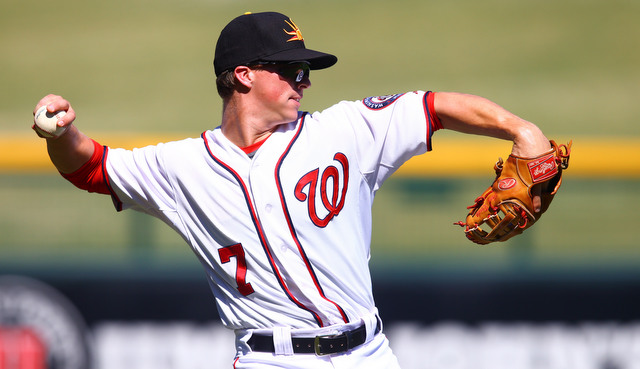 Earlier today the Yankees announced they have acquired minor league second baseman Tony Renda from the Nationals for David Carpenter. Carpenter was designated for assignment last week to clear a roster spot for Masahiro Tanaka. I believe today was the last day to trade him before he had to be placed on waivers.
Carpenter, 29, had a disappointing 4.82 ERA (5.31 FIP) in 18.2 innings with New York after coming over in the Manny Banuelos trade this offseason. Joe Girardi gave Carpenter plenty of opportunities to right the ship — he appeared in nine of the team's last 20 games before getting cut — but it just didn't happen. So it goes. Relievers, man.
On the bright side, the 24-year-old Renda is a really nice get for a player who had been designated for assignment. He is hitting .267/.333/.340 (95 wRC+) with more walks (8.3%) than strikeouts (6.6%) at Double-A this year after hitting .307/.381/.377 (119 wRC+) at High-A Last year. Renda was Washington's second round pick in 2012.
Prior to the season Renda was ranked as 12th and 22nd best prospect in the Nationals' system by Baseball America and MLB.com, respectively. MLB.com gave him a 50 hit tool and a 50 fielding tool on the 20-80 scouting scale while J.J. Cooper says it's 45 hit and 50 fielding. Close enough. Here's a piece of Renda's free MLB.com scouting report:
Renda is an offensive-minded second baseman. His quiet swing helps him make consistent hard contact to all fields. He isn't a speedster and has below-average power. He is a solid defender, capable of making the routine plays well … Renda isn't flashy in any phase of the game, but he gets praise for his makeup and work ethic, which helps his tools play up.
Renda is listed at 5-foot-8 and 180 lbs., so this is the classic gritty grinder profile. I assume he'll head to Double-A Trenton to join their prospect laden lineup and play second base everyday. Jose Rosario and Ali Castillo had been splitting time at second for the Thunder. I'm not sure where Renda would slot into my Top 30 Prospects list but it would almost certainly be the back half somewhere, 20-30 range or so.
It's a shame things didn't work out with Carpenter, especially since the Yankees could use an extra reliever right now with Andrew Miller landing on the 15-day DL yesterday. Carpenter's probably going to go and dominate for the Nats now because that's usually how these things work.