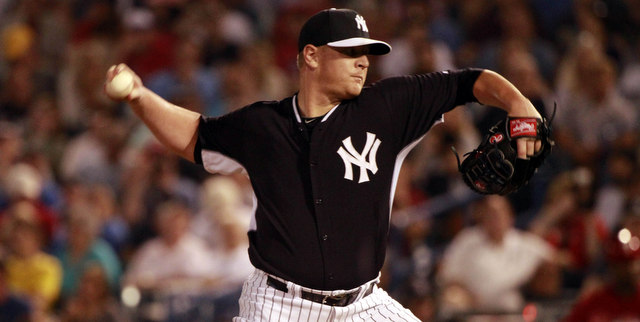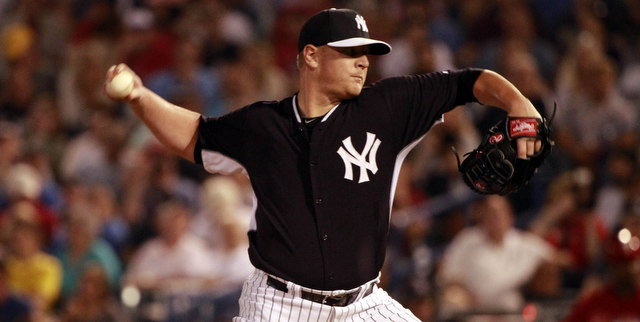 The Yankees have designated David Carpenter for assignment, the team announced. The move clears a spot on the 25-man roster for Masahiro Tanaka, who was activated off the 15-day DL and will start today's series finale with the Mariners. The Yankees now have one open 40-man roster spot, but will need it when either Brendan Ryan or Ivan Nova eventually come off the 60-day DL.
Carpenter, 29, had a 4.82 ERA (5.31 FIP) in 18.2 innings and has been untrustworthy pretty much all season. His strikeout rate has also dropped from 25.9% last year with the Braves to 13.4% this year. Joe Girardi gave Carpenter plenty of chances to work through his problems recently — he's appeared in nine of the last 17 games — but it's not working. He gave up the go-ahead run in the sixth inning last night, which may have been the final straw.
The Yankees acquired Carpenter along with Chasen Shreve in the Manny Banuelos trade this past offseason. Carpenter is out of minor league options, which is why the Yankees couldn't simply send him to Triple-A to work on things. They now have ten days to trade, release, or waive him, and my guess is they will be able to work out a minor trade with some team. Carpenter will probably go somewhere else and have a 2.00 ERA the rest of the year. Relievers are weird like that.
With Carpenter gone, the Yankees now have five lefties in the bullpen: Andrew Miller, Justin Wilson, Jacob Lindgren, Chris Capuano, and Shreve. Dellin Betances and Esmil Rogers are the only righties. That's not a big deal though. All five of those lefties can get righties out, if not dominate them. The Yankees could have easily demoted Lindgren, but they opted for the best talent over maintain depth.