It's easy to forget now, but Adam Warren only made the Opening Day roster in 2013 because Phil Hughes suffered a minor back injury late in Spring Training. Hughes went down, long man David Phelps had to step into the rotation, and Warren got the long relief job almost by default. Warren pitched well and stayed on the roster even after Hughes returned. (Cody Eppley went down instead.)
Since then, Warren has developed into a pretty important piece of the pitching staff. He was the long man back in 2013, a setup man in 2014, and now a starter early in 2015. Chances are Warren will lose his rotation spot when Ivan Nova returns in a week or so, though not because he's pitched poorly. He's just the low man on the rotation totem pole, and hey, the Yankees need another quality reliever with Andrew Miller hurt. Warren showed he can be that guy last season.
Warren's path to the big leagues and into the team's rotation is not uncommon — lots of pitchers have started their careers in the bullpen before graduating to the starting staff. Adam Wainwright and Chris Sale are probably the two most notable recent examples but it is a very long list. Warren did something many other pitchers have done and it's something the Yankees should consider doing again with other pitching prospects, especially since the middle relief situation is … unsettled. Let's put it that way.
The most obvious candidate for the Warren blueprint is Luis Severino, New York's top pitching prospect and one of the best in minor league baseball. The Yankees have moved Severino through the system very aggressively — he threw 85.1 innings in Low-A, 20.1 in High-A, 63 in Double-A, and is at 21.2 in Triple-A and counting — and a second half call-up would hardly be surprising. Everything the Yankees have done with Severino the last two years suggests his MLB debut will come sooner rather than later.
"Can that happen? I wouldn't rule it out," Brian Cashman recently said to David Lennon when asked about using Severino in the bullpen later this year. "But it's not something we're talking about right now. I'm not opposed to it. It's just right now, I think we have some other people legitimately before him for the bullpen category … If they're the best option to help us, whether they're a starter, and the best option for the pen, then I'm open to any of that stuff."
Severino threw a career high 113 innings last season and he is still only 21, so he's not going to throw 180+ innings this year or something like that. (He's at 59.2 innings right now.) His innings limit might be in the 140-150 innings range this summer, 160 tops. Severino only has another month or so before workload limits starting taking over — capped at five innings per start, something along those lines — and if he's dominating, why not let him throw his last 20 or so innings of the year out of the big league bullpen? I don't see much downside.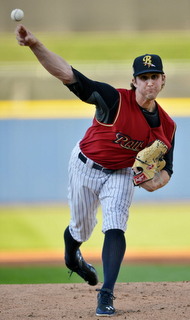 The other bullpen candidate in the Triple-A Scranton rotation is Bryan Mitchell, who has a 2.79 ERA (3.11 FIP) in 67.2 innings despite mediocre strikeout (19.1%) and walk (12.0%) rates. Mitchell has a strong ground ball rate (53.5%) and has yet to allow a homer, but that doesn't mean much. Any pitching prospect worth a damn should have a very good ground ball rate in the minors. There are a lot of bad hitters who are overwhelmed at the plate down there. A lot. Mitchell got his first taste of the show last year, for what it's worth.
The Yankees initially worked Warren into the big leagues as a relief pitcher before reintroducing him to the rotation, which by and large has been a success. He helped the bullpen and is now helping the rotation. They could follow a similar path with Severino and Mitchell, getting them acclimated to MLB life as relievers this year — and potentially solidifying the middle innings later in the process — before moving them back into the rotation next year. Again, teams have been doing this with young pitchers for decades.
That last part is important though. The going back to the rotation part. Especially for Severino. It's too early to shoehorn either guy into permanent relief roles, though that does happen often these days. The Yankees tried and mostly failed to put Joba Chamberlain back into the rotation years ago, and while that may make you skeptical about their ability to pull it off with Mitchell or Severino, I'd like to think it was a learning experience. They seem to have gotten it right with Warren, mostly because the bullpen-to-rotation transition didn't happen at midseason.
Anyway, the imminent return of Ivan Nova gives the Yankees some more rotation depth, as does Esmil Rogers' decision to remain in the organization after being outrighted. (Don't laugh, Rogers could stretch back out as a starter in Triple-A and be an emergency option if necessary.) Mitchell had been sitting around as the sixth starter by default the last few weeks but keeping him in that sixth starter role is no longer imperative. Moving him to the bullpen would be a relatively easy move. Same with Severino.
The Yankees do have some more bullpen options in Triple-A — Nick Rumbelow, Danny Burawa, Branden Pinder, etc. — they could try out before turning to a starter-to-bullpen candidate like Mitchell or Severino. Those two guys should not be off the table as bullpen options though, especially in the second half. The Warren blueprint — bullpen now, rotation later — is one that could really benefit the Yankees this season without sabotaging the future of their young hurlers.