The Yankees overhauled their bullpen this offseason, so much so that just one reliever was on both the 2014 and 2015 Opening Day rosters. That, of course, was Dellin Betances. The Yankees had a new closer, a new long reliever, and a new middle innings crew to start this season, and they were heavy on left-handers for the first time in years. Two of those southpaws haven proven to be way more than the average Lefty One Out GuY.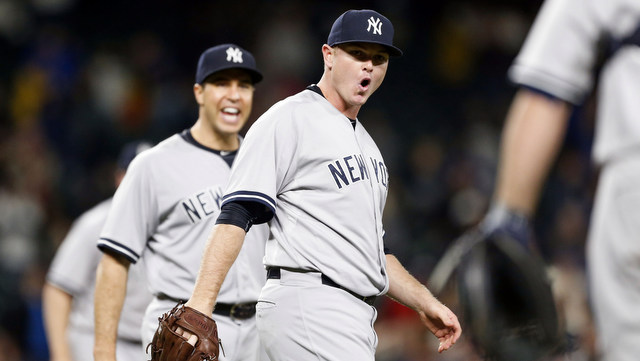 The Lefty They've Been Waiting For
By my count the Yankees made five trades involving bonafide MLB caliber players this past offseason, and the very first one sent Francisco Cervelli to the Pirates for lefty Justin Wilson. To date it has been a perfect win-win trade — the Pirates got a starting catcher to replace Russell Martin while the Yankees beefed up their bullpen and cleared the backup job for John Ryan Murphy. Both teams have to be pleased with the return halfway through the 2015 season.
Wilson came to New York with a reputation for throwing hard and not always throwing strikes, which is pretty much exactly what he's done during his first three and a half months in pinstripes. His fastball has averaged 95.0 mph this season — only the inhuman Aroldis Chapman (99.6 mph!) has a higher average fastball velocity among lefty relievers — and he's walked 10.9% of batters faced. Last year those numbers were 95.0 mph and 11.7%, respectively.
The walks are annoying, but Wilson excels at missing bats (24.8 K% in 2014 after 23.8 K% last year) and keeping the ball on the ground (50.0 GB% after 51.3 GB% last year). That's a good combination. I'll take my chances with a guy who misses bats and gets grounders, even if he walks a few too many. Wilson is also effective against righties, which is huge. Righties are hitting .159/.266/.246 (.240 wOBA) against him with a 26.6 K% and a 53.2 GB%. That's after Wilson held righties to a .279 wOBA last year and a .258 wOBA the year before.
The success against righties is not new and Joe Girardi is aware of that — he's used Wilson as a full-inning reliever for weeks now. That wasn't the case in April because Wilson walked way too many righty batters out of the gate, but Andrew Miller's injury forced Girardi to use Wilson for full innings and he's responded in a big way. He has a 1.23 ERA (2.76 FIP) with 27.2 K% and a manageable 8.6 BB% in 22 innings over the last two months. That works!
With all due respect to Boone Logan, who had some solid years for the Yankees, Wilson is the kind of left-handed reliever the club has been trying to acquire since Mike Stanton left as a free agent. Hard-throwing, strikeout and ground ball heavy, able to get righties out. No one's perfect, he does walk too many, but otherwise Wilson has every quality you want in a late-inning reliever. He's a legitimate setup man. He just happens to throw lefty.
Chasin' Shreve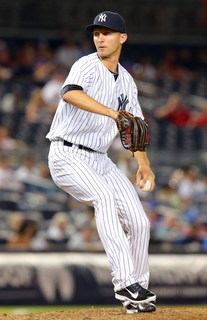 The last of those five offseason trades brought the relatively unknown Chasen Shreve to the Yankees in January. I'm a total baseball nerd and even I hadn't heard of Shreve at the time of the trade. The Yankees decided it was time to stop waiting for Manny Banuelos, so they turned him into Shreve and David Carpenter, the latter of whom flopped spectacularly in pinstripes.
Shreve was on the verge of getting pushed out of baseball last year when he reinvented himself as a hard(er) thrower, and while the extra velocity is nice, he's emerged as a trusted reliever in New York because of his split-finger fastball. That's the pitch that has allowed him to post a 2.02 ERA (3.27 FIP) with 26.8 K% in 35.2 innings this year, his first extended taste of big league action. Shreve doesn't have great walk (9.4%) or ground ball (39.5%) numbers, but they haven't hurt him yet.
Like Wilson, Shreve has been ultra-effective against right-handed hitters this season. Wilson does it with velocity, Shreve with the splitter. Righties have put up a .141/.224/.260 (.215 wOBA) batting line with a 23.3 K% against Shreve so far this year, and Girardi has regularly brought him into games to put out fires. Ten of his last 21 appearances have come mid-inning with men on base. Eight of those appearances have come with the score separated by no more than two runs. Shreve in inherited 15 runners in those eight games and one scored. One!
As Katie explained recently, Shreve's splitter has been a difference-maker for him and the Yankees. There was a question of whether he would even make the team out of Spring Training — Shreve had a 4.76 ERA in camp and was especially yucky in late-March — and then once the season started, he really didn't have a role. Well he did have a role, he was the last guy out of the bullpen, but Shreve continued to get outs and has become a critical part of the relief crew.
* * *
Both Wilson and Shreve pitched their way into the Circle of Trust™ in the first half thanks in large part to their work when Miller was sidelined. They both stepped up and assumed high-leverage innings, and the Yankees didn't miss a beat. With Miller back, Wilson and Shreve will now be Girardi's go-to middle innings weapons. That they both throw left-handed but can get right-handed hitters out is a bonus.