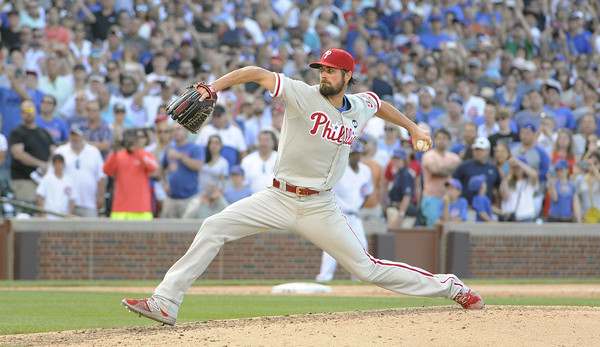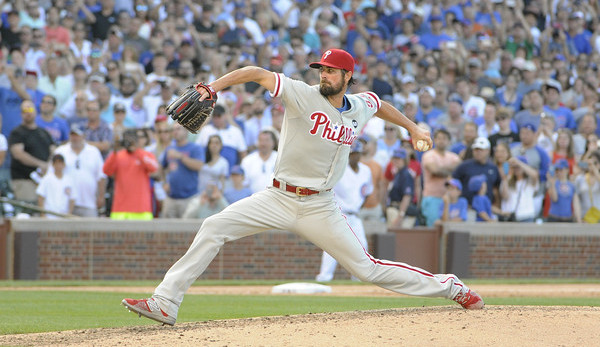 The 2015 non-waiver trade deadline is this coming Friday at 4pm ET. The Yankees are currently 55-42 with a +34 run differential on the season, giving them a 6.5-game lead in the AL East. FanGraphs puts their postseason odds at a healthy 93.1%. Despite that, the roster could use some reinforcements, particularly at second base and on the mound.
"We've had conversations with every club willing to sell, finding out what they're willing to sell and what their price tags are. You engage everyone about everything," said Brian Cashman to Ken Rosenthal recently. The Yankees are said to prefer rental players — their trade deadline activity in recent years backs that up — but they've reportedly "sworn off" dealing top prospects for said rentals. We'll see.
We'll keep track of any Yankees-related rumors right here throughout the day. The team tends to do things very quietly, almost all of their major moves seem to come out of nowhere, so I can't promise you many updates. Especially not this early in the week. Either way, keep tabs on everything  and talk about all things trade deadline right here throughout the day.
6:17pm ET: The A's have traded Tyler Clippard to the Mets for minor league righty Casey Meisner, the teams announced. So scratch Clippard off the list. Meisner was the Amazin's third round pick last summer. He's similar to a healthy Austin DeCarr, if you're wondering.
5:00pm ET: The Dodgers and Rangers are currently seen as the favorites to land Cole Hamels. The Phillies continue to demand either Judge or Severino from the Yankees. [Heyman]
3:36pm ET: The Yankees continue to show interest in Ben Zobrist but they are one of many. The Pirates, Royals, Angels, and Cubs are also trying him to pry him away from Oakland. [Heyman]
12:53pm ET: As expected, the Yankees continue to talk both starters and relievers with other teams, especially righty relievers. The plan could be to acquire a reliever then moving Adam Warren back into the rotation. [Heyman]
11:30am ET: The Yankees have indeed contacted the Phillies about Cole Hamels, which is no surprise. They had a scout at his no-hitter over the weekend. The Phillies asked for either Aaron Judge or Luis Severino, but the Yankees are not planning to move Judge, Severino, Greg Bird, or other top prospects. Philadelphia is also said to be seeking a catcher in any trade. [Ken Rosenthal, Jon Heyman, Jim Salisbury, Buster Olney]
In addition to Hamels, the Yankees are keeping tabs on basically every available starting pitcher. That list includes Jeff Samardzija, Ian Kennedy, Yovani Gallardo, and Mat Latos, among others. It remains to see whether the Tigers will cave and make David Price available. [Joel Sherman]
The Yankees are a potential landing spot for Tyler Clippard, who could be dealt as soon as today. The club has also been scouting Padres relievers recently, presumably Craig Kimbrel and Joaquin Benoit. Kimbrel is Kimbrel, and the Yanks have shown a bunch of interest in Benoit in recent years. [Susan Slusser, Jon Morosi]
The Yankees are looking for an upgrade at second base. There's not much out there aside from Ben Zobrist, however. They have zero interest in Aaron Hill and could simply recall Rob Refsnyder if they're unable to make a deal for help at second. [Jon Heyman]
Marlins righty Mat Latos has been linked to the Yankees. The Marlins are in sell mode — they've already traded ex-closer Steve Cishek to the Cardinals — and have plenty of rental players to offer. Here is our Scouting The Market post on Latos and other Miami players. [Joe Frisaro]
Athletics director of player personnel Billy Owens has scouting Double-A Trenton recently. That is definitely not the most prospect-laden team in the system. Scott Kazmir has already been traded, but the Yankees have interest in Zobrist. [Matt Kardos]
The Yankees and Reds did have discussions about Johnny Cueto before he was traded to the Royals. Apparently Ivan Nova's name came up. Talks didn't advance very far. [George King]
Reminder: Your trade proposal sucks.