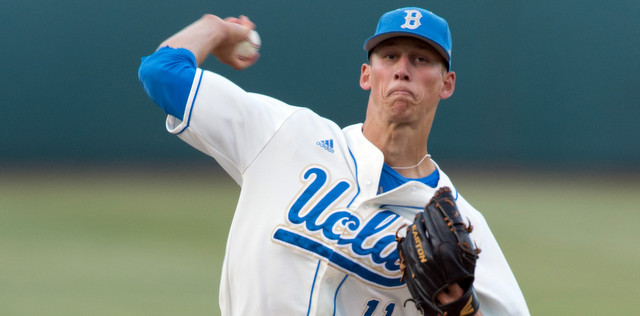 6:00pm: The Yankees have announced the signing of Kaprielian, so it's a done deal. Officially official.
1:53pm: The Yankees have agreed to sign first round pick UCLA RHP James Kaprielian to a $2.65M bonus, reports Jim Callis. Slot money for the 16th overall pick was $2,543,300. The signing deadline is this coming Friday and Kaprielian is a Scott Boras client, and Boras usually takes his top clients right down to the final days to squeeze every last penny out of teams.
As our 2015 Draft Pool Tracker shows, the Yankees had $2,668,565 in bonus pool space to sign Kaprielian before getting hit with penalties, including forfeiting next year's first round pick. The Yankees signed 35 of their 41 draft picks this summer, which is an unusually large number. Most teams sign 25-30 players each year. You can see all New York's picks at Baseball America.
Kaprielian, 21, had a 2.02 ERA with 114 strikeouts and 33 walks in 106.2 innings as UCLA's ace this spring. He also threw the first nine-inning no-hitter in school history. Kaprielian's velocity reportedly ticked up later in the spring, supposedly to the point where he was sitting 93-95 mph in his last few starts. Everything you need to know about him is right here.
UCLA's baseball season ended six weeks ago, so I'm guessing Kaprielian will report to Tampa for a few tune-up innings before joining one of the minor league affiliates. A short stint with the Rookie GCL Yanks and a few weeks with Short Season Staten Island could be the plan for Kaprielian this year, with High-A Tampa the logical destination to start next season.