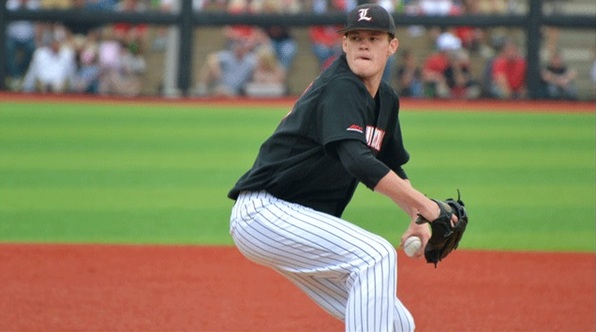 Tuesday: Rogers received a $485,000 bonus, according to Callis. Our 2015 Draft Pool Tracker shows the Yankees have $2,738,565 left over to give to Kaprielian while Callis says it's $2,676,450. Someone's math is screwed up somewhere. Either way, Kaprielian is slotted for $2,546,300 and Jon Heyman says the two sides are expected to have a deal done by Friday's deadline.
Sunday: According to Jim Callis, the Yankees have signed 11th round pick Louisville LHP Josh Rogers to an overslot bonus worth early fourth round money. That puts his bonus in the $500,000 range. Any money over $100,000 given to a player taken after the tenth round counts against the draft pool.
Rogers, a draft-eligible sophomore with more leverage than the average 11th round pick, had Tommy John surgery as a high school senior and returned to the mound just eleven months later. He had a 3.36 ERA with an 82/25 K/BB in 93.2 innings for Louisville this spring and a 3.09 ERA with a 16/7 K/BB in 20.1 innings for the Bourne Braves in the Cape Cod League this summer.
The Yankees likely selected Rogers as a "summer follow," meaning they took him with the intention of getting a longer look on the Cape before deciding whether to make an offer. That's how they landed David Robertson back in the day. Here's a snippet of Baseball America's scouting report (subs. req'd):
At 6-foot-3, 200 pounds, Rogers has a near ideal pitcher's build. He locates his 87-91 mph fastball, mixes in a slider that flashes average at his best and below-average at other times and a usable changeup. Rogers' mix of three pitches and an ability to locate them makes him a potential back-end starter.
As our 2015 Draft Pool Tracker shows, a bonus in the $500,000 range leaves the team about $2.6M to sign first round pick UCLA RHP James Kaprielian. Slot money for the 16th overall pick is $2.54M or so, and in recent weeks we heard Kaprielian is expected to receive a bonus in the $3M range. Guess that's not happening. I highly doubt the Yankees would exceed their pool and forfeit a future first rounder to sign him. The signing deadline is this Friday and I have no reason to believe Kaprielian won't sign.