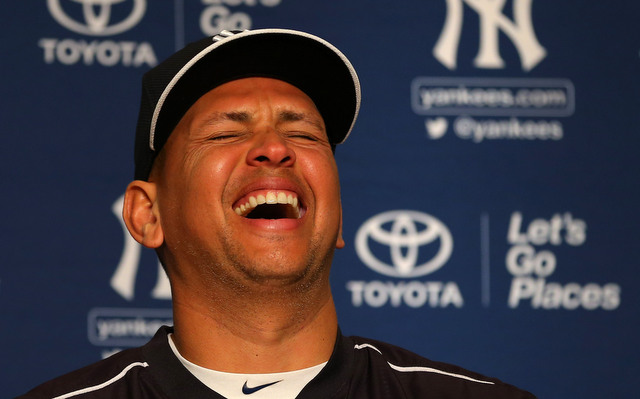 The Yankees open a three-game series tonight with the Athletics, the deceptively good Athletics. Their record is ugly (38-47), yet they've outscored their opponents by 49 runs this year. Only four teams in the big leagues have a better run differential. Blame a shaky early-season bullpen and a hideous 6-21 record in one-run games. They don't have TWTW, I guess.
Point is, the A's are better than their record indicates. They're 18-14 since June 1st and their rotation has the second best ERA (3.00) and fifth best FIP (3.37) in baseball. The Yankees dropped three of four in Oakland a few weeks ago, so we saw how good this team is firsthand. Last place? Yeah, that's where they are in the standings. But the A's don't have last place talent. Here is Bob Melvin's lineup and here is Joe Girardi's lineup:
CF Brett Gardner
3B Chase Headley
DH Alex Rodriguez
1B Mark Teixeira
C Brian McCann
RF Garrett Jones
LF Chris Young
SS Didi Gregorius
2B Stephen Drew
RHP Nathan Eovaldi
It has been pretty gross in New York today. Hot as hell and really humid too. Sticky. There is some rain in the forecast for the late-afternoon/early-evening, but it doesn't look like it'll be enough to cause a postponement. Maybe a slight delay. We'll see. Tonight's game is scheduled to begin at 7:05pm ET and you can watch on YES. Enjoy.
Injury Updates: In case you missed it, both Jacoby Ellsbury (knee) and Andrew Miller (forearm) will be activated off the 15-day DL tomorrow … Mason Williams (shoulder) has resumed baseball activities. Throwing, hitting, that sorta stuff.