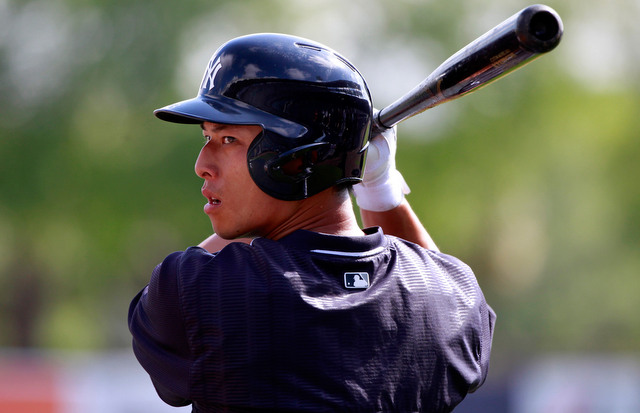 So far this season the Yankees have already had ten players make their MLB debuts, and that doesn't count Joel De La Cruz or Taylor Dugas, both of whom were called up for the first time but didn't get into a game. So it's really 12 players who reached MLB for the first time while wearing pinstripes this year. That's a ton. They had eight players make their MLB debut all of last season.
Tonight, Rob Refsnyder will be the 13th Yankee to reach the big leagues for the first time this season. Word got out last night the team was calling up their top second base prospect and the Yankees confirmed the news after the game, and today Refsnyder is in the lineup. It's a good time to break him in too — they're facing left-handed starters today and tomorrow, and the right-handed Refsnyder did face tonight's Red Sox starter Eduardo Rodriguez in Triple-A earlier this season. What happens after these two games … who knows? One step at a time. Here is the BoSox's lineup and here is the Yanks' lineup:
CF Jacoby Ellsbury
LF All-Star Brett Gardner
DH Alex Rodriguez
1B Mark Teixeira
RF Chris Young
3B Chase Headley
C John Ryan Murphy
SS Didi Gregorius
2B Rob Refsnyder
RHP Ivan Nova
Pretty much a perfect night for baseball in Boston. Clear skies, not too hot, nothing wet in the forecast. Tonight's game will begin just after 7pm ET and you can watch on FOX. Yeah, it's going to be one of those games. Enjoy the broadcast!
Roster Move: The Yankees still haven't announced a roster move to accommodate Refsnyder because they wanted to see how Headley (calf) got through batting practice and pregame work. Everything went well, by all accounts. The team needs to make both 25-man and 40-man moves. Designating Cole Figueroa or Gregorio Petit for assignment would accomplish both. We'll see.
Roster Move Update (6:44pm): Figueroa has been optioned to Triple-A Scranton and Mason Williams has been transferred to the 60-day DL, the Yankees announced, clearing room for Refsnyder. So Mason's shoulder injury went from nothing to something in a hurry, huh?