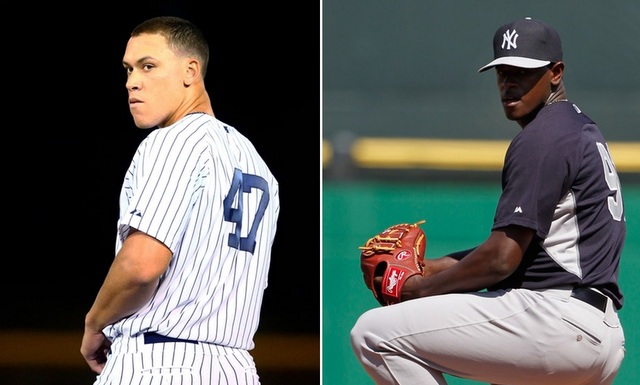 One day after Baseball Prospectus published their midseason top 50 prospects list, Baseball America did the same today. Unlike BP, the BA list is free to read. You don't need a subscription. Dodgers SS Corey Seager is ranked as the best prospect in the minors by Baseball America and is followed in order by Nationals RHP Lucas Giolito and Rangers 3B Joey Gallo.
The Yankees have two players on Baseball America's midseason update and they both rank pretty high: OF Aaron Judge is 13th and RHP Luis Severino is 17th. Baseball Prospectus also had Judge ranked 13th, though they were a little lower on Severino. He ranked 28th. Severino and Judge ranked 35th and 53rd on Baseball America's preseason top 100 prospects list, respectively, so both made big jumps.
In a separate piece (subs. req'd), SS Jorge Mateo was listed as one of "five risers who likely will make the next edition of the Top 100 Prospects list" even though they didn't make today's updated midseason top 50. Here's a piece of the blurb on Mateo:
Mateo has the ingredients to be special. He's got bat-to-ball skills, power enough to project double-digit home runs and blazing speed on the basepaths. He's refining his technique in the field at low Class A Charleston, particularly as it pertains to ranging to his right for balls in the hole.
According to the top 50, Judge is currently the best outfield prospect in baseball, unless you count Gallo, a third baseman the Rangers have played in the outfield on occasion because of Adrian Beltre. Severino is the fifth best right-handed pitching prospect and sixth best pitching prospect overall. Neat.
The farm system has been hit hard by injuries this year — RHP Domingo German, RHP Austin DeCarr, RHP Ty Hensley, and C Luis Torrens are all out for the season; both LHP Jacob Lindgren and 3B Eric Jagielo got hurt in June; LHP Ian Clarkin is still MIA — but Judge and Severino have excelled, and 1B Greg Bird was just bumped up to Triple-A as well. It's nice not having to say "they have talent, but it's all in Single-A" for once.