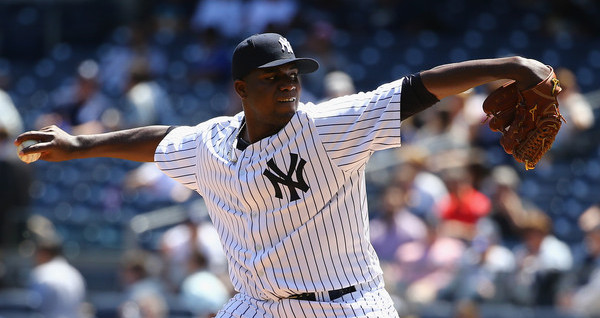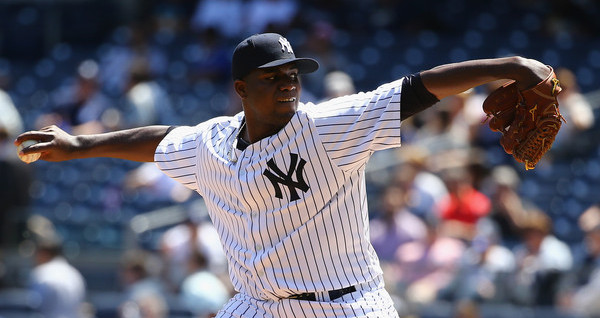 2:59pm ET: It's official. The Yankees have placed Pineda on the 15-day DL with a "right flexor forearm muscle strain," the team announced. They did not give a timetable. Sabathia will be bumped up a day to start tonight. He'll be on normal rest because of Tuesday's spot starter.
2:37pm ET: Pineda is heading to the DL with a Grade I forearm muscle strain, reports Joel Sherman. It's the same injury Andrew Miller had earlier this year. Miller missed a month but is a reliever who didn't have to get stretched out. Between healing time and a minor league rehab assignment, Pineda could be out six to eight weeks. We'll see. Sherman says Bryan Mitchell is being called up for long relief and Sabathia will start in place of Pineda tonight.
1:45pm ET: Well this is ominous. According to Marly Rivera, Michael Pineda has been scratched from tonight's start with tightness in his forearm. Apparently Mike Francesa was first to report the news. No word on who will start tonight, but it could be CC Sabathia on normal rest. The Yankees have not yet officially announced anything.
Forearm tightness is usually code for an elbow injury. Pineda missed time with an elbow strain while in the minors back in 2009 but has had no trouble since as far as I can tell. He missed a bunch of time with shoulder trouble the last few years, but that's it. His elbow has been sound.
Pineda, 26, has a 3.97 ERA (2.96 FIP) in 118 innings, by far the most innings he's thrown since his rookie season in 2011. He tossed just 76.1 innings around a lat strain. Pineda's control has been shaky at times this year, which is often a symptom of looming elbow trouble. He's also a slider heavy pitcher, throwing it 33.5% of the time this season. Sliders are ostensibly bad for the elbow.
Even before Pineda's injury, the Yankees needed pitching help to bolster a starting staff with a 4.32 ERA, ranking 21st in MLB. David Price and Johnny Cueto are off the board, Scott Kazmir too, but there are still quite a few arms available on the trade market, including Mike Leake and Yovani Gallardo. Either way, fingers crossed for Pineda. This is big picture scary.