The second half begins the same way the first half ended: with a win! A late homer gave the Yankees a 4-3 win over the Mariners on Friday night, extending their lead in the AL East to 4.5 games. That's their largest division lead of the season. Good times.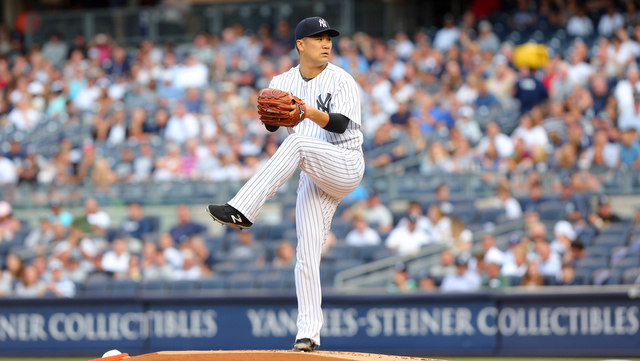 Crushed By Kyle
Aside from the three times he faced Kyle Seager on Friday, Masahiro Tanaka pitched well. Well enough, anyway. Not great, not terrible. Seager was the problem though. Seattle's third baseman lined out to left field in the first inning, then smashed a hanging slider for a solo home run in the third inning, then ambushed a first pitch fastball for a two-run home run in the fifth. The fastball was up and it was a moonshot. Over the bullpen and into the right field bleachers. Clobbered.
Seager drove in all three Mariners runs against Tanaka. The rest of their lineup had three singles and two walks against him in seven innings. One hit was an infield single and another was a ground ball back up the middle. Tanaka wiggled out of a bases-loaded jam in the second inning thanks to Mike Zunino, who has yet to see a pitch he won't swing at. Seriously. Watching Zunino hit day after day after day would drive me nuts. At least you know Stephen Drew is a veteran guy who stinks. Zunino is young and has potential. That would be so frustrating.
Anyway, Tanaka struck out seven in his seven innings and got eight of his other 14 outs on the ground. He generated 13 swings and misses total — including five on seven swings against his slider, which is bonkers — so four of his five highest swing-and-miss totals this season have come in his last five starts. The Seager homers obviously count, but Tanaka was pretty good aside from that.
One Run At A Time
The Yankees scored one run in four separate innings. Certified lefty killer Chris Young hit a solo home run in the second, Chase Headley seeing-eye singled in Young in the fourth (Young smashed a double off the wall), Brian McCann singled in Alex Rodriguez in the fifth (A-Rod singled then moved up on Mark Teixeira's walk), then Alex hit a solo homer in the seventh. That's the Cliff's Notes version.
The longer version is that the Yankees did a little of everything offensively against Mike Montgomery. They worked three walks, hit one homer, one double, and five singles. Nine of 18 batters reached base against Montgomery at one point from the second through fifth inning. Headley hit into a killer inning-ending 6-4-3 double play with runners on the corners in the fifth, which let Montgomery off the hook when it looked like New York was ready to break it open. Headley has not had a good year at all and he's been especially bad against lefties. Yuck.
Montgomery threw 104 pitches in six innings and, by my unofficial count, 53 of them were from the stretch. More than half (barely). It felt like much more. The Yankees had runners on base against the lefty in every inning but the sixth. Lefty reliever Joe Beimel served up the go-ahead solo homer to A-Rod in the seventh, an opposite field job into the bullpen. The best part? The paused bat drop (GIF via @MLB):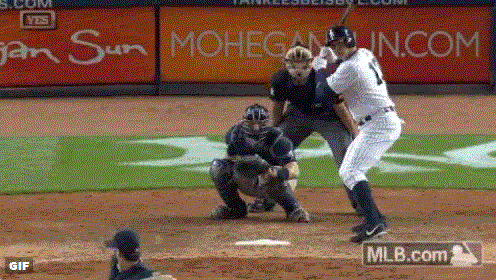 The man is a pioneer. Everyone is trying to come up with more elaborate bat flips, but Alex keeps it simple with a pause and a drop of the mic. That's now three homers in the last four games for A-Rod. It was also his 19th of the season. He hasn't hit that many since 2010. Rodriguez is up to .277/.381/.514 (147 wRC+) on the season. The Summer of Al, indeed.
Leftovers
Know who is happy this game is over? Jacoby Ellsbury. He had maybe his ugliest 0-for-4 as a Yankee. Yeah, he drew a walk, but also struck out three times and looked pretty feeble all each time. Not Ellsbury's best night at the plate. It happens. Brett Gardner (single), A-Rod (single, homer), McCann (single), Young (double, homer), Headley (single), and Didi Gregorius (single) had the hits. Ellsbury, Gardner, Teixeira (two), and Headley drew the walks.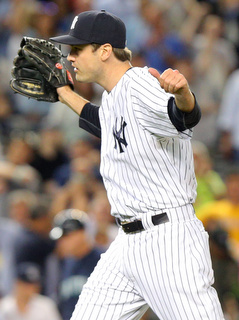 One-run lead after seven? That meant Dellin Betances and Andrew Miller time. Dellin struck out two in a perfect eighth and Miller struck out one in the ninth. He allowed a two-out single to Mark Trumbo that would have been a double if not for Gardner's nice sliding stop to cut it off in left. Miller is 19-for-19 in save chances and isn't even the best reliever in the bullpen. What a world.
Rob Refsnyder had an uneven day. He went 0-for-2 with a strikeout at the plate, made one nice defensive play charging a chopper, and made a Hail Mary lob to second base on a slow grounder to get the force. The throw just barely beat the runner to the bag. It was … interesting. Garrett Jones pinch-hit for Refsnyder against a righty in the eighth. I thought it was the right move both offensively and defensively. (Drew took over at second.)
Box Score, WPA Graph & Standings
Here are the box score, video highlights, and updated standings. Also check out our Bullpen Workload and Announcer Standings pages. Here's the win probability graph, which has apparently stopped updating:

Source: FanGraphs
Up Next
Same two teams Saturday afternoon, in the second game of this three-game series. Michael Pineda and Hisashi Iwakuma will be the pitching matchup. Head over to RAB Tickets if you want to catch that game or any of the other four games remaining on the homestand live and in person.