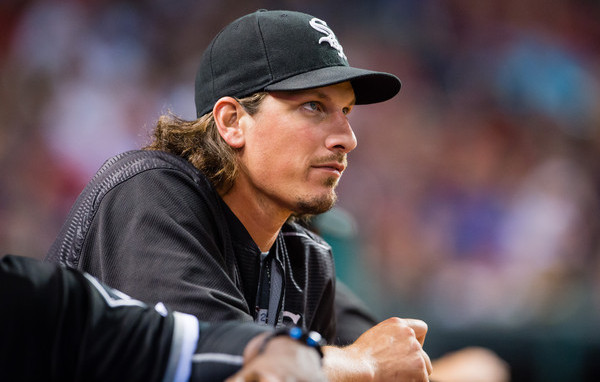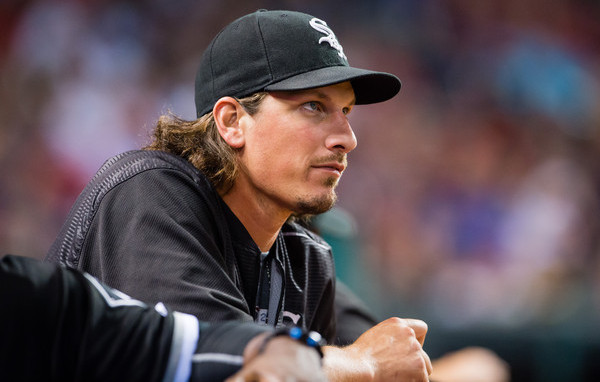 The 2015 non-waiver trade deadline is just four days away now, and while the Yankees have not yet made any moves, I expect that to change fairly soon. Here are some stray trade deadline thoughts.
1. Boy that Troy Tulowitzki trade last night was something else, wasn't it? Came out of nowhere. I assume the Rockies are going to flip Jose Reyes, otherwise the deal doesn't make too much sense for them, but it's a big upgrade for the Blue Jays. Yeah, they still need pitching, but a dominant offense will get you to the postseason more often than not. (Also, don't underestimate the defensive upgrade, Tulowitzki's a way better gloveman than Reyes right now.) I've felt the Blue Jays were the Yankees' biggest threat in the AL East for a few weeks now, and while that seven-game cushion is nice, the division race ain't over. The Yankees and Blue Jays still play 13 more times this season. Over/under on the total number of runs scored in those 13 games is set at 149.5.
2. As for the Yankees, I do still expect them to make a trade or two before Friday's deadline. Nothing that happened over the last week or two has changed that belief. If anything, the recently winning only makes me more convinced they will do something. The Yankees are not just a win now team, they're a win now team that hasn't been to the postseason in two years. They have every reason imaginable — reputation, financial, the whole nine — to upgrade a roster with some obvious needs. This is what the Yankees do. They bought at the deadline even when their postseason chances were microscopic the last two years. I'll be stunned if they don't do something meaningful — by meaningful I mean a starting pitcher, a late-inning bullpen arm, or an everyday position player, not a fringe roster guy — before 4pm ET Friday.
3. The Tigers seem to be on the fence about whether to buy or sell, and assuming they hold onto David Price, I think my top target among the remaining available starters would be Jeff Samardzija. (I want the Yankees to go hard after Price if he does become available though.) Samardzija has the fewest flaws among the guys left on the board, specifically Mike Leake, Mat Latos, Yovani Gallardo, and all those guys with the Padres. He's a power pitcher who misses bats and is also a workhorse who can go seven innings and 110+ pitches regularly. It would be nice to have at least one of those guys in the rotation, wouldn't it? Also, between playing football at Notre Dame and pitching for the Cubs, Samardzija has experience in hectic sports markets. I don't think New York would bother him too much. Leake, Gallardo, and all those other guys are useful in their own ways, but I think Samardzija could be a real difference-maker. (But go get Price first.)
4. The Yankees insist they will not trade their top prospects for a rental — when was the last time they did that anyway? when they agreed to give up Jesus Montero for Cliff Lee? — and that's all well and good, but it is something every team says this time of year. I don't think Luis Severino would (or should) be off the table if Price became available, for example. That said, I do wonder if the Yankees will end up dealing pieces off their MLB roster at the trade deadline. The game seems to be gearing more towards MLB player for MLB player trades — I guess because everyone is trying to win now and no one wants to wait for prospects — and within the last year alone we've seen the Yankees trade Yangervis Solarte, Vidal Nuno, Kelly Johnson, Francisco Cervelli, Shane Greene, David Phelps, and Martin Prado in deals for other big league players. Could that happen again? We'd be foolish to rule it out. Ivan Nova's name reportedly popped up in talks with the Reds about Johnny Cueto. Nova, Nathan Eovaldi, and Chasen Shreve strike me as the MLB players the Yankees are most likely to deal at the deadline, should a trade like that go down. Don't ask me why, just a hunch. Nova and Eovaldi would have to go in substantial moves though, like the Nova for Cueto swap.
5. The August waiver trade market will be very interesting this year because there should be a lot of higher priced players available. More than usual. James Shields, for example. He's someone who still figures to be available come August because no one will risk claiming that contract. I'm not saying the Yankees should make a run at Shields, just that he figures to be available. Dan Haren, Hisashi Iwakuma, and Matt Garza are other examples. Haren (free because the Dodgers are paying him) and Iwakuma ($3M or so the rest of the season) might not make it to the Yankees on waivers because they're so cheap. Other clubs figure to claim them first, even if it's only to block a trade. The Yankees usually aren't very active in August waiver deals — again, the only players they've acquired in post-deadline trades since 2009 are Chad Gaudin, Steve Pearce, and Brendan Ryan — but I feel like this season is very different because they missed the postseason the last two years. I feel like there's extra motivation to make upgrades, even if they have to wait until August.
6. Random thing that struck me while watching last night's game: right now, in 2015, Mark Teixeira is better than every player the Braves traded to the Rangers for him back in 2007 combined. Eight years later! Not counting last night's game, Teixeira is at +2.6 WAR this season. This is the package Texas received for Teixeira (and Ron Mahay): Elvis Andrus (-0.1 WAR), Matt Harrison (0.0 WAR), Neftali Feliz (-0.1 WAR), Jarrod Saltamacchia (-0.1 WAR), and Beau Jones (out of baseball since 2012). I'm not sure where I'm going with this or whether it means anything, I just thought it was interesting. It looked like the Rangers set themselves up for a decade with that trade two or three years ago, but it went south in a hurry. Meanwhile Tex is still plugging along and mashing taters. Bet on proven star-caliber players, I guess.
7. Last week Jeff Sullivan put together a neat post looking at where the Mariners have gone wrong this season. They were expected to contend in the AL West at the very least, and some had them as AL pennant favorites. Instead, they're sitting near the bottom of the standings. Jeff compared each player's actual WAR to their projected WAR coming into the season to find the "missing" wins. I want to do something similar with the Yankees really quick, though they're exceeding expectations, not falling short.
Prior to last night's game the Yankees were 55-42 (.567), which is quite a bit better than FanGraphs' projected .503 winning percentage coming into the season. The Yankees were beating their projection by six wins through only 97 games. Here is how each player's actual WAR compares to their preseason projected WAR pro-rated to 97 games (this doesn't include last night's game, but one game won't change much anyway):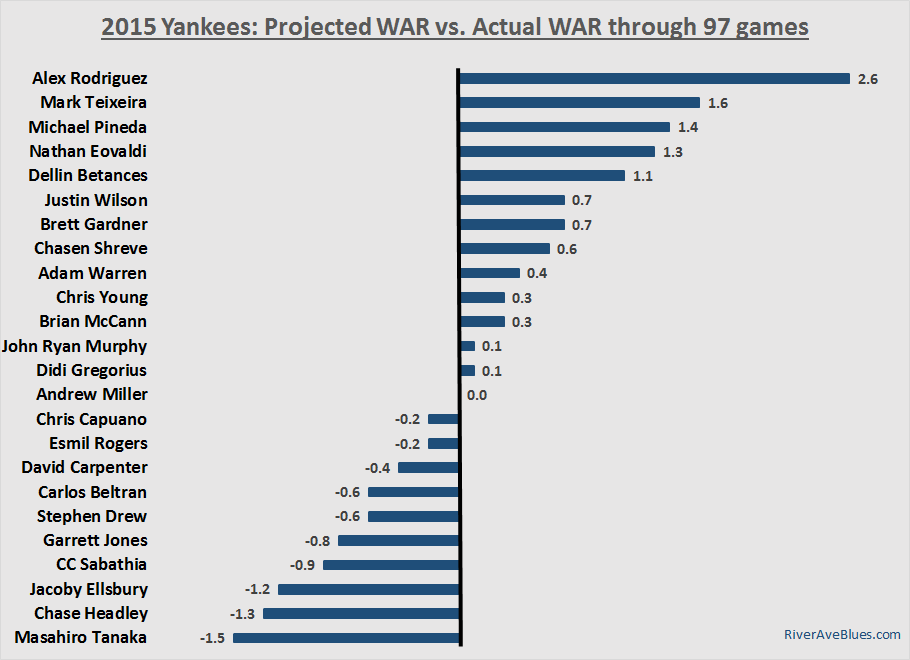 This is showing actual WAR minus projected WAR. Positive means a player is performing better than the projections and negative means the opposite. Negative does not necessarily mean negative WAR, it just means less WAR than projected. Got it? Good.
Alex Rodriguez, as expected, is the main projection out-performer here. The projections expected nothing from him and he's been awesome. Teixeira, Michael Pineda, and Eovaldi have all exceeded projections by a full win already — Pineda's been shaky at times but the projections didn't expect much given his injury history — while Jacoby Ellsbury, Chase Headley, and Masahiro Tanaka have fallen short of projections by more than a win. Ellsbury and Tanaka because of injury, Headley because he didn't do much on either side of the ball earlier in the season.
Add all of that together and you get +3.5 wins. The team's actual record is six games better than projected, and the missing 2.5 wins come from guys like Slade Heathcott (+0.4 WAR), Mason Williams (+0.3 WAR), and all the other call-ups who have had a brief but positive impact so far. Also, WAR seems to underrated DHs. Most players perform worse than expected as the DH because they're not used to sitting around, similar to pinch-hitters. A-Rod's WAR might be underrating his true value.