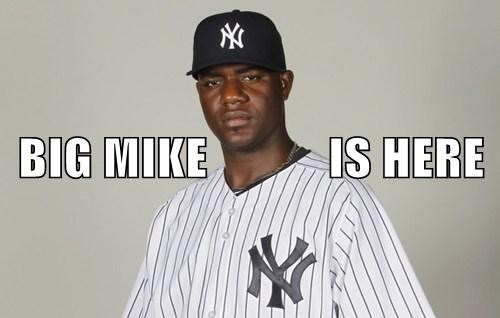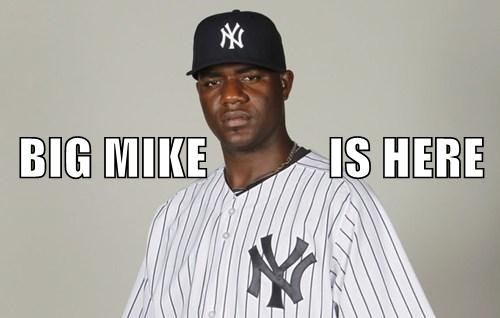 This homestand has not been too great for the Yankees. Not terrible, but not great either. They're 5-4 in the first nine games, which is fine, except the homestand started with a three-game sweep over the Twins. The Yankees then lost three of four to the last place Indians and have split the first two with the Astros. A win today and it's a good 6-4 homestand. (Again, not great, but good.) A loss and it's a yucky 5-5 homestand.
The Yankees have played better at home (37-25, +39 run differential) than on the road (32-31, +15) this year, but not this month. They're 7-8 with a -8 run different at Yankee Stadium in August, so after all that talk about the Yankees having a favorable schedule because they have all these home games in the second half, they haven't capitalized. Lame. Win today, clinch a winning homestand, then go from there. Here is the Astros' lineup and here is the Yankees' lineup, featuring the return of Big Mike:
CF Brett Gardner
RF Carlos Beltran
DH Alex Rodriguez
C Brian McCann
3B Chase Headley
1B Greg Bird
SS Didi Gregorius
LF Chris Young
2B Stephen Drew
RHP Michael Pineda
Nice afternoon for a ballgame in the Bronx. It's sunny — really, really sunny — with temperatures in the low-80s. Pretty much perfect baseball weather. This afternoon's game will begin at 1:05pm ET and you can watch on YES locally and MLB Network nationally. Enjoy the game.
Roster Moves: Pineda was activated off the DL, obviously. Also, Nick Goody was called up from Triple-A Scranton to give the team a fresh arm. Chris Capuano was designated for assignment and Nick Rumbelow was send down to clear roster spots. Rumbelow can't be recalled for ten days (unless there's an injury), so he won't be among the first wave up call-ups when rosters expand on September 1st.
Injury Update: Jacoby Ellsbury is day-to-day with a sore hip and isn't available today. He might not be available Friday either. Ellsbury had some swelling last night but has not yet gone for tests … Dustin Ackley (back) will officially begin his rehab assignment with Triple-A Scranton tomorrow … Brendan Ryan is available today after running around in the outfield and pitching two innings last night … Pineda, by the way, will be limited to 80-85 pitches or so.