The following is a guest post from longtime RAB reader Adam Moss, who you know as Roadgeek Adam from the comments. He's previously written guest posts about umpire Tim McClelland and uniform No. 26.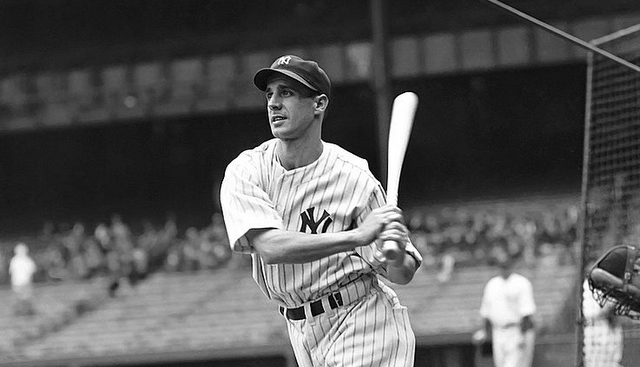 For several decades from the 1920s to the 1960s, Frankie Crosetti was a household name for the New York Yankees, serving numerous different roles, including starting shortstop and third base coach. Crosetti historically was not the best batter the Yankees had during the early dynasty years, but the young man from San Francisco fit right in with the likes of Babe Ruth, Lou Gehrig, Tony Lazzeri and Bill Dickey under manager Joe McCarthy. Offensively, he was in his prime from his debut in 1932 at age 21 to his age 29 season in 1940. In that time period, the Yankee dynasty had racked up 5 World Series rings (1932, 1936, 1937, 1938 and 1939) while Crosetti served as the starting shortstop for the Yankees.
However, in this day and age, Crosetti is almost completely forgotten but in the form of historical records. Crosetti's teammates from many World Series: Ruth, Gehrig, Lazzeri, Dickey, Lefty Gomez and Red Ruffing are all in Monument Park in one way or another (with their numbers retired or with just a plaque). By the time Crosetti left the Yankee organization in 1969 to join the Seattle Pilots (now the Milwaukee Brewers), he had racked up 17 World Series rings in 23 tries, which is more than even Yogi Berra had ever gotten (13/21). Crosetti is not in Monument Park and no one has seemed to make an argument to why he does not deserve induction. Monument Park isn't just for retired numbers of Yankee greats but for the greatest of the Yankees and those who serve the franchise in a major fashion. This article is about the argument over the reasons why Crosetti does and does not deserve his induction.
His Tenure
Crosetti first played Minor League Baseball for the Pacific Coast League team in San Francisco until his contract was acquired by the Yankees on August 23, 1930 for a player to be named later and three other players. The player to be named later ended up being Julie Wera, a third baseman and the very first No. 20, which will be inducted in Monument Park later this month for Jorge Posada. Crosetti's first season for the Yankees was 1932, in which he was paid a grand total of $8,000. Only age 21 at the time, he hit a meager .241/.335/.374/.709.
Twice an All-Star (1936 and 1939), Crosetti's best year arguably would be 1938. That season, Crosetti played a MLB high 157 games and set a then-record 757 plate appearances with 166 hits, 9 HRs and 55 RBI as well as a .263/.382/.371/.752 slash line. However, the negatives to those numbers, he set a major league high in 97 Ks (he had 106 walks in return) and stole 27 bases, also a season high for the league. Crosetti also has a MLB high 15 HBPs, a thing he learned quite well from Manager Joe McCarthy. That year, he finished a measly 29th in the MVP voting, which went to Jimmie Foxx of the Red Sox.
After that peak in 1938, he was able to set high numbers in HBPs, PA and at-bats for 1939, but his numbers were visibly declining. After hitting .263 the last season, Crosetti's average dropped to only .233. By 1940, the numbers became even worse, when in 145 games; he hit an absolutely terrible .194/.299/.273/.572. The Yankees finally had enough and had the next best thing coming in 1941 in a young shortstop prospect named Phil Rizzuto. Rizzuto was intended to replace Crosetti in 1940, and some article we would've won the 1940 American League Pennant with Rizzuto, who hit .347 in AA.
1941 was the year. Crosetti was relegated to a bench player and only appeared in 50 games as a utility infielder, and while his numbers went up to a respectable .223 (and a 31st place spot in the MVP voting!), it clearly was the end. For 1942, 1943, and 1944, Crosetti was a bench player, but managed to get into 95 games in 1943 (another WS year) and hit only .233. 1945 was a bit unusual because he got into 130 games and only managed a .238 batting average. A lot of the extra playing time from 1943-45 was due to the fact that his replacement, Phil Rizzuto had spent all three years fighting in combat for World War II. Once Rizzuto returned from action, Crosetti went to backup status and after missing most of the 1947 season, he went from 1946 to 1948 participating in a grand total of 48 games, which he had only 1 HBP (his strength) and a .284 average in 86 plate appearances.
After 1948, Crosetti went from a player to a coach (he had been a player/coach in 1947), and became the third base coach for the Yankees. The longest-tenured third base coach in Yankee history (1948-1968), he coached during the Yankees best years with Casey Stengel at the helm and thanks to Joe McCarthy, he took the skills taught by the great manager and brought it to generations of Yankees and the front office absolutely loved it. Crosetti decided to leave the Yankees in 1968 for the new Seattle Pilots that had been established through expansion, but only lasted the year in Seattle because he had many differences in ways of doing things than Jim Bouton, a pitcher for the Pilots.
After coaching for the Minnesota Twins, Crosetti hung up the spikes for good and retired to Stockton, California. He never did appear at an Old Timers' Day for the Yankees, but did make his fair share of appearances (especially when the Yankees were in Oakland) before passing away in 2002 at the age of 91.
So Why Am I Telling You This?
The reason I wrote this article is I got interested in the fact Crosetti is basically forgotten for someone who has 17 World Series rings and 23 appearances. On paper, that would get you a Hall of Fame nod, but there's much more than on paper that needs to be examined here. As I mentioned in the intro, Frankie Crosetti's name is not in Monument Park, the place of the greatest Yankees who ever played, coached or managed the team. If you asked old-time Yankees if Crosetti was a vital part of their success, they'd probably say yes, but statistics can argue away a lot of the personal love.
Let's start with the blatantly obvious problem. Crosetti spent 16 years as a Yankee player (1932-48), but in 1,683 games, he basically produced a meager 83 OPS+ and only a .245 batting average. Those numbers would never get you in the Hall of Fame and I expect that wouldn't get you into Monument Park in this day and age short of some abnormalities. SABRmetrics are a little kinder to Crosetti, but even that's a bit pushing it. He had a 19.9 oWAR (using Baseball-Reference's WAR) and a 14.2 dWAR. His overall WAR from 1932-48 was only 23.9, which the true stars can manage in one or two seasons at times. Also, while being a figurehead leader, he was not always a big factor in the team's performance. In games he appeared in, the Yankees only had a .501 winning percentage. That's not exactly the "I can change the direction of games" player. This is despite the amount of World Series rings won in that time. As a player, if you read the statistics alone, Monument Park has no place for Crosetti, but to base it only on statistics as a player would be poor judgement.
As I've mentioned, Crosetti became a third base coach in 1948 for the Yankees. He coached for six managers (McCarthy, Bucky Harris, Stengel, Ralph Houk, Yogi Berra and Johnny Keane). Waving home over 16,000 runners, Crosetti arguably was the cornerstone of the Yankees franchise who wasn't a player named Mantle or Berra. Crosetti was always a person who was fashioned a leader, he would be awake early in the morning and always the first to the clubhouse and made sure that players weren't always slouching or doing something wrong. He basically was an honest coach, including a famous issue with infielder Phil Linz, who was playing a harmonica during a losing streak and it caused chaos on the Yankees team bus. When the Yankees brought up a new player, the Yankees turned to Crosetti to make sure they were guided well and would give a pamphlet that discussed what to do as a Yankee and as a ballplayer. This even turned into a youth player book in 1966 published as "Frank Crosetti's Secrets of Baserunning and Infield Play".
As a coach, Crosetti was the rock who was always present to work on my generations of Yankees of the past and future. When he headed off to Seattle in 1969, his No. 2, which he wore, was not retired on his choice, but rather given to the next flashy player. At the time that player was Jerry Kenney, an infield prospect who made his MLB debut in 1967. In 1969, Crosetti's 2 was given to Kenney, but it didn't really work out for the infielder, who had pretty poor years in New York, hitting only .234 from 1969-1972. By 1973, he was in Cleveland and by 1974, out of the game completely. Obviously, the No. 2 has been given in good hands since then in the form of Bobby Murcer and the Captain, Derek Jeter. As a coach, you can see enough service to the Yankees that he deserved his spot in Monument Park as Mel Stottlemyre Sr. does now. While that's comparing apples to oranges, the reason I compare it is because they were both career Yankees who always felt like there was something a little missing if you ask me.
Conclusion
One issue that was brought up to me when discussing my idea for this article was why would they bother at this point? Yes, Crosetti's been dead for 13 years now and not in the organization since 1968. However, the Yankees under the George Steinbrenner administration put Red Ruffing in Monument Park with a plaque of his own, 18 years after his death. With the recent trend of installing historic players on Old Timer's Day (Rich Gossage, Willie Randolph & Mel Stottlemyre), it seems only fair you could use this as a chance to break the trend and get "The Crow" where he belongs, a plaque in Monument Park emphasizing you don't have to be a great player to be a Yankee.